If you were at the Bay Bridged's Rock Make Street Festival, you might have been lucky enough to catch one of the best bands of day, the Thrashers. Their hard-driving metal lured one of the biggest crowds at the festival, everyone either hooting and hollering like groupies or just standing there dumbfounded. Why? Because the Thrashers have just turned ten years old, and their instruments were almost bigger than their own bodies.
Chris Rigling is already considered a child prodigy drummer. His twin, Nick is the bassist and the band's main singer and songwriter. Geddy Franco (named after Rush bassist Geddy Lee) absolutely shreds on lead guitar. Rhythm guitarist Charley Rutledge is a backbone with tons of attitude, and Brandon Lurie's keyboards add a psychedelic edge.
From Pacifica, these kids met in day care when they were two. Bored with video games, they started the band on a whim and practiced with a karaoke machine. By the time the kids turned eight, they were playing "a bunch of concerts", according to Nick. "We went to rock camp to build up our chops, and we met Geddy there, and he wanted to be in the band."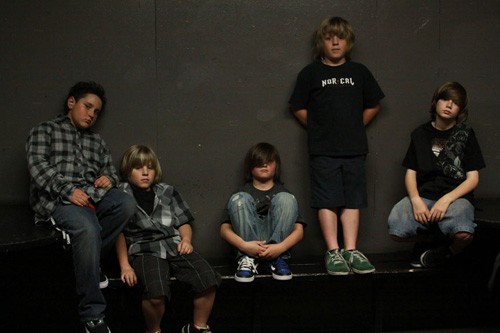 As it would be for all ten year olds, the Thrashers' explanation of their artistry is simple:
How does songwriter Nick come up with inspiration?
"I just usually pick a subject and I just write all about that."
What are his favorite things to write about?
"Current events, myself, or skateboarding. Stuff like that."
What can we expect from the new record, Ten At Ten?
Charley tells us: "It's coming up around Halloween. It sounds better and there's just way more new songs that we made in the studio."
Will there be any killer covers like their version of "Higher Ground" on their new album?
Brandon says: "Yes there will be two covers, The Monkees' 'Steppin' Stone' and The Four Horsemen's 'Rocking is My Business'."
Do their classmates know about the band? What do they think of the music?
Drummer Chris asserts that they "kinda like it".
They idolize bands like Black Sabbath, AC/DC, Iron Maiden. Why do they like music that's so much older than they are?
Chris: "Cause it's better."
What new bands do they like?
Chris: "Muse, Blink 182 and Weezer."
Where do they see themselves in 10 years?
Nick: "To the top!"
Obviously, the boys prefer to let their music do the talking. Just like the bands they worship, the Thrashers take no prisoners with their aggressive wall of sound, plenty of distortion and growled vocals.
They're performing next on September 25th at the Malibu Music Awards, and on November 6th they make the trek to LA's Whisky A Go Go, where they've played a few times before. It's almost scary to think where these kids will be in a few years.