The 10 Best Burgers in the City
San Francisco's fall is officially in full swing: Perfect burger-eating weather. We embarked on a burger bonanza last year in a search for the best burgers in the city. Our findings are below, updated for 2010. 
We tasted, pondered and scrutinized—here are our 10 favorite burgers in San Francisco.
Fish and Farm ($14) (photo above)
F&F makes a fine specimen—one that defies all preconceptions. There is no crunch of lettuce, the Niman beef is not ground in-house and the grilled Acme brioche bun becomes one with an umami-tastic "secret sauce"—studded with fresh green peppercorns and heady with horseradish—dripping down the sides. The lily is gilded with grilled onions, housemade pickles, melted Cabot cheddar and a steak knife thrust, rather thrillingly, into the center. Ask for extra napkins and dig in.
Fish and Farm
339 Taylor St., 415-474-3474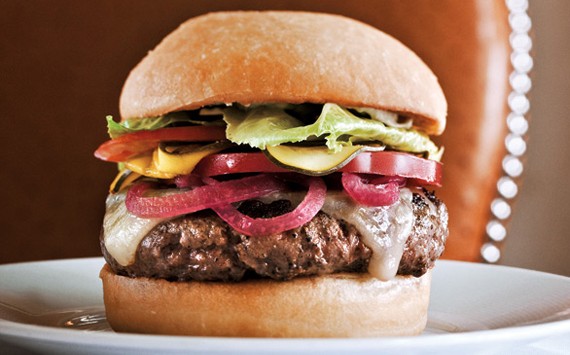 Spruce ($14)
The Spruce burger is all-class. A housemade bun has replaced the former English muffin (fine by us). The pickled red onions and ribbons of turmeric-brightened pickled zucchini are suspiciously Zuni-esque, but perfectly executed. Eat it at the bar, where the bartender places a black napkin down in front of you, as a sort of tablecloth, with an appropriate amount of pomp. An expensive glass of red wine is called for here. Luckily, at Spruce there's no shortage.
Spruce
3640 Sacramento St., 415-931-5100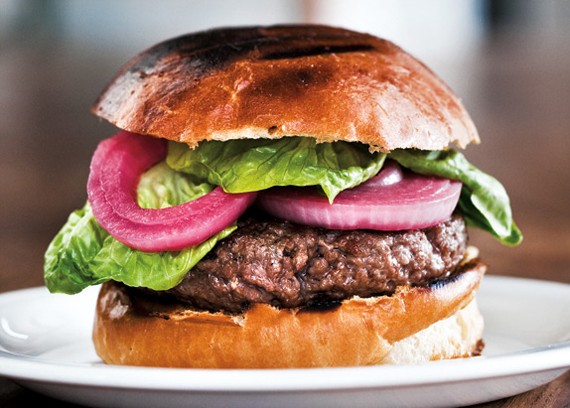 Nopa ($13)
Even the most perfect burger needs something more than the house-ground meat of a pampered cow. Like choice seats. So sit at the counter overlooking the kitchen, smile at your line cook and get a whiff of the live fire your patty is cooking over.
Nopa
560 Divisadero St., 415-864-8643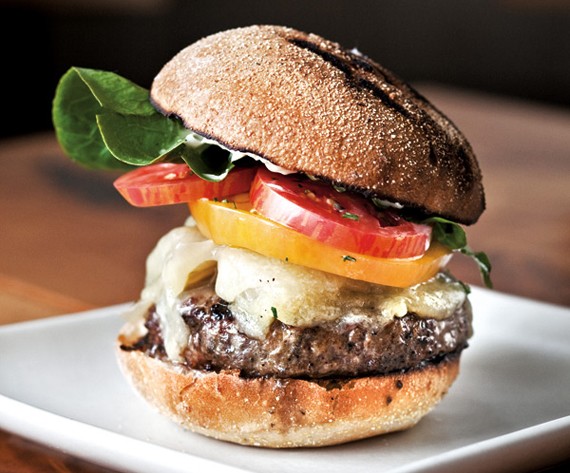 Mission Beach Café ($13.50)
At MBC we learned firsthand the importance of the bun (they use a black pepper-potato roll), finalized our thoughts on lettuce (something crisp) and fully appreciated the contrast between sweet (caramelized onions) and salty (Gouda cheese). Finally, we discovered that size does matter, and that we prefer a burger that doesn't require heroics to bite into.
Mission Beach Café
198 Guerrero St., 415-861-0198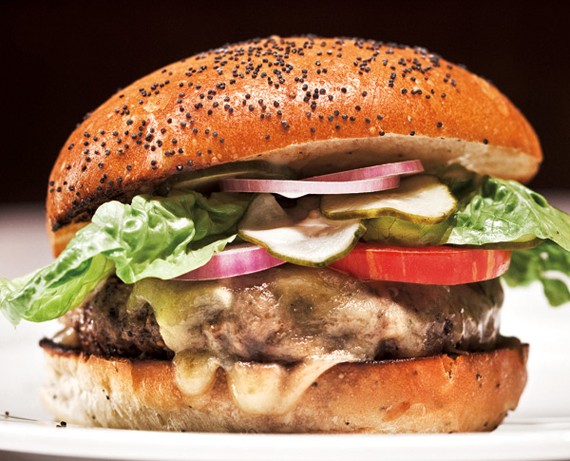 Bix ($27.50)
Bix's truffled pecorino cheeseburger eats like a steak—and it should for being perhaps the most expensive burger in town. There is no two-faced bun (the patty sits, open-faced, on a round of buttered rye); there are no pickles. Instead, it's larded with black truffle slices, crowned with truffled pecorino cheese and a slow-cooked slab of onion. Comparing this to an In-N-Out offering would just be wrong, so don't bother.
Bix
56 Gold St., 415-433-6300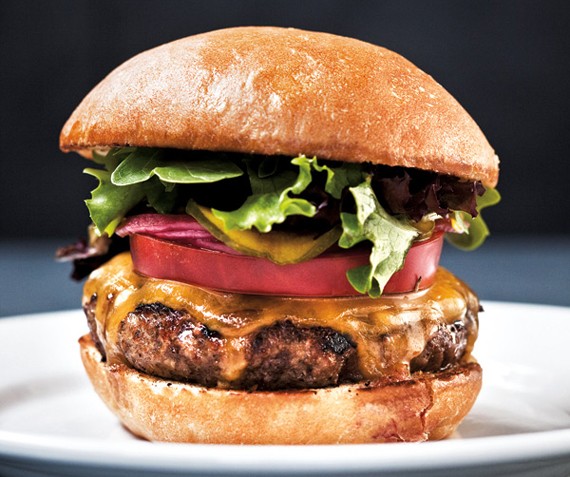 Serpentine ($12)
If Serpentine's burger was a girl, it'd be the girl next door. There's nothing exotic—just a thin patty of grass-fed beef set on an Acme seeded bun, its richness cut by housemade, bread-and-butter pickles, thick slices of tomato and (to its detriment) fluffs of mesclun. You could make a burger like this at home, if you wanted, but eating one at Serpentine's bar makes you feel like a real local, the pleasure of which cannot be denied.
Serpentine
2495 Third St., 415-252-2000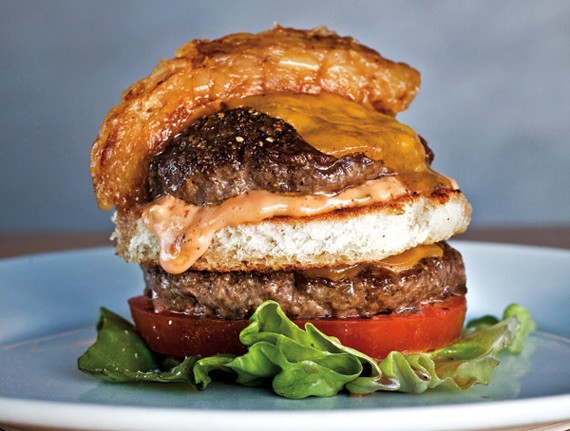 Spork ($12)
The Spork inside-out burger does not subscribe to standard burger "rules." Instead, this napoleon of meat and bun is a messy pile-up that requires both fork and knife. The presence of a pleasantly spongy bun and secret sauce give it burger-chain zeitgeist—the grass-fed beef and rosemary-scented smashed potatoes give it SF cred.
Spork
1058 Valencia St., 415-643-5000
Bar Tartine ($16)
Knowledge of this burger is the only thing that keeps us from devouring the outstanding half-loaf of Tartine Bakery bread that precedes the meal. Save yourself: you'll need a serious appetite for the dry-aged Magruder beef patty, the house-made brioche bun, the cheddar cheese mayonnaise and, holy smokes, the fries, which are cooked a deep golden brown, flecked with fried herbs. You can add bone marrow to the burger, but then again, restraint is a nice thing to exercise.
Bar Tartine
561 Valencia St., 415-487-1600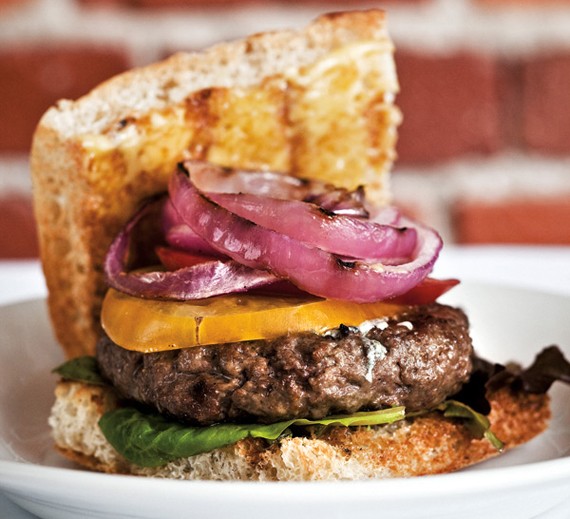 Zuni Café ($15)
Known by locals as the post-opera burger, Zuni's reputation proceeds it to the point of a cult following. But today's high burger standards mean that Zuni no longer stands alone. There are many restaurants grind their own meat and mimic its pickled zucchini. This is not to say that the Zuni burger isn't tasty—it is. But, Judy: The square, soft focaccia bun? It's time to let go.
Zuni Café
1658 Market St., 415-552-2522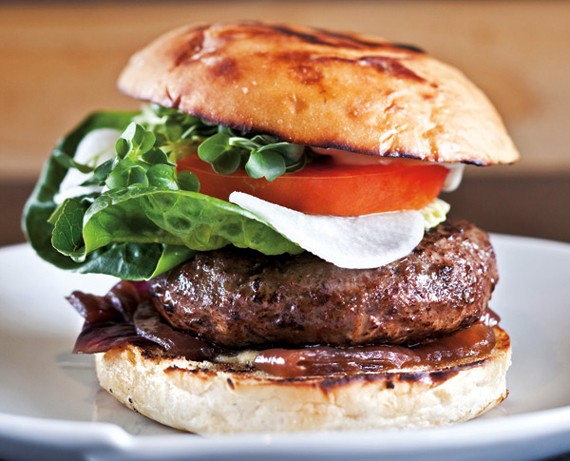 Namu ($14)
In a city of copycat burgers, Namu steps out with Korean pride. A huge Marin Sun Farms patty, served good and rare, is topped with pickled daikon, soy-glazed onions and daikon sprouts—not to mention the usual Dijon and aioli. The delicate pain de mie bun isn't the best choice for this beast, but overall points for originality allow us to forgive.
Namu ($14)
439 Balboa St., 415-386-8332