By
When we first published our mega-popular piece 10 Best Lunches Under $10 in Union Square in late 2010, our offices were in the beating heart of downtown SF. Fast forward to about now, and 7x7's humble abode is nestled into pretty lil South Park, right next to AT&T Park. Because we're worker bees just like you, we had to find a whole new food routine–which, of course, means we had to make a whole new top ten!
Here are our picks for the best eats to score in South Park for $10 or under (in no particular order). What are yours?
1. The Red, White, and Blue Plate Special at American Grilled Cheese Kitchen, $8-9
Anyone who's had their Smoky Tomato Soup with creme fraiche and housemade croutons knows it's a hard menu item to resist. That's why we go in for the Red, White, and Blue Plate Special: So we can get the best of both worlds. It includes a cup of the silky soup (or salad, if you please) and the small version of any of their melty sandwiches (we dig the Mushroom Gruyere or the Jalapeño Popper), not to mention a fresh piece of seasonal fruit that comes with every order. At just under ten bucks, you still have change to spare for an ice cold Faygo. 1 South Park Avenue, 415-243-0107
2. Anything from Darwin Cafe
Pretty much every time we've been to the much-beloved Darwin Cafe, they're sporting a revamped menu, according to the seasons and whims of the guys behind the counter. Normally, this would plunge us into a world of confusion. But Darwin's different; every single thing we've eaten here has been utterly scrumptious. It may be the kale salad with prosciutto and parmesan ($9), or their pastrami and roast beef sandwiches ($10), which come with great side salads. Once we had a grilled summer squash sandwich slathered with fresh cherry tomato jam and cheese that was to die for. Another time, a bay shrimp salad with shredded cabbage, green beans, roasted peanuts, and avocado stole our hearts. None of these are more than $10, and if you're feeling like a light meal, $5 will get you a baguette sandwich–our favorites include the cheddar & honey, ham, gruyere & dijon, or the mozzarella & basil varieties. 212 Ritch Street, 415-800-8668
3. Grilled Jerk Chicken Sandwich from Primo Patio Cafe, $9.21
Any jerk chicken dish from this Caribbean-style hole in the wall is the way to go. It's insanely flavorful and juicy to boot. We like the sandwich because you can add a healthy portion of melted cheese to counteract the heat of the chicke. Served on a soft French roll, it comes with Caribbean red fries and their other secret weapon, their creamy Primo sauce (and yes, it's ingredients really are secret). 214 Townsend St., 415-957-1129
4. Bread Salad from Caffe Centro, $7.25

Pretty much everything from long-standing South Park institution Caffe Centro is under $10 (and significantly so). Our top pick is the Bread Salad, a mountain of greens and goodies (including corn, roma tomatoes, parsley, and cukes) that goes great with a lemon-flavored San Pellegrino while sitting in the sun on the sidewalk or across the street in the park alongside Lucy, the local local iguana celebrity. 102 South Park Avenue, 415-882-1500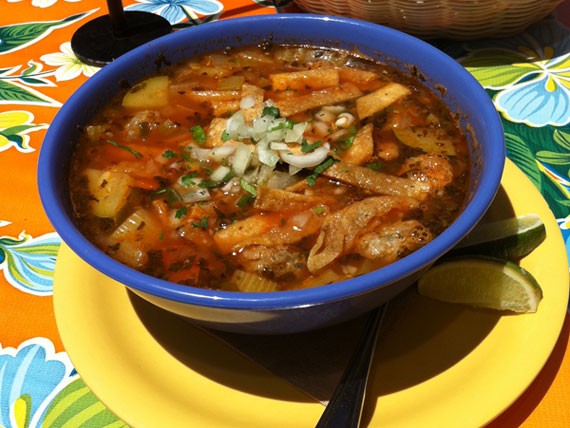 5. Albondigas Soup from Mijita, $8
Sometimes it's cold and windy down here, and it's only soup–not your coat–that can keep you warm. We head to Mijita for their hearty sopa de albondigas (meatball soup!) for just this purpose. Cute little pork and beef meatballs and veggies float in a light tomato and spice-flecked broth, and each spoonful is topped with fresh cilantro, onions, and housemade tortilla strips. A few squirts of tart lime juice later, you've got the best bowl of soup in the 'hood. 24 Willie Mays Plaza, 415-644-0240
6. Bi Bim Bap from HRD Coffee Shop, $6.25

If you're ever just in the mood for a hefty, greasy plate of Korean-style diner food, stand in line at HRD on a sunny day, take your food for a sit-down session on the grass in South Park, and get ready for a mid-day food coma. For just $6.25, you'll receive a tasty mountain of sesame-marinated Korean veggies (think pickled cucumbers, sliced carrots, mushrooms, bean sprouts, etc.) mixed with plenty of either tofu, spicy pork, or beef short rib and gochujang-laced rice. It's a spicy, savory and pungent introduction to the unique and delicious world of HRD gutbombs. 521 3rd Street, 415-543-2355
7. Fried Chicken PoBoy from Little Skillet, $10
Any eatery that offers waffle-shaped stamp cards is fine by us. But really, the fried chicken here is hard to beat. If you're craving something beyond two pieces of fried chicken with their pillowy waffles for $8.50 (which, by all means, we highly recommend), try their glistening poboy stuffed with fried chicken breast, lettuce and tomato. One of these babies will cure the most intense of fried chicken cravings (we definitely feel you) for at least a couple of weeks, which is no small feat. 360 Ritch Street, 415-777-2777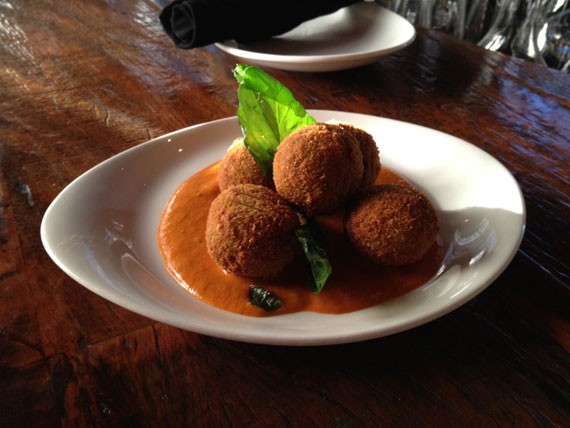 8. Spinach and Fontina Arancini from District, $9

District has loads of bar bites under the $10 mark (notably the deviled eggs and the mushroom paté) but the best bite they've got that will most satisfyingly fill your belly is the Spinach and Fontina Arancini. Five sizable yet delicately fried risotto balls lay in a generous portion of smoked tomato sauce with hints of red pepper. Presentation and taste is enhanced with perfectly deep fried basil leaves. This dish is sure to steady you after the multiple goblets of wine you most likely imbibed beforehand. 216 Townsend Street, 415-896-2120
9. Grilled Snapper Sandwich from Ironside, $10
Ironside often wins accolades for its Cuban sando but don't ignore the Grilled Snapper sandwich. Dusted with a chile powder/paprika mix and topped with tangy pickled onions and a dash of spicy jalapeño aioli, the fresh fish sandwich lays upon a bed of crisp butter lettuce on a soft bun that's been minimally grilled. Cilantro and Thai basil round out the flavor explosion and a side salad of lightly-dressed mixed greens makes this more than a full meal. 680 2nd Street, 415-896-1127
10. Baked Mac 'n Cheese from Nova, $8
is loaded with yellow and white Vermont cheddar, the combo of which gives it just the right amount of sharpness. The dish is gooey enough without being too cloying and it's frosted with a dusting of granna bread crumb topping. Add Black Forest ham or broccoli (or both!) and it still rings under $10. The Mac n Cheese is so delish, our colleagues at Chronicle Books claim to eat for dessert after their mains. 555 2nd Street, 415-543-2282
DON'T MISS A BAY AREA BEAT! SUBSCRIBE TO OUR NEWSLETTER.