By
Build them big, build them sloppy, build them stylish, or even "squeezed." We love a great burger. Plus, something has to soak up all that wine.
Tony's of North Beach
Tony Gemignani may be best known for his pizzas, but his burgers are masterpieces as well, served with rosemary garlic fries or purple potato chips and house pickles. Case in point: the burrata burger, a gem of Snake River Farms Kobe smothered in caramelized onions, creamy burrata, arugula, crisp bacon, and balsamic. The fig gorgonzola model is just as it sounds, with a decadent extract of prosciutto wrapped around the Kobe patty and bit of crisp frisée greens. // 630 Park Court (Rohnert Park), gratonresortcasino.com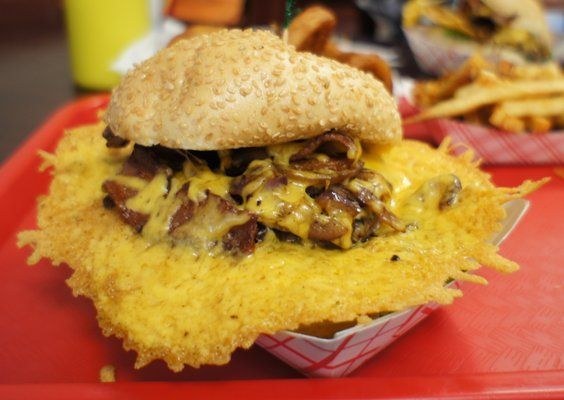 Squeeze-Inn Hamburgers
What's a squeezeburger? One of the weirdest, but truly delicious things you might ever eat. The 1/3 pound patty is grilled, topped with perhaps a pound of cheddar then grilled some more, so the cheese goes gooey on top, then spreads and forms a lacy, crisped Saturn skirt all around the meat. The cooks pile on chilled tomato, lettuce, pickles, onions, mayo and mustard, then cap it all with a toasted sesame seed bun. Napkins needed. // 3383 Solano Avenue (Napa) and 211 Peabody Road (Vacaville), squeezeinnhamburgers.com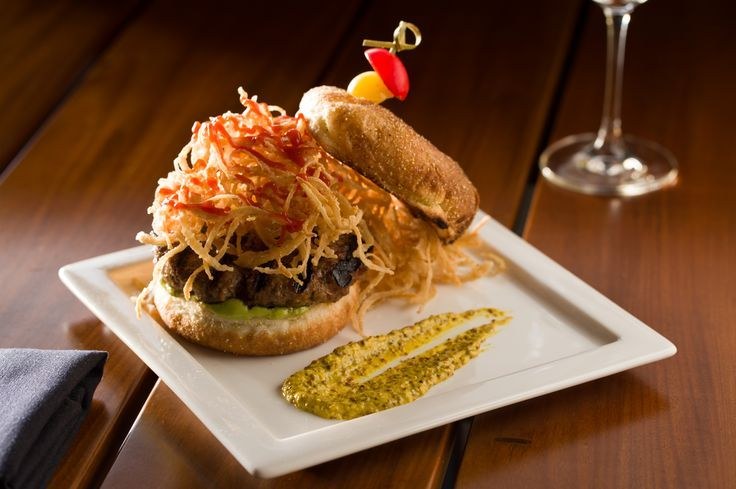 1313 Main

You have to ask for the secret menu, but there it is: the 1313 Burger, a glorious, gourmet burger that virtually cries for a big, rich red wine pairing from the dizzying array of international selections here. The patty is premium, and then gets gussied with melted gruyere, sherry caramelized onions and truffled aioli plopped on an English Muffin bun with a side of beef-fat fries. For extra decadence, add a lobe of seared foie gras to your sandwich. // 1313 Main Street (Napa), 1313main.com
Stark's Steak & Seafood
Grab a seat in the dark, clubby lounge and prepare to feast on a ½-pound prime beef burger that's impossibly thick, juicy, seasoned, and topped with smoked bacon, salsa verde, and Cambozola with house pickles and fries. Or, you can build your own, from a jaw-dropping list of ingredients ranging from numerous cheeses to onion rings, sauces of all kinds, and mushrooms. Tip: the truffled sunnyside egg is a knockout. // 521 Adams Street (Santa Rosa), starkrestaurants.com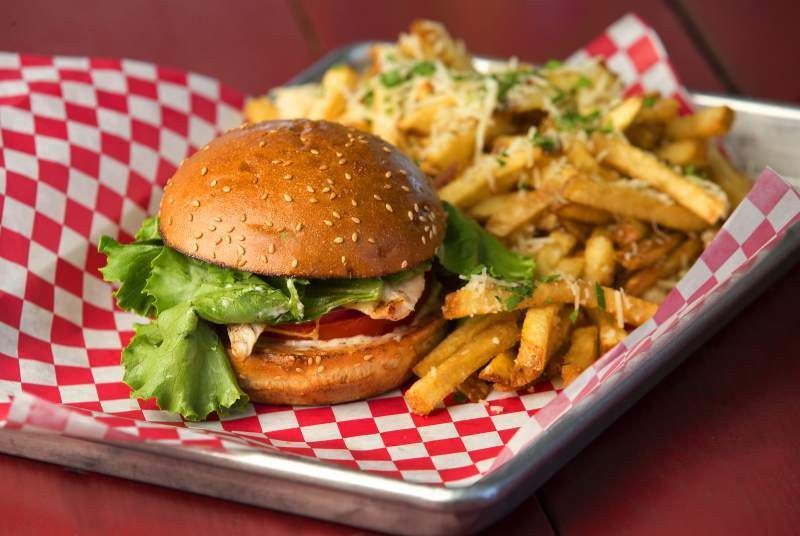 Healdsburger
Groovy picnic tables set the mood for a kickback picnic in an old-school former A&W drive-in. The basic sourdough cheeseburger is the bomb, but browse the choices of more than 16 combos – a buffalo cheeseburger, perhaps, or Cajun, or teriyaki Swiss? There's even a ramen burger, on a crispy nest of noodle bun. // 48 Healdsburg Avenue, Healdsburg), healdsburger.com
DON'T MISS A BAY AREA BEAT! SUBSCRIBE TO OUR NEWSLETTER.