The 9 Best Kale Salads in San Francisco
By
Call it a cliche, but kale's worldwide domination continues in full force here in San Francisco. Our advice? Embrace the curly green in its superfood glory, an easy task thanks to the proliferation of seriously excellent kale salads around town. We've ranked the city's 9 best kale salads, from healthy, feel-good specimens to salads topped with bacon and cheese. 
9. Chile Pies
What's better than one great kale salad? Three! Chile Pies Sweet & Savory has your kale cravings covered with three iterations ($11) on our favorite dark leafy green. Choose between a hearty grain topping, sweet roasted beets, or our favorite, an excellent blend of tender chicken and creamy avocado. It goes without saying that you'll want some pie for dessert, too. // 314 Church St., greenchilekitchen.com
8. Upcider 
Whoever first thought of combining raw kale with creamy, salty caesar dressing was a genius. Upcider may not have been the first, but their take on the now-classic kale caesar ($8.95) is easily one of our favorites in the city. The dressing is pitch perfect, and coats the curly leaves well, and the buttery croutons add just the right amount of crunch. // 1160 Polk Street, 2nd floor, upcidersf.com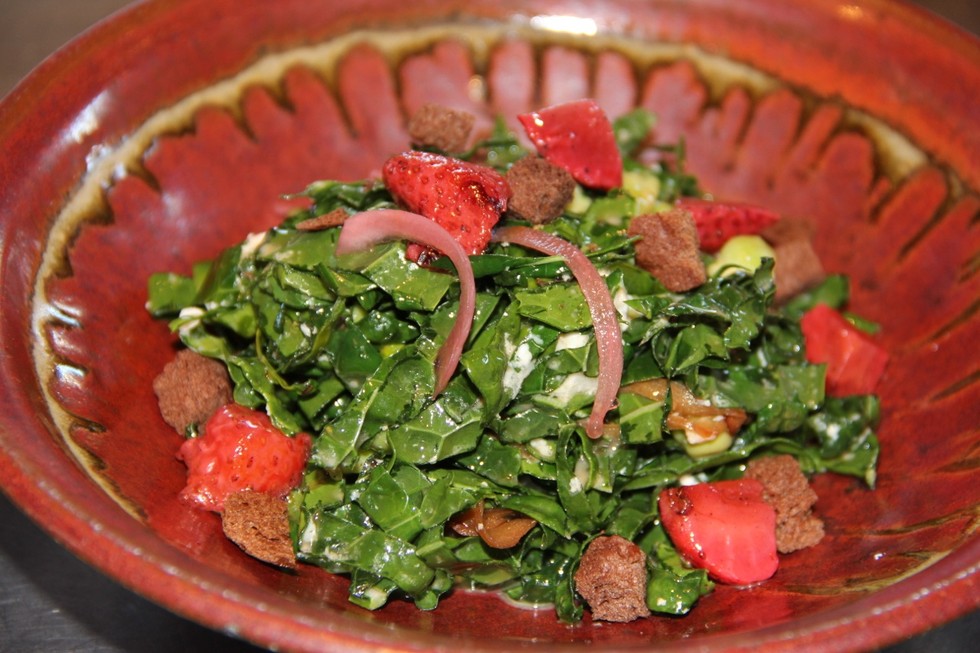 (photo credit: Coqueta)
7. Coqueta
It's easy to forget about salad when indulging in the tapas glory that is Coqueta. Try not to—their enaslada de kale ($12) is one of the most creative and interesting versions in town. Lacinato kale is topped with fresh garbanzos, Cana de Cabra cheese, grilled strawberries, and cocoa croutons; the sweet and savory blend is nicely tied together with a warm sherry vinaigrette. // Pier 5, coquetasf.com
6. Lolo
Balance out your order of fried avocado tacos with Lolo's south-of-the-border tinged salad (pictured above, $8). Kale is tossed with gaja apples, cotija cheese, roasted garlic, shallots, and addictively good caramelized pecans; a lime dressing lends just the right amount of acidity. And yes, you should absolutely eat another taco in celebration of this salad's greatness. // 974 Valencia Street, lolosf.com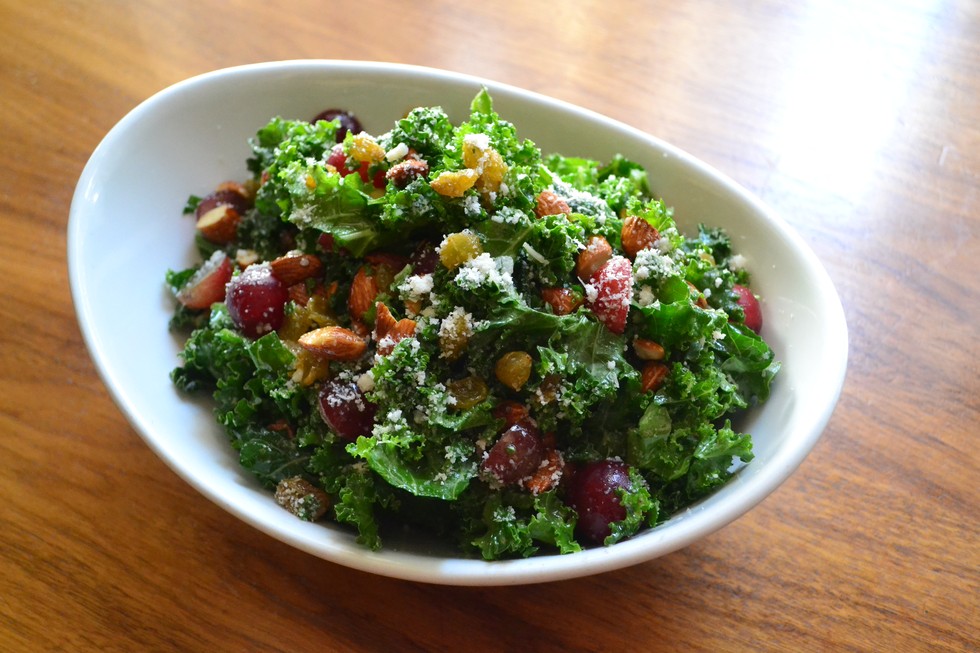 (photo: Barbacco) 
5. Barbacco
Barbacco nails the sweet and salty kale combo—their version ($8 for a small, $11 for a large) features grapes, golden raisins, pecorino, and a honey vinaigrette. The pecorino-honey pairing would be enough to win us over, but this salad is taken to another level with the addition of butter toasted Marcona almonds. // 220 California St., barbaccosf.com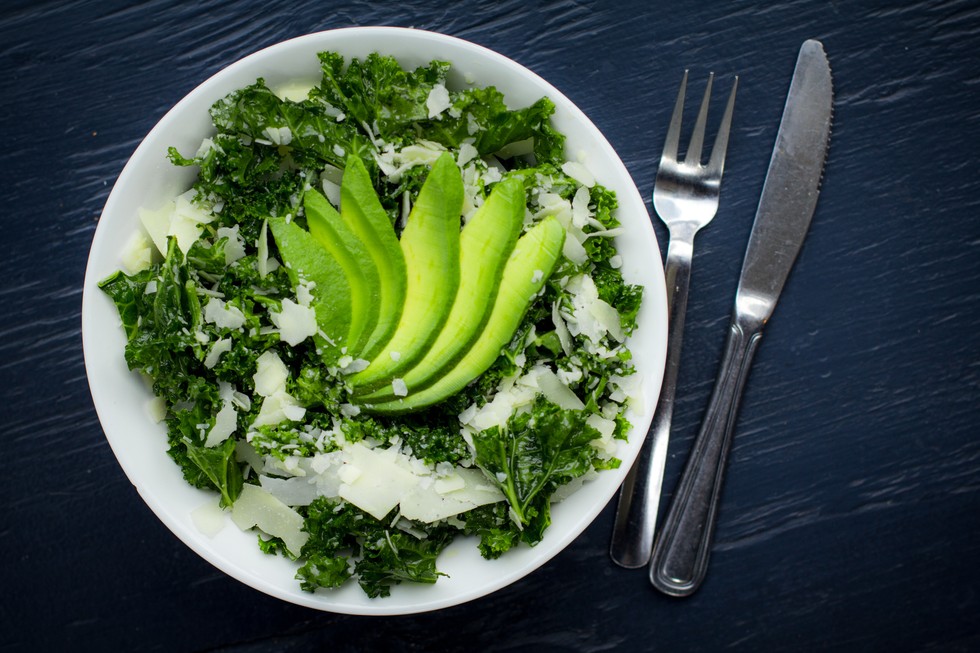 (photo: Pete Lee)
Sometimes, we love a kale salad that's straight-up simple, and really allows the fresh green to shine. Take the version at Cafe St. Jorge ($6 for a small, $8.75 for a large). Here, kale is simply tossed with a lemon vinaigrette and high-quality parmesan; an addition of avocado ($1.25) is never a bad idea, of course. Be sure to try their rich (but delicate!) Portuguese egg custard tart for dessert. // 3438 Mission St., cafestjorge.com
As our appreciation for St. Jorge's salad makes clear, we love a good kale-avocado combo. Reveille nails this pairing with their generously piled salad ($8) featuring curly green kale, ample, buttery chunks of ripe avocado, toasted pumpkin seeds, and a creamy buttermilk Caesar dressing. Add a generous serving of well-salted, tender turkey for $2, and don't forget a cup of their excellent brew to wash it down. // 4076 18th St., reveillecoffee.com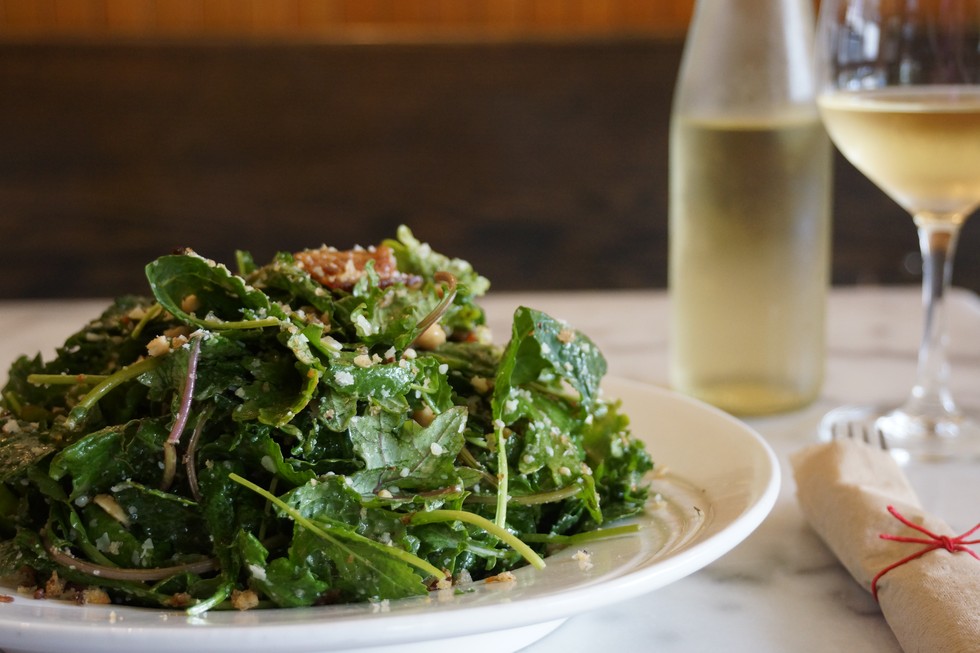 (photo: Fat Angel)
2. Fat Angel
It's hard not to love Fat Angel, what with their stellar wine and beer lists, cozy neighborhood atmosphere, and obvious appreciation of good meat and cheese. Their kale salad ($12) hits all of our top pleasure points—tender baby kale is tossed with bacon, parm, marcona almonds, and crunchy, buttery breadcrumbs. Add a perfect wine pairing and consider us the happiest of campers. // 1740 O'Farrell St., fatangelsf.com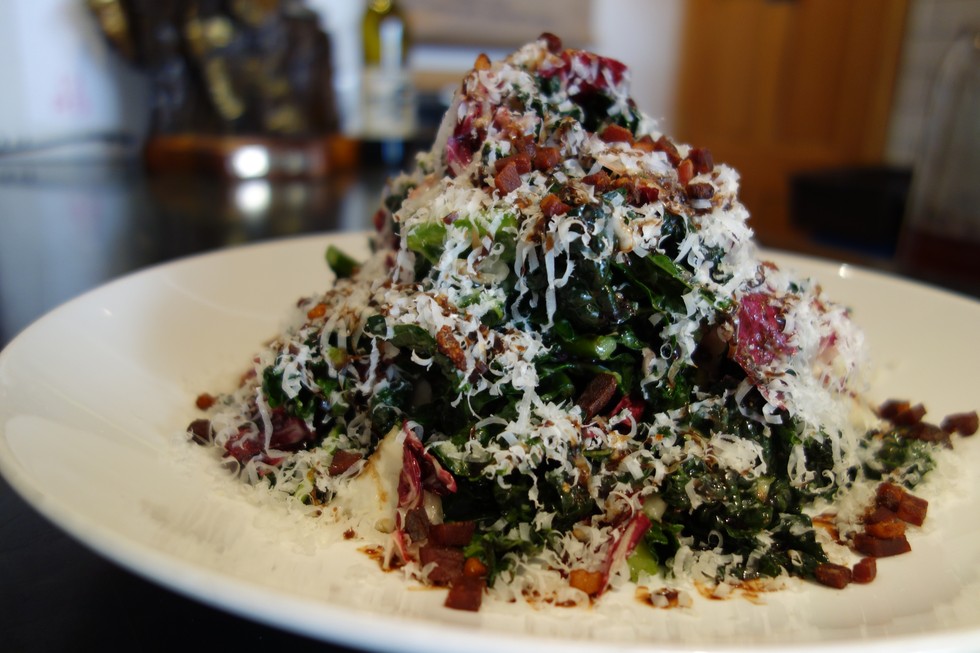 (photo: Darwin Cafe)
1. Darwin Cafe
We dream about the kale salad ($11) from Darwin Cafe, seriously. Tender dark greens are lent just the right amount of bite thanks to crisp, bitter chicory; the veg blend is rounded out with an ample serving of sinfully good prosciutto. That's all dressed with lemon, garlic, and aged balsamic, and topped with a blizzard of finely shredded parmesan for good measure. Know any kale haters (or are you one yourself)? This is the kale salad created to convert the world. // 212 Ritch St., darwincafesf.com
DON'T MISS A BAY AREA BEAT! SUBSCRIBE TO OUR NEWSLETTER.