By
There are two kinds of vacationers: those who lounge on the beach and those who hang out the sides of helicopters.
And while I'd normally opt for poolside cocktails, as I did last year in Maui, a recent tip to Oahu called for a more adrenaline-fueled vacation mode. So, with only a couple days and two shores to explore, I set out to have the most adventurous trip possible. Here's what I did.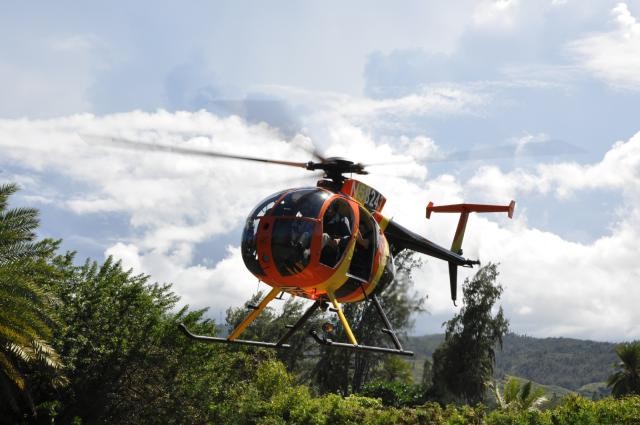 Magnum P.I. Helicopter Ride
Hoping to gain a new perspective during your time away from the office? Try a bird's eye view of paradise. On a slightly rainy morning earlier this month, I strapped myself into a tiny replica of the Magnum P.I. chopper (and when I say "strapped," I mean that a mere seatbelt was all that stood between me and a dizzying fall), and took to the skies. It was amazing. With breathtaking views of the fabled North Shore, Pearl Harbor, Diamond Head, the Stairway to Heaven, Sacred Falls, and more, there's not a better way to see the whole island at once. // paradisecopters.com
Hans Hedemann Surf School
For someone who has lived her entire life near the ocean, I'd never been surfing. And it seems I chose the wrong day to start. On a not-so-clear day in October, I donned my rash guard and strapped my board to my ankle and braved the 5-foot waves (measured Hawaiian-style) that crashed into Turtle Bay on the North Shore. And while our friendly instructors admitted these were not normal conditions for beginners, they had us all standing up and cruising before the two-hour lesson was over. They were even nice enough to tow you back in when your arms were tired from paddling and the relentless waves gave you a pummeling. Note: you will be sore the next day. // hhsurf.com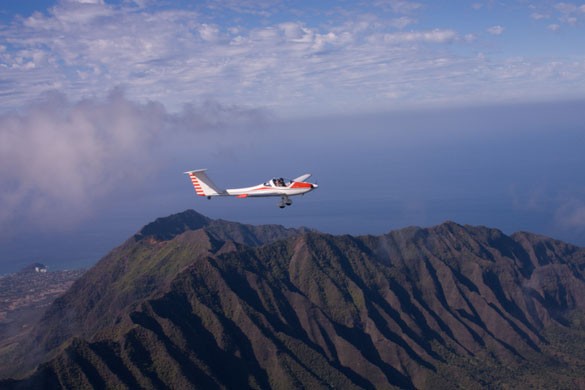 Glider Rides
Because a helicopter ride just wasn't perilous enough for me, I also decided to get into a tiny, engine-less airplane that more closely resembled a paper plane than anything safe for air travel. Oh, and did I mention that you're towed into the air by a Korean War army plane that looks like it's not handling the modern era very well? Regardless, the views are incredible as you glide along the North Shore, and the ride surprisingly smooth. And if you're willing to experience zero-gravity, your pilot is more than willing to take you into a nose dive. // honolulusoaring.com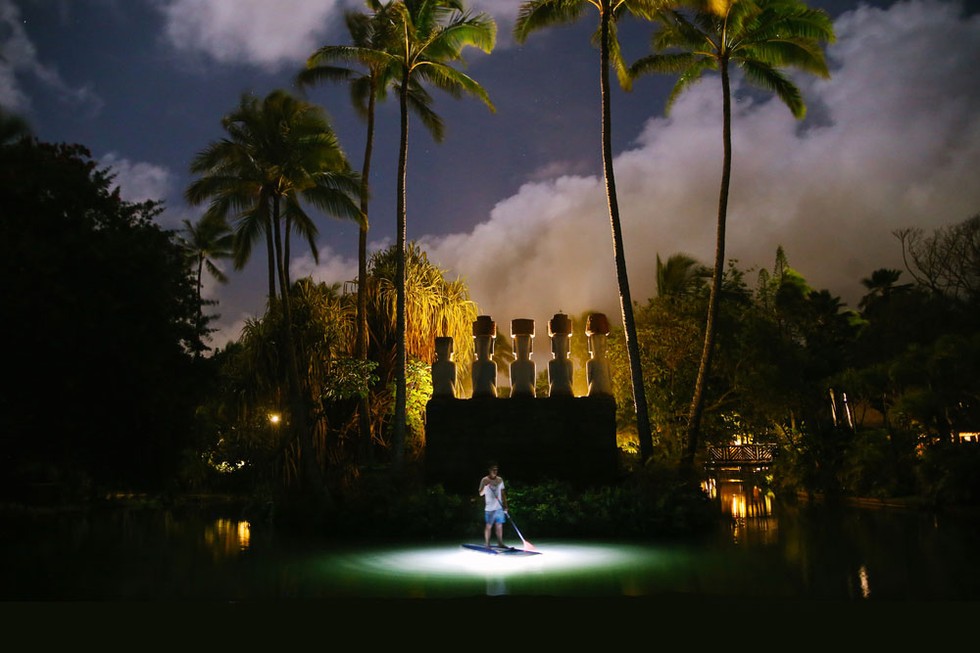 Lunar Legends Lagoon Tour
Imagine this: you're lying on your standup paddle board under an ocean of stars, listening to ancient Polynesian legend and lore. That's the magic of the Lunar Legends Lagoon Tour. Guided by a native Polynesian, you'll be visiting the islands of Samoa, New Zealand, Fiji, Hawaii, Tonga, and Easter Island on a SUP board, kayak, or our SUP party board, without ever having to leave the Polynesian Cultural Center. No Waves. No Sharks. No Worries. // turtlebay.com/lunarlegendslagoon
Huakai Iki Adventure
This little mountain adventure has it all: scenic views, exotic plants, and refreshing mountain streams. Easily one of my favorite parts of the whole trip, the journey starts off with a 7-mile off-road ride in an old army van to the trailhead and continues with a hike through unspoiled natural beauty. We scaled windswept ridges, forged through freshwater streams, and trekked through verdant tropical valleys. Wild bananas, guava, bamboo, and ginger were plentiful. And the whole time our expert Hawaiian guide shared his insight into the land's fascinating history and laughed at our mispronunciations of traditional Hawaiian words. The climax: a rejuvenating swim in a private mountain pool. What could possible be better than that? // northshoreecotours.com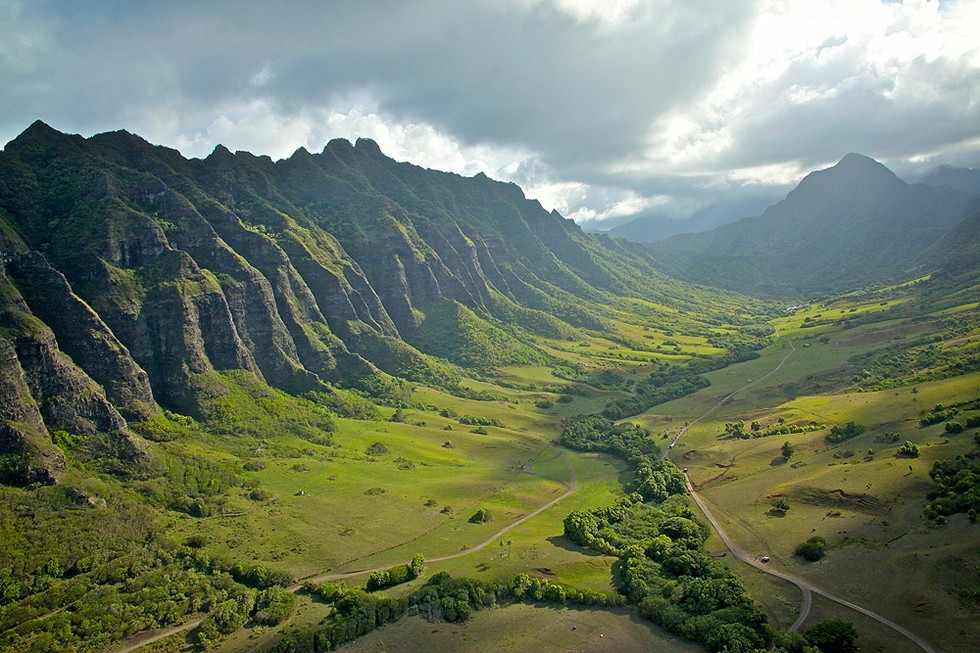 Kualoa Ranch (Jurassic World Experience)
Love Jurassic World? Much of the movie was filmed at Oahu's Kualoa Ranch, an area considered to be one of the most sacred places on the island. The ranch offers a special movie sites tour to see filming locations such as the pen where (spoiler alert!) the Indominus Rex escapes and the Ka'a'awa Valley, where the main characters got to roll around in little hamster balls among the Brontosaurus. Selfie-worthy moments abound. // kualoa.com
Wild Side Specialty Tours
Our last morning on the island was spent swimming with dolphins, but before you launch into your Blackfish-fueled lecture, hear this: a team of marine biologists led us out into the ocean to admire spinner dolphins in their natural habitat. Sound incredible? It was. Like a well-oiled troop, we spotted the dolphins, donned our snorkel gear, and then jumped in the water, hoping the dolphins would tolerate us as we swam alongside their pod for as long as we could keep up. After a tasty lunch, we headed inland to spot turtles in the tepid, crystal clear waters near shore. // sailhawaii.com
DON'T MISS A BAY AREA BEAT! SUBSCRIBE TO OUR NEWSLETTER.