By
Though the Castro isn't ground zero on SF's food map, there are still pockets of deliciousness to be had in this sprawling 'hood. Here, we apply our tried-and-true 10 Under $10 criteria to find the best cheap and easy (no, not like that!) meals to grub on when you're in this rainbow-tinged part of town. What are yours? Tell us in the comments below.
1. Tostadas de Tinga from Chilango
I tend to avoid the grease and mess characteristic of authentic Mexican food unless I plan not to leave my couch for the rest of the day. However, Chilango breaks that stereotype and offers a lighter, more sophisticated twist on classic Mexico City dishes. The open kitchen, friendly staff, and eclectic place settings make for a comfortable environment to enjoy a couple tostadas de tinga, loaded with shredded chicken and dripping with flavor. The fresh cabbage, cotija cheese, pinto beans, pickled onions, and sour cream cool your pallet as the tinga overwhelms your tastebuds with spicy flavor. Nothing an ice cold Pacifico can't help. $10, 235 Church Street, 415-552-5700
2. Garden Noodles at Chow
Chow's eclectic menu has something for everyone (pizzas, pastas, salads, meats) and its location at the intersection of Market and Church Street is prime. One of its unexpected stars is the bowl of Organic Garden Noodles. You have the option of an entree size, but the medium bowl is substantial without going overboard and is perfect for a late-night dinner (Chow serves until 11 pm on weeknights, and midnight on Friday and Saturday). The noodles are a vegetarian's dream swirled with silky tofu, fresh mushrooms, broccoli, and other greens sautéed in a chili-citrus-miso-sesame brothy sauce that's pungent and unexpectedly spicy. Sit at the bar or relax on the heated back patio. $8.50, 215 Church Street, 415-552-2469.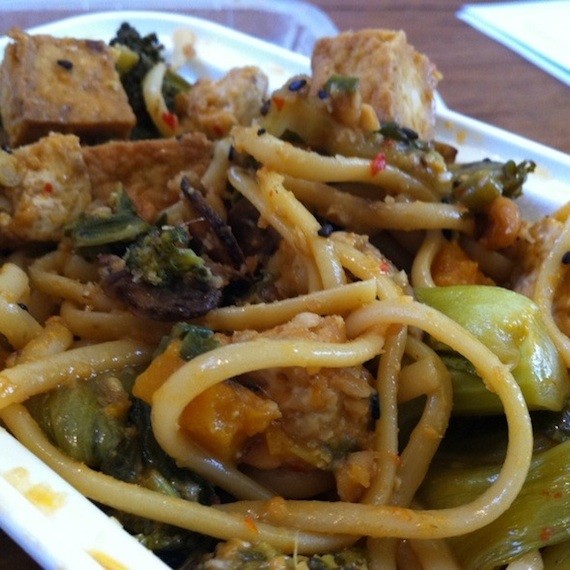 Garden noodles photo by Foodspotting user KaylanS
3. Mussels at Starbelly
Many diners frequent Starbelly for their juicy Prather Ranch burger or one of their insanely awesome, thin-crust pizzas. While we can't deny the goodness that comes along with either, the steaming combination of mussels with Mexican chorizo and spicy chiles capped with citrusy cilantro warms the belly and sates your hunger as well. The black mussels are just the right size (not too big or slimy, not too small or underwhelming), and the piquant chorizo is piled on generously, falling into the crevices of the mussel's mouths. You'll be asking for additional pieces of the perfectly crusty-on-the-outside, soft-on-the-inside loaf served with the dish to soak up the delicious, zesty broth. $10, 3583 16th Street, 415-252-7500.
4. Chicken and Shrimp Pad Thai from Thai House Express
Thai House Express lived up to its name when my meal arrived to the table, piping hot, minutes after having placed my order. The stack of pan-fried stick noodles was loaded with chicken, shrimp, tofu, and egg. I like mixing the requisite bean sprouts and peanuts into my Pad Thai as I go, but theirs came already layered with the garnishes. No matter–I was able to look past it in this case, thanks to the heavenly flavors this particular plate offered. Tip for the future–ask for a bit more spice. The chile pepper next to the menu's description is slightly deceiving. $9. 599 Castro Street, 415-864-5000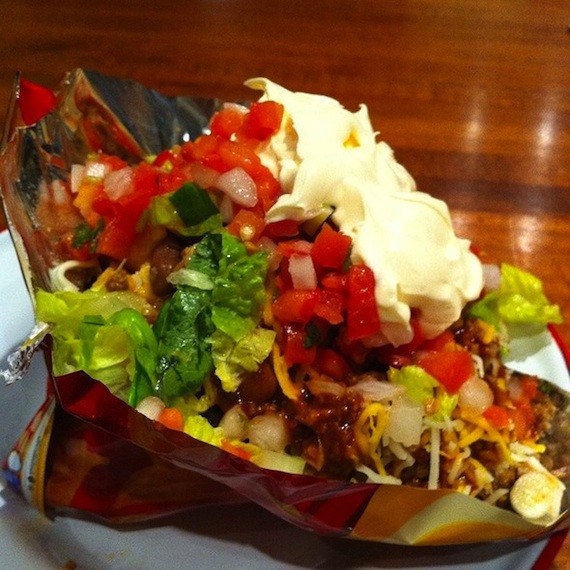 Frito pie photo via Foodspotting user Viet Noms
5. Classic New Mexican Frito Pie at Chile Pies
Frito pies are definitely one of those things you make at home, in secret, when you feel like being a total slob and don't want anyone to know what you're truly up to behind closed doors. But the kind they make at Chile Pies on Church Street–and yes, it's served right in the Frito bag itself–somehow makes it okay to consume this white-trash staple out in public. It's quick, simple, and ultra comforting, thanks to layers upon layers of guilty-pleasure goodies like spiced ground beef, pinto beans, red chiles, lettuce, pico de gallo, cheese, and crema, all piled high on top of an open bag of Fritos. They've also got a vegetarian version, too. $8, 314 Church Street, 415-431-9411
6. Barbie Roll at Sushi Time
This place is tiny and well-hidden in a mini-mall in the Castro. Although it's tough to find, the restaurant itself is just about the most authentic looking sushi joint we've seen in SF. Many things on the menu will tempt, but we chose the Barbie Roll–a delicious combination of crab and avocado, with salmon sashimi and lemon draped on top. It has a great citrus flavor that brightens the sweetness of the creamy crab, and avocado. Plus, the eight hearty pieces make for a perfect meal for one. $9, 2275 Market Street at 16th, 415-552-2280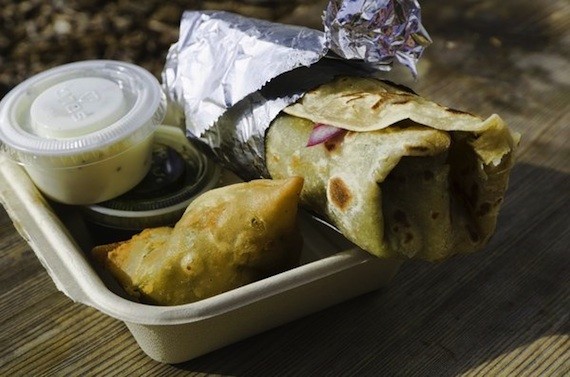 Kati roll photo by Yelp user Greg R.
7. Kati Rolls at Kasa Indian
Like baby Indian burritos, these lil guys are great for either a snack (if you just have one) or a meal, if you're willing to throw down for two. And at $4.50 to $5 a pop, it's totally doable. Think of it as the culinary equivalent of a "Choose Your Own Adventure" book. The kati rolls are basically Kasa's delish Indian curries (which rotate on the regular) and basmati rice rolled up in their handmade, buttery roti bread, with added marinated onions and chutney. And if you want it spicy, they will make it spicy. We ate their chicken tikka masala (the chicken was thin yet juicy, and char-grilled) and the saag paneer, filled with creamy spinach and cubes of farmers cheese. $4.50-$5, 4001 18th Street at Noe, 415-621-6940
8. Bowl of Clam Chowder and an Oyster Shooter at Anchor Oyster Bar
Whether you're hungover or in need of a warm meal (or both), this ten buck combo is the perfect choice. The oyster shooter comes in a tall shot glass with delicious (virgin) bloody mary mix (you can get a soju-infused shot for a few bucks more), a lemon wedge and celery. The oyster itself gets marinated for a minute in the juice, so the whole thing goes down smoothly. After this perfectly salty appetizer, a bowl of their sweet, creamy clam chowder hits the spot. There are tons of hearty morsels of clams, potato, and other goodies, and is served with crusty bread for mopping it up. $10 together, 579 Castro Street, 415-431-3990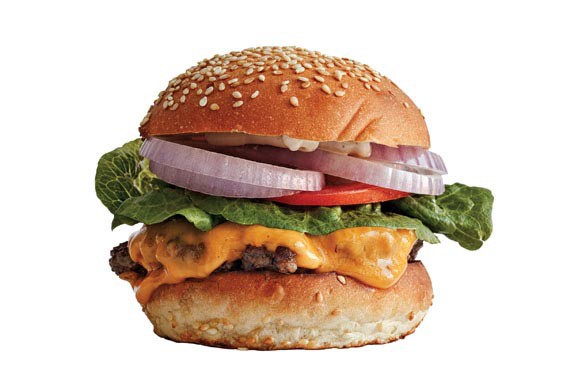 Super Duper burger photo by Ed Anderson
9. A Mini Burger with cheese and Fries at Super Duper
Sometimes a fast food craving hits so hard, you're powerless to stop it. Thanks to their slow food ethics, we can indulge those cravings for fried, carby, meaty goodness and not feel like we need our memories erased by those Neuralyzers from Men in Black after the fact. Super Duper's burger, for how thin the Niman Ranch patty appears, is deceivingly juicy–which is where that order of french fries come in handy. And don't worry about the La Boulange-made sesame bun...it's strong enough to soak up the juices and not fall apart. Pile on tomato slices, red onion, Little Gem lettuce, California cheddar cheese ($0.50 extra), house-made pickles, and special sauce made from a mix of mayo, ketchup, mustard, a bit 
of brandy, and minced pickles, and you've got quite a burger in your hand. $4.50 for the burger, $0.50 extra for cheese, $2 for fries, 2304 Market Street, 415-558-8123
10. Chicken Pomegranate Lunch Special at La Mediteranee
Their fruity pomegranate chicken is so juicy it literally falls off the bone, and maintains a beautiful balance of sweet and savory. The three drumsticks the lunch dish is served with come atop La Med's signature rice pilaf–the perfect, fragrant bed of carbs to complete the delicious dish. Plus, you can choose a side of green salad, Armenian Potato salad, or our personal favorite, their traditional avgolemono soup (a creamy blend of lemon, chicken, and rice). $8.95, 288 Noe Street at Market, 415-431-7210
DON'T MISS A BAY AREA BEAT! SUBSCRIBE TO OUR NEWSLETTER.