So marijuana's all legal. Well, it will be when recreational use goes into full effect in January 2018. Until then, you still need an MMJ card to partake in the goodies—and oh, what goodies await. Since last we updated this annual guide to all things cannabis (with a special edition just after the November election), the field has become even more outstanding.
Unbelievably chic new edibles and quality cooking ingredients have come to the table; stylish dispensaries are growing up and expanding; special events have flooded our calendars; and canna-weddings and tourism have officially become a thing. To cover all our region has to offer in the way of marijuana marvels would be impossible, so please enjoy our curated picks for the very best of the Bay Area.
---
The Best Artisanal Marijuana Edibles Made in the Bay Area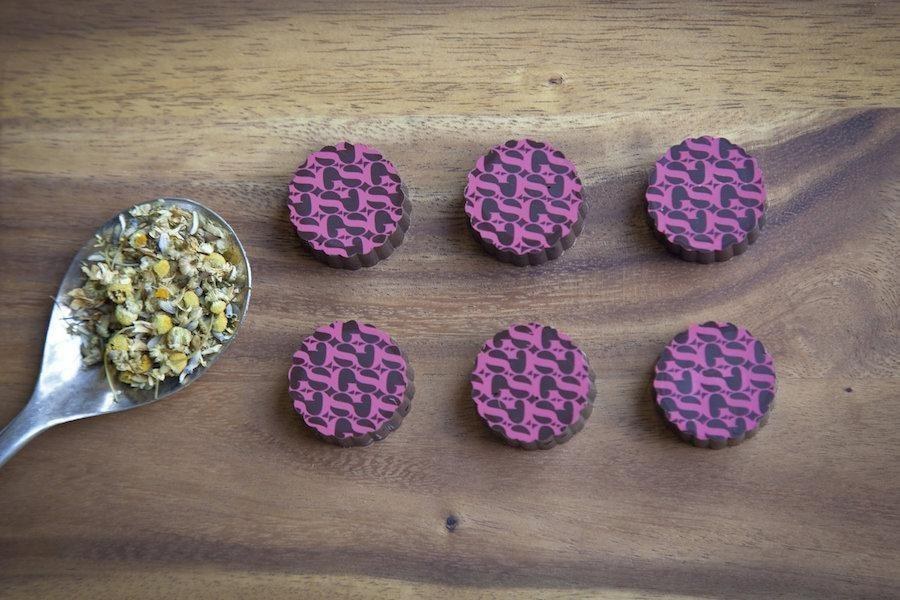 These Bliss Blossom cannabis milk chocolates are as elegant as anything at the pastry counter.
(Courtesy of Garden Society)
Bay Area residents are already obsessed with food—put some cannabis in there, and we all go bananas. Unsurprisingly, today's local edibles market is touting all the watchwords of our favorite chefs and restaurants, and there are paleo, gluten-free, and vegan options to boot. But edibles can be tricky, so pay close attention to dosing recommendations on the packaging—for newbies, just 5mg of THC is enough to get a buzz on. When in doubt, remember this motto: Start low, go slow. These things take time.
CHOCOLATES
A recent boom in sophisticated edibles is bringing confectionery-grade treats to pot shops near you. Out of Sonoma County comes Garden Society, a brand of sweets so elegant they would fit in on the bonne bouche plate at Jardinière. The chef-prepared milk chocolates infused with passion flower ($28, 1:1 THC:CBD) and fruit and herb gelées ($22, THC/THCA; both available at Sava) are made with all organic and locally sourced ingredients as well as with biodynamic cannabis from Anderson Valley's Shine On Farms. // Kiva Confections artisan chocolates includes a range of bars in two different strengths ($20) as well as a growing line of treats in micro doses perfect for your desk drawer, such as the Blueberry Terra Bites ($18, 5mg per serving) and Petra Mints ($15, 2.5mg per serving; all available at Cannvis). // Oara Chocolates ($16; available at Harvest) house your healthy probiotics (10 billion live cultures) in organic dark couverture chocolate with a low dose (5mg) of biodynamically grown cannabis—in other words, you can pop them anytime and still remain functional. // A sunny day in Dolores Park wouldn't be complete without doling out a bit of cash to The Truffle Man (his real name is allegedly Trevor). Look for the dude toting beautiful copper pots laden with golf-ball sized cannabis truffles in six yummy flavors (3 for $10, 7 for $20); you'll be guaranteed a good time in the grass.
COOKIES + BROWNIES + CAKES
It's easy to feel like a kid in a candy store at most modern dispensaries—today's edibles come in an array of brightly hued gummies, candies, donuts, and more. But there's still something to said for the classic pot brownie. Good Co-Op's two-bite brownies ($33/box of three 10mg brownies; available at Harvest) put a modern foodie twist on the old goodie with Guittard's 72 percent dark chocolate, organic Humboldt cannabutter, and Maldon sea salt. Yum. // If you're looking for low-glycemic, paleo-centric, gluten-free, and even vegan treats, Moonman's Mistress offers a delish line of cookies with both THC and high CBD options ($20/box of five 10mg CBD cookies; available at Sava). // Treat Yourself—a line of cannabis-infused edibles made for women—is satisfying our teenage munchy cravings and our adult lady needs with gluten- and refined sugar–free treats, including cherry almond vegan pop tartlettes ($16, 50mg CBD, 20mg THC per two) and coconut banana mini cakes ($16, 40mg CBD, 15mg THC each).
GRANOLA + SNACKS
Flour Child's Granola ($20/8oz. jar, 7mg per tablespoon; available at Sava) is handmade in SF with oats, olive oil, raw turbinado sugar, sea salt, dried figs, and more. The inclusion of Lemon Diesel ice water hash—a sativa blend from French Laundry Fine Concentrates—provides a pleasant body buzz but little intoxication. // SF-based Auntie Dolores is all about treating pain through delicious cannabis-infused snacks that happen to be both vegan and diabetic-friendly. Better still—savory options including mini pretzels ( $15, 120mg THC) and spiced nuts. // Oakland Ayurvedic practitioner Eden Tosch has tapped into her understanding of cannabis and her knowledge of how to boost libido through herbal combinations to create Snuggle Bites ($3.5-$20, 50mg THC per bite)—mostly organic bars made with coconut, raw honey, and cocoa nibs as well as Ayurvedic go-tos such as shankha pushpi and ashwaghanda to increase passion and sensitize the body for max pleasure. // Oakland-based Native Seed makes high-protein cannabis energy bars packed with fiber, omega 3s, hemp protein, and Sour Diesel cold water hash. The Lift Bar ($10-$20, 1:1 THC:CBD) comes in two strengths that are great for those with high tolerance to THC—60mg (2-4 doses) and 180mg (4-8 doses). Or, try the 1:1 Protein Bites, with an even balance of CBD and THC to fuel you and a friend through the day ($22, 60mg CBD, 60mg THC; all available at Yerba).
COFFE + TEA + COCOA
What's a Bay Area office environment without a healthy supply of cold brew coffee? Take it up a notch with Somatik's Medical Cannabis Cold Brew ($14, 15mg THC per 8-ounce bottle; available at getcannvis.com), made with Ritual Coffee! It's a choice option for on-the-job, functional microdosing. Yes, it is possible to be both alert and relaxed—welcome to the world of legal marijuana. // Skyline Boulevard's hand-blended collection of cannabis teas and infusions ($4-$8, available at Sava) are delightfully simple to consume and impart a really smooth, mellow high. Each tea bag offers a maximum 30mg potency per cup, but the ultimate strength of your brew depends upon how much milk you add (more fat, more high). // Om Edibles' CBD Raw Sipping Cacao ($36/4oz. jar, 80mg CBD per jar, available at Sava)—raw organic cacao loaded with pure, non-psychoactive, therapeutic CBD—from the SF-based all-girl collective Om Edibles makes the perfect cup of hot cocoa on a foggy SF night. Spike it with a pinch of cinnamon or cayenne and relish the divinely mellow but clear-headed effect.
—Reporting by Flavia Cassani, Amanda Reiman, Jimi Devine, David Downs, and Chloé Hennen