By
Secret hideouts, tinctures of mysterious potions, flaming orange peels, and ice as art: The city's cocktail scene shows no sign of waning, so drink up.
Wilson and Wilson
Now there's a bar behind the bar that launched San Francisco's speakeasy movement. Wilson and Wilson, located in Bourbon & Branch's former library, is an intimate reservation-only nook draped in damask wallpaper. The strong cocktails—poured over stately blocks of ice and served in delicate milk-glass cups and more—are often geared toward an adventurous palate. A mixed crowd gathers nightly for its list of investigative cocktails meant to be ordered like a tasting menu: Start with a palate-opening aperitif, move on to a main, and tie things up with a digestif (and a cab ride home).
The cocktail to order: Fu Manchu (gin, grapefruit juice, five-spice syrup, pu-erh tea tincture, vanilla-angostura tincture)
505 Jones St. (at O'Farrell), thewilsonbar.com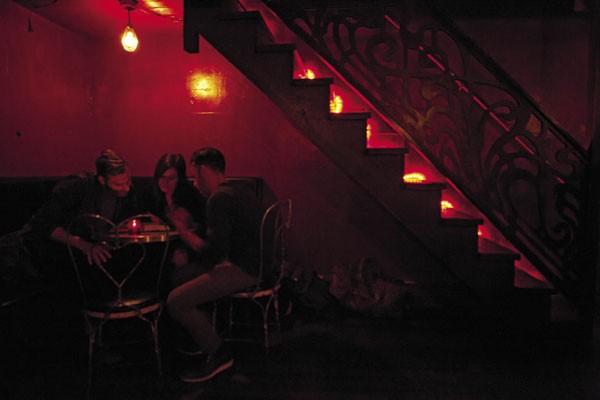 The Hideout at Dalva
Walk into Dalva—one of the Mission's most popular quasi-dive bars—speed by the beer-and-shot-pouring powerhouse in front, and head for the back right corner of the room. Here lies the entrance to The Hideout, a tiny, dark, red-walled den that seems to be aiming for a speakeasy vibe. Warning: On weekend nights, it gets so crowded with in-the-know Missionites that a wait for their classic drinks can drag on. Make it your weeknight meet-up joint instead, and arrive around opening time at 7 p.m. to score a stool at the bar.
The cocktail to order: Del Rio (blanco tequila, fino sherry, St. Germain, orange bitters)
3121 16th St. (at Valencia), 415-252-7740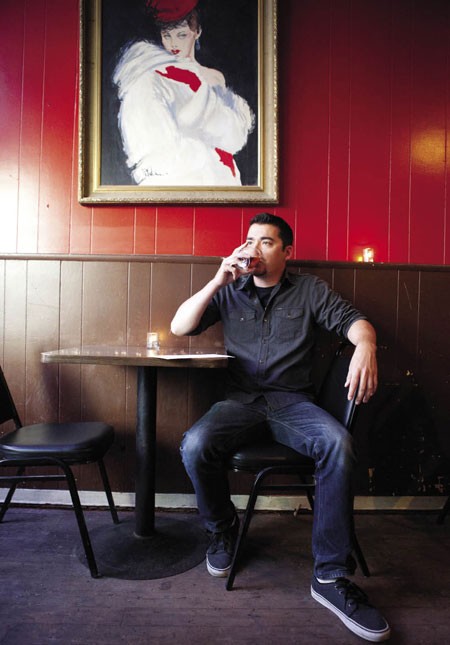 Mr. Lew's Win Win Bar & Grand Sazerac Emporium
At it again, Bourbon & Branch's crafty owners took over the formerly seedy 441 Club, cleaned it up a little, and armed it with an unexpected list of pedigreed cocktails. Located in the Tenderloin, Mr. Lew's kind of looks like a massage parlor from the outside, but once you cross the threshold, a top-lit pool table, blood-colored walls, and a slew of spirit-forward drinks warm things up. The owners are planning to further overhaul the space next year.
The cocktail to order: Latin Quarter (rum, absinthe, Peychauds, Angostura, molé bitters)
441 Jones St. (at O'Farrell), 415-474-2285, mrlews.com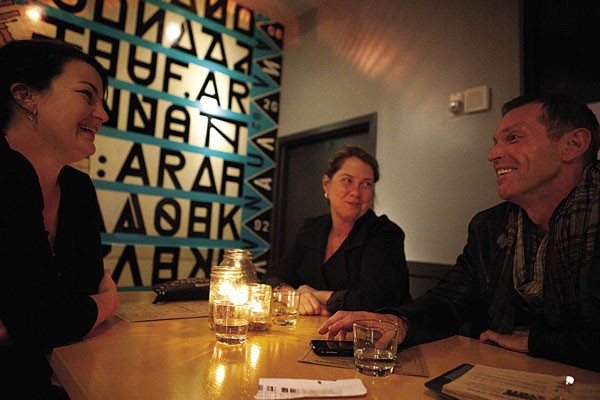 Jasper's Corner Tap & Kitchen
Beer lovers experience the best kind of angst perusing this Tenderloin bar's selection of 18 draft brews, ample beer cocktails, and high-quality takes on the classic Boilermaker shot-and-beer combo (such as Blanche de Bruxelles with a Yamazaki 12-year Japanese whiskey). There's also a rotating cocktail on tap (which at press time was the Hanky Panky, a potent mix of gin, sweet vermouth, and Fernet-Branca).
The cocktail to order: Great Pumpkin Fizz (aged rum, Velvet Falernum, maple pumpkin butter, egg white, fresh nutmeg)
401 Taylor St. (at O'Farrell), 415-775-7979, jasperscornertap.com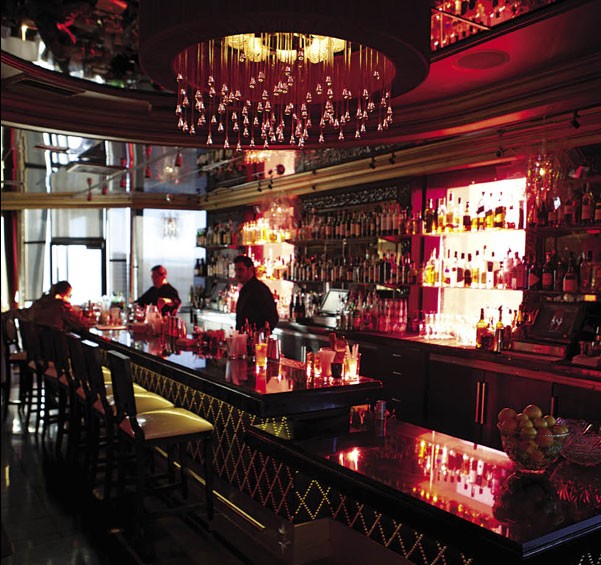 Harry Denton's Starlight Room
This fall, $1.5 million was poured into the city's skyscraping, iconic Union Square bar, making it sparkle with a black terrazzo glass dance floor, Scalamandre damask wallpaper, and even more crystal-ensconced lighting. Yes, it's kitschy glitz, but bar manager Joel Teitelbaum has created a serious 10-page menu that spans the history of the cocktail, from the Pisco Crusta of the 1860s to a present-day Spanish Dagger, giving local drinkers reason to mingle with the tourists.
The cocktail to order: High Flyer (absinthe, lemon, hibiscus cordial, peach soda)
450 Powell St. (at Sutter), 415-395-8595, harrydenton.com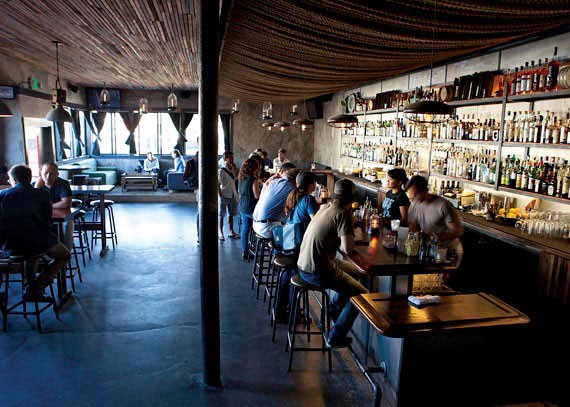 Churchill
At this sophomore effort from the Bloodhound guys, thick ship ropes slung from the ceiling and nautical lights on the bar bring a World War II air carrier to mind. More rustic than campy, the atmosphere backs 10 beers on tap, a staggering whiskey selection, juke box, pool table, and a couch-filled lounge that's perfect for date nights. There's a little something for everyone here, and the knowledgeable bartenders won't sneer if you ask for a drink that's not on their tightly edited cocktail list.
The cocktail to order: Homefront (vodka, lemon juice, bianco vermouth, rosemary syrup, soda water)
198 Church St. (at Market), churchillsf.com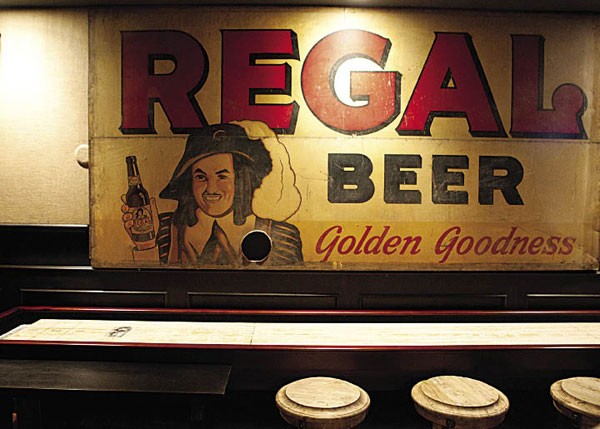 Reed & Greenough
The Marina finally got its upscale, taxidermy-clad, cocktail-serving haven free of the rowdy, collegiate vibe that spills out of the nearby sports bars. Designer Kendal Agins scoured flea and antique markets to enrich the space with baubles, quirky paintings, and button-tufted leather seating. Two pool tables, and a shuffleboard table provide a playground for decked-out patrons. To the delight (and chagrin) of many, there's a dress code: no sneakers or workout clothing. In other words, leave the Lululemon at home, girls.
The cocktail to order: Braveheart (whiskey, ginger syrup, honey, lemon, Angostura bitters)
3251 Scott St. (at Lombard), 415-913-7021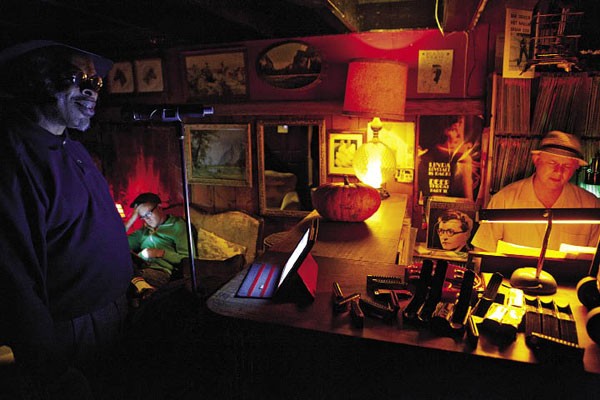 Royal Cuckoo
A gracefully worn wood bar lines the wall of this attic-like haunt situated at the base of Bernal Heights—or La Lengua as some have taken to calling it. Filled with mounted animal heads and eclectic tunes spilling out of a vintage record player, the Royal Cuckoo also has live electric organ music on Saturdays. This joint is usually jammed with a good-looking crowd of free spirits getting loose on draft beers or one of the hand-crafted cocktails scrawled on the chalkboard overhead.
The cocktail to order: Bitter cup (Fernet, Campari, grapefruit)
3202 Mission St. (at Valencia), 415-550-8667, royalcuckoo.com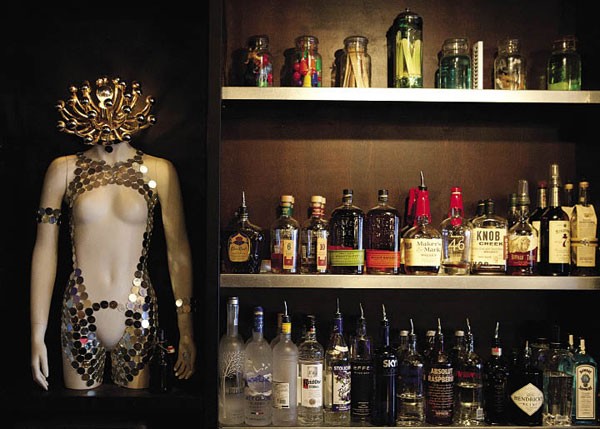 Dr. Teeth and the Electric Mayhem
The owners of Bullitt and Tonic opened this quirkily decorated Mission bar named after everyone's favorite Muppet band. Exposed pipes dangle in geometric shapes over sequin-clad mannequin torsos, and the crowd—part Marina transplants, part Mission locals—has an affinity for plaid shirts. There are also TVs galore, a shuffleboard table, draft beers in mason jars, and Fernet and Jameson on tap. This fall, the owners sweetened the deal with an Astroturfed hillock, a hammock, and a grill out back.
The cocktail to order: Mayhem (rye, brandy, Fernet, Peychaud's, orange bitters)
2323 Mission St. (at 19th), 415-285-0818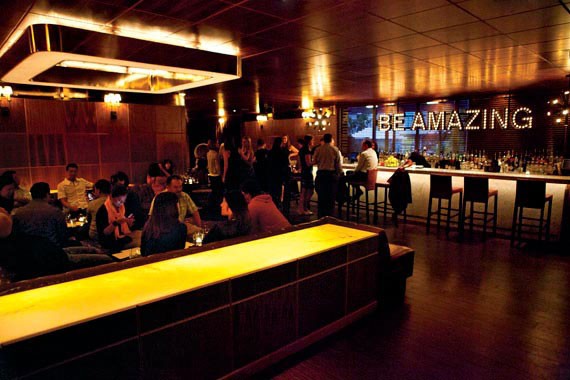 Chambers Eat + Drink
Dolled-up scene-seekers pack the bar nightly here, spending their time enamored with SF designer Mr. Important's rock-and-roll aesthetic, the outdoor pool, and each other. Most of them don't realize one of the bar's greatest strengths: Former Nopa bar manager Neyah White consulted on the cocktail program, and the offerings, nondescriptly described as drink No. 1, drink No. 2, and so on, are well-worth everyone's attention.
The cocktail to order: No. 12 (mezcal, St. Germain, lime, cayenne)
601 Eddy St. (at Larkin), 415-829-2316, chambers-sf.com
DON'T MISS A BAY AREA BEAT! SUBSCRIBE TO OUR NEWSLETTER.