By
We present to you our favorite local gems in the style department.
BEAUTY SHOP: Nars
François Nars, the makeup artist bold enough to name his bestselling color Orgasm, is now titillating SF with his Fillmore Street Nars store. Opened in March, the high-impact boutique is designed in black, white, and signature Jungle Red. The latest collection of nail polish and blush is a collaboration with Parisian shoe designer Pierre Hardy. (Lower Pacific Heights)
GENERAL STORE: Mill Mercantile
Don't bother looking for of-the-moment trends at Mill Mercantile. Owners Todd Barket and Carl Chiara, who cut their teeth at Gap and Levi's, curate clothes that stand the test of time. Opened last August as the female counterpart to Castro's Unionmade, this 24th Street shop has quickly become a go-to for classic striped tees, quality denim, and finds such as Postalco notebooks and Aesop beauty goods. (Noe Valley)
UPCYCLED DESIGN: Mina + Olya
Mina Yazdi and Olya Dzilikhova launched their eco-minded fashion line Mina + Olya in 2011 with no more fashion training than a shared obsession with 1970s and '80s Thierry Mugler and YSL. The SF-based duo's body-con shift dresses in organic cotton, hemp, and hemp silk impressed editors and bloggers alike—The Man Repeller is a fan. Shop their It silhouette at Curve in Pac Heights.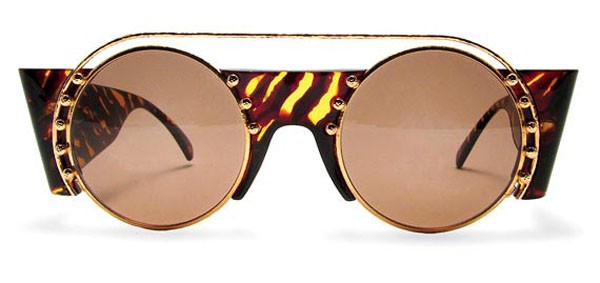 PEEPERS SHOW: Time Frame
Curtis Hawes was bitten by the collector bug in 2002 when he chanced on a stash of unworn 1980s Cazal sunglasses made in West Germany. In November, Hawes opened his first retail space on Valencia Street with Time Frame, stocked with collectible costume jewelry, timepieces, and, of course, vintage sunglasses and frames. Whoever your muse may be—Jackie O., Steve McQueen, or Urkel—channel them at this Mission gem. (Mission)
RISING STARS: Freda Salvador
The rise of SF shoe designers Megan Papay and Cristina Palomo-Nelson has been a thrill to watch. Since launching their Fall 2012 line of beautifully crafted footwear handmade in Spain and El Salvador, Freda Salvador's ankle boots and d'Orsay loafers have garnered the imprimatur of SF's cool set. When their first store—filled with records, magazines, and art—opened in February, newcomers to the brand were already late to the party. (Cow Hollow)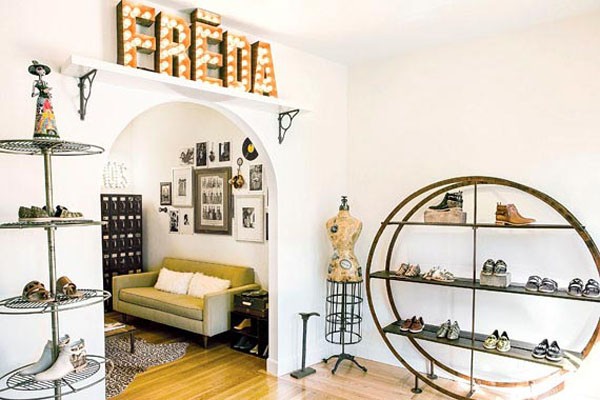 DRESSING ROOMS: Vera Wang
The humble fitting room finds new sophistication, inside Vera Wang's 4,650 square-foot bridal salon, in the form of four private lounges fitted with deep velvet chairs. Wang even has her own version of bottle service: When you find "the one" among the 80 gowns on hand, Champagne is on the house. (Union Square)
BROTIQUE: Bonobos Guideshop
Opened last winter, Bonobos Guideshop is the brick-and-mortar version of the popular e-tailer that knows what men want. In painless 45-minute appointments with the help of a guide, guys can tackle all their wardrobe needs—from weekend and office wear to chinos in every shade—in an environment duded out with vintage trophies, chesterfield chairs, and free beer. Orders are later delivered straight to your door. (Union Square)
DENIM SALVAGE: Self Edge
The store known for its heritage-loomed denim recently launched repair services to the delight of its loyal following. For a $40 flat fee or $20 for items originally purchased at Self Edge, jean geeks will restore your beloved blues by replacing rivets, chain-stitching torn hems, and fixing holes (without patches!) using a Singer darning machine from the 1950s. Whatever it takes to make your favorite jeans look as good as old again. (Mission) 
FESTIVAL GARB: Vacation 
Gold cat suits and printed rompers outrageous enough for the stage are among the offering at Vacation, a vintage shop owned by Kristin Klein and Adeel Ahmad. A tour manager in her past life, Klein is paying it forward with festival-ready threads. Franz Ferdinand and Ty Segall have been known to headline free mini-sets in the boutique's basement. (Tenderloin)
MAN SPA: John Allan's Razor Club
Real men appreciate pampering...in privacy, of course. Tucked away on the second floor of John Varvatos, this men's grooming club from John Allan—who opened his first club in New York in 1988—smells deliciously of leather and aftershave. At Razor Club, steal away for 45 minutes and order up the Legend—a signature treatment that includes a shampoo, haircut, manicure, facial cleanse, and shoe shine. (Union Square)
DON'T MISS A BAY AREA BEAT! SUBSCRIBE TO OUR NEWSLETTER.