By
Put your game face on and try out these courts. 
Golden Gate Park Tennis Complex
The park's 21 hard-surface tennis courts are nestled between the Conservatory of Flowers and the Children's Playground. The trees deter the wind from ruining your serve, and courts are typically first come, first served. Players of all levels go for pickup games and private and group lessons ($50 and $20). It's also the site of the annual City Open. The tournament takes place over the last weekend of August and first weekend of September. To get ready, reserve time to practice—$4 gives locals 90 minutes on the court. To avoid lines, skip the weekends and weekday rush hours of 8–10:30 a.m. and 4 p.m.–sunset. Post-game, visit the Tennis Clubhouse, which once housed a pro shop. These days, it's more of a rec room with foosball, pingpong, and photos of notables, such as Grand Slammer Mareen "Peanut" Louie-Harper, who trained here in the '70s when she was the top-ranked 16-and-under player in the U.S. Middle Drive East (at John F. Kennedy), 415-753-7001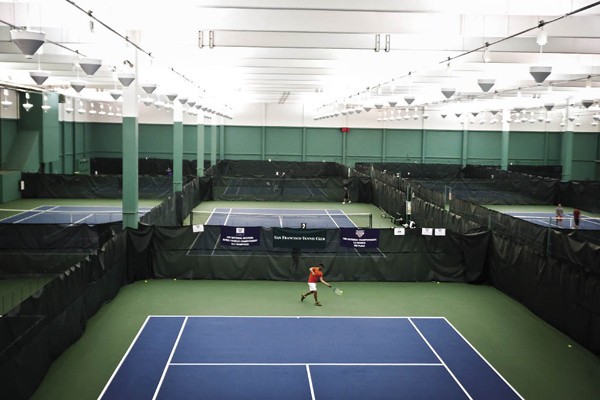 Alice Marble Tennis Courts
It can get windy on top of Russian Hill in George Sterling Memorial Park, but the views of downtown, Alcatraz, the Marina, and Golden Gate Bridge make it worth the occasional wild serve. The four courts have modern Laykold flooring that provides more cushion and bounce absorption than your average clay court. There's also a tennis wall for warm-ups. Late afternoons bring in more experienced players, and courts are first come, first served. Players are limited to one set (about 30 minutes), unless no one is waiting on the benches. 1200 Greenwich St. (at Hyde)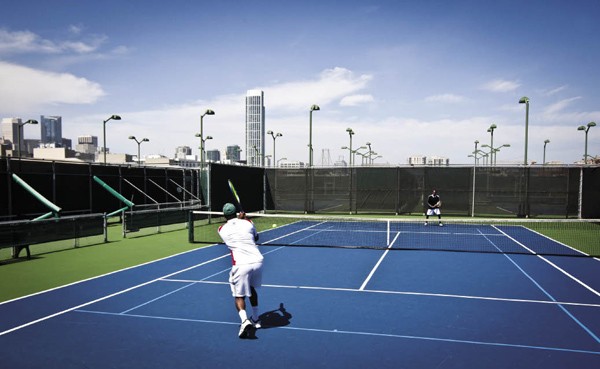 San Francisco Tennis Club
This private club in SoMa has 12 indoor, climate-controlled courts and 12 outdoor ones. Nonmembers can play for $100 4–9 p.m. on weekdays. If you'd like your partner to come along, he or she will need to purchase a guest pass for another $20. The splurge comes with the advantage of online reservations, so there's no waiting around for a game to free up. Inside, the club is immaculate and offers yoga and Pilates classes, plus sports and deep-tissue massages. Take advantage of the ball machines for practice shots, and after a heart-pounding game, celebrate your winning ace with a drink at Bar Basic, a well-lit watering hole just a block away (510 Brannan St. at Fourth). Parked outside are food trucks like House of Siam, which serves Thai-style tacos on Fridays 5–9 p.m. 645 Fifth St. (at Brannan), 415-777-9000, sftennis.com
James Moffet Tennis Court
Venture to the Outer Sunset's Parkside Square, where you'll find four courts in top condition. They're largely occupied by longtime neighbors who have been playing here for most of their lives, and as such, the regulars are a little protective of their turf. Hard flooring provides high-bouncing balls, and the surrounding pine trees give off a nice scent. In the early mornings, two of the courts turn into a tai chi class space, but they're usually free again starting around 10 a.m. There's a 30-minute set limit if the courts are busy, and most people politely ask each other who got there first and how much time they have left. As civilized as it sounds, games can get heated. If you lose to one of the neighborhood legends, walk off your embarrassment, and refuel at nearby Kingdom of Dumpling (1713 Taraval St. at 23rd). The soup dumplings and twice-fried green beans are sure to take your mind off any epic loss. 26th Avenue and Vicente Street 
DON'T MISS A BAY AREA BEAT! SUBSCRIBE TO OUR NEWSLETTER.