No matter what type of menu they're supporting—rustic Italian (Locanda), haute California (AQ), Chinese (Wo Hing General Store)—today's restaurant bartenders are crafting strong cocktails with the delicate precision of a bomb squad. These drink menus demand as much attention as the rest of dinner, but whether these libations are food-friendly is another matter. (Do you really want to end up still sipping a glass of icy, dry sherry punch when your jook arrives?)
Making the most of dining rooms with serious bar programs is a balancing act. "At many restaurants, cocktails go hand-in-hand with the dining experience," says Scott Beattie, who has developed bar programs for kitchens ranging from upscale cyrus in Healdsburg to more casual establishments like hog & rocks in the Mission. Beattie believes that tapas and shared plates with bold, intense flavors actually pair better with high-acid cocktails than wine. (Think of the perfect marriage between spicy salsa, salty chips, and a sweet, tangy margarita.) "But when you get into fine dining and more delicately flavored food, you're talking about pairing with wine," he concedes.
At AQ, barman Tim Zohn has a prescriptive approach. "I believe that you should have a cocktail before dinner, wine with dinner, and a cocktail after dinner," he says. His list offers both lower-alcohol aperitifs like the Palanquin (Lillet and IPA) and rich, sweet digestifs like the Permanent Record (cream sherry and port), in addition to boozy classics like the Sazerac and the Old Fashioned, which are best enjoyed before the food arrives.
While the notion of the cocktail-wine-aperitif dinner sounds ideal, the reality is that waiting diners are often angling for your spot, meaning dinner doesn't always unfold at such a leisurely pace. This puts you in the position of either sucking down your cocktail while standing at the bar before being seated or reprioritizing, lest you wind up trying to broker a peace treaty between whiskey and a plate of tuna crudo. (If you're a slow sipper, Zohn suggests asking your server for an appetizer that will pair well with your drink.)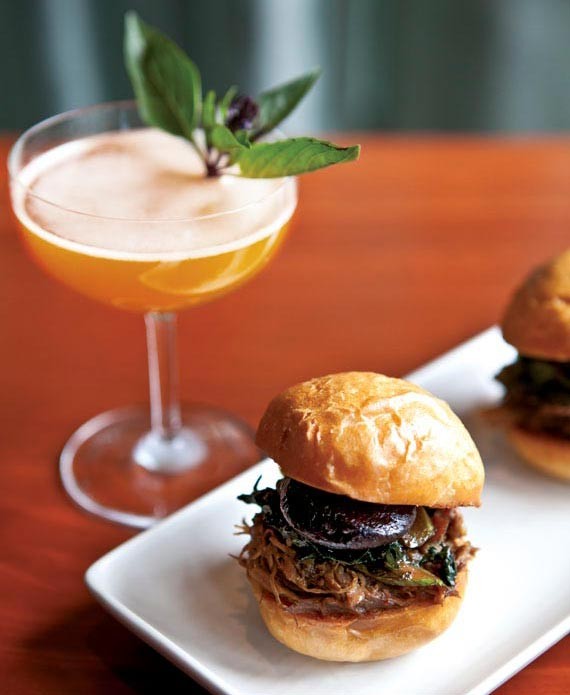 Fortunately, one restaurant is doing the planning for you: The team at Maven, the Lower Haight restaurant that opened at the tail end of 2011, ambitiously tackles the challenge of food and cocktail pairing head-on. In fact, it's the whole concept behind the boîte. Their menu recommends a distilled drink (cocktails) and a fermented drink (wine or beer) for each dish. "It's really just about linking flavors and textures," says beverage director Jay Bordeleau. Faced with a savory braised fennel and charred tomato jam, he thought of earthy amaro and smoky mescal—an unlikely duo that comes together in the same glass. Meanwhile, those who order Chinatown duck sliders with bacon are advised to get a zesty 5 Spot (rum, lime, ginger, maple, Thai basil, five spice) to go with them.
Often, all that careful planning is for naught anyway. "People order whatever they want," says Maven bartender Kate Bolton. "If someone likes rum, they'll drink rum with their crudo." Because in the end, it's your dinner, and you should drink what you want.
FIVE PAIRING PRINCIPLES
1. Alcohol makes food taste hotter (so to speak). With spicy dishes, look for lighter and sweeter drinks.
2. Delicate flavors, like gin, and subtle herbs are better for lighter dishes, like salads. Save the bourbon for the veal carpaccio.
3. A cocktail can add an element of texture to the dish. At Maven, the creamy coconut and hazelnut orgeat syrup in the rum-based Nauti' Mermaid complements each bite of the tempura-fried calamari.
4. Cocktails often incorporate spices and herbs like rosemary, ginger, and bay leaf. Ask yourself if those seasonings belong with 
the food itself.
5. If you're on the dessert course, your drink should always be sweeter than 
the dessert itself.