The Know-
It-All Meter
First implemented last summer, the SFPark project is still in its pilot phase but moving fast. Spread across eight different neighborhoods—FiDi, Fisherman's Wharf, Hayes Valley/Civic Center, Fillmore, Marina, Mission, and SoMa—and nearly 6,000 street parking spots, the smart meters adjust their prices based on availability and demand. Spots range from $0.25 to $6 an hour. The good news? It's easy as pie to pay with your credit, debit, or SFMTA parking cards if you don't have enough spare change.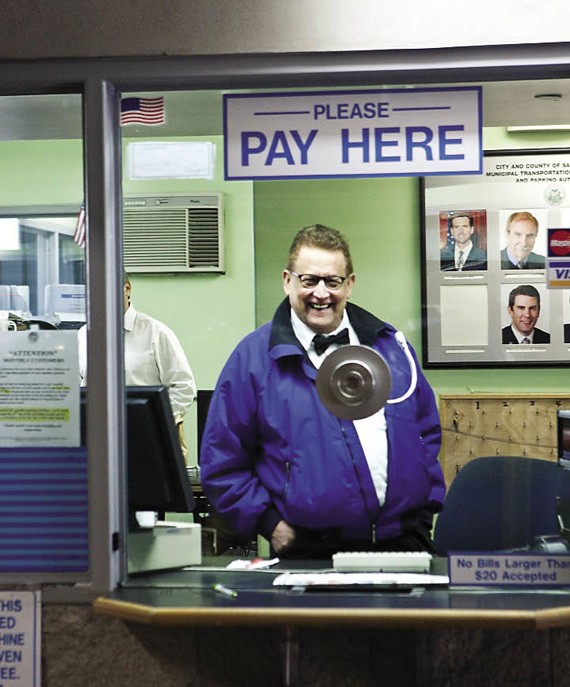 The Hardest Neighborhoods to Park In and Their Best Garages

MISSION: Bartlett Garage
$2/hour, $16/day; 
closes at midnight
Smack in the busiest part of the Mission District, this remains your thriftiest and most convenient option. 
It sets you in the middle of Valencia Street's hub of popular bars, restaurants 
and more. 
3255 21st St. @ Bartlett.
NORTH BEACH: Vallejo 
Street Garage
$3/hour, $27/day; 
closes at 10 p.m. weekdays, 
2 a.m. weekends
Central to Chinatown and North Beach, this garage flies under radar compared to neighbor North Beach Parking Garage. Added peace of mind: The police station is next door. 766 Vallejo St. @ Powell
HAIGHT: ABC Parking
$2.50/hour, $18/day; 
open 24 hours
Between the tourists and the locals, the Haight is notorious for its lack of parking. Luckily, this stalwart off Stanyan Street—just a few blocks from the new Whole Foods—will make you love the Haight again. 801 Stanyan St. @ Beulah
MARINA: Lombard 
Street Garage
$2.50/hour; closes at 3 a.m. Friday and Saturday, other days vary
This four-story lot is never full despite its proximity to Chestnut and Union streets. The only entry is from Moulton Street, a one-way alley between Lombard and Greenwich. 2055 Lombard St. @ Webster
SOMA/UNION SQUARE: Jessie Square Garage
$3/hour; closes at 11 p.m.
A great bargain for a day downtown, this garage is never too cramped. Enter off Third Street onto the Stevenson alley just before you hit Market. Head towards the Four Seasons, but take a left before you get there. 223 Stevenson St. @ Third St.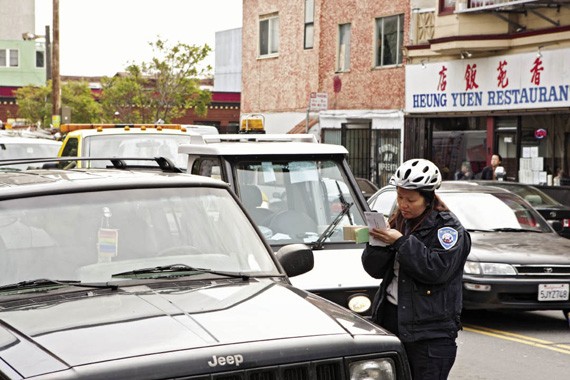 Meter Made: Twelve-year DPT Veteran Marcus W. on The Loneliest Job in Town
What's the best way to not get a parking ticket in San Francisco?
Don't drive. Or just park in a garage. I'd much rather park in a garage for $25 than get a parking ticket for $65.
What kind of groveling do 
you endure on a daily basis?
It's always, "My mom had to go to the doctor" or "My mom's sick." It's always stuff about their moms. People try to give us gratuities and bribes all the time. We call it the barter system, but of course you're not supposed to accept lunch invitations.
The worst thing that's happened to you?
On Sutter Street, a guy and his girlfriend who were getting their car towed flipped out on me. The girlfriend slapped the ticket book out of my hand and cussed at me. I said "You're a lady. Why are you doing that to me? I'm trying to be nice to you." The guy got into a fist fight with me and I pummeled him.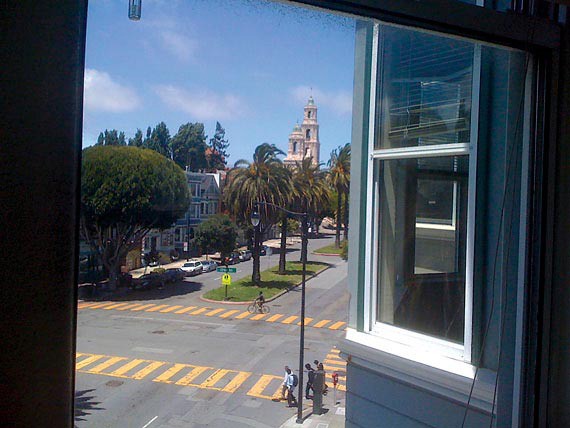 Median Parking: A Matter of Church and State
Ever wondered why parking along the medians in the Mission is legal on weekends? Technically, it's not, but because of an unspoken agreement between the churches, synagogues, and parking enforcement officers that's been in effect for at least 50 years, parking is allowed during religious services along Dolores, Guerrero, and Valencia Streets, as well as near Glide Memorial downtown and some churches in the Richmond. But the SFMTA's refusal to craft an official policy on the matter causes eternal confusion between neighbors and visitors. The upshot: Even non-churchgoers can take advantage of the leniency. May you have the luck of the gods.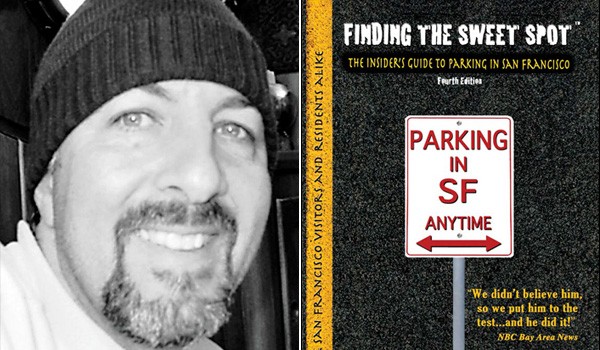 The Parking Guru
David LaBua, author of Finding the Sweet Spot: The Insider's Guide to Parking in San Francisco, is a psychotherapist by day who's been passionately researching parking for five years, ever since he spent an hour and a half looking for a spot one dark night.
What are your three 
best parking tips?
1. All parking enforcement signs are enforceable for 100 feet from your vehicle. So when you find that great spot, be sure to check up and down the block for 100 feet, which is about 10 car lengths.
2. No feeding the meter. In one-hour, two-hour, or metered zones, you must move your vehicle to another meter once your time limit is up. Parking officers have electronic devices to keep track of the location of your car, so don't think you're fooling them.
3. Get an SFMTA meter smart card. There were over half a million expired meter citations handed out last year. These cards fit into most of the 25,000 meters in the city. Get one. Really. 
What's the sneakiest 
thing you've done?
Back in the days of my foolish youth, I may or may not have thought about placing an old ticket on my windshield every time I parked, assuming that the DPT officer wouldn't remember if they had already given me a ticket or not.
Have you ever been towed?
Once. I was going to see this woman I was crazy about. I was so excited that I parked right in front of someone's driveway. I just totally spaced out. I think getting towed is a rite of passage—you're not really a San Franciscan if you haven't taken that trip to Auto Return with $400 in cash in your pocket.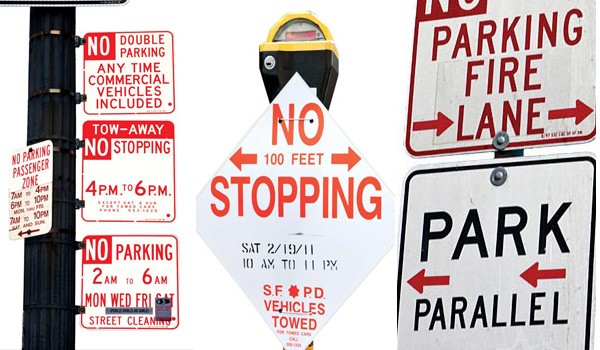 Parking By the Numbers:
On-Street Parking Spaces in SF: 280,000
Registered Vehicles in SF: 470,481
SF Expired 
Meter Fine: $65, $55 outside of downtown
Chicago Expired 
Meter Fine: $50
Seattle Expired Meter Fine: $39
NYC Expired 
Meter Fine: $65
Projected annual revenue 
from parking tickets for 2011's fiscal year: $99,000,000
Daily city revenue from parking tickets: $250,000 (that's $30,000 per hour, $600 per minute, $10 per second)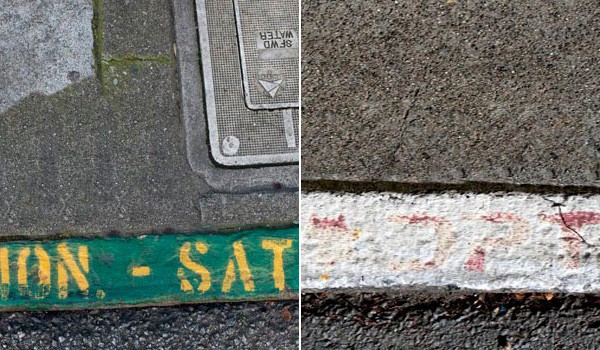 What Color is Your Curb?
Red: Not that you ever would (right?), but don't even think of parking along one of these emergency vehicles–only zones, night or day. If the curb is fading, you can contest your ticket. But if you can make out the DPT logo, forget it. Fine: $95 and towing
Yellow: If you take the time to read the fine print on the confusing signs, loading zones can be your frenemy. Though some start at 7 a.m, most are in effect during business hours (Monday through Saturday, 9 a.m.–6 p.m.). and many end early at 11 a.m. Fine: $75.
Green: Green isn't environmentally friendly in this case. Usually situated in front of the likes of convenience stores, post offices, and libraries, these curbs offer a 10-minute hall pass, generally from 9 a.m.–6 p.m., Monday through Saturday. Fine: $65
White: The hours for these passenger zones, usually found in front of hotels, restaurants, and churches, vary wildly, so read carefully. The good news: If the business isn't open, you can park there—unless there's a sign that says it's a 24-hour passenger zone. Fine: $95
Click here for the essay on San Francisco parking "Can Our Collective Post-Traumatic Parking Disorder Be Cured?", also published in the April Issue of 7x7 Magazine.