We've partnered with Russian Standard Vodka and asked some of the city's top mixological talent to concoct delicious drinks with Russian Standard Vodka as its star ingredient, and base the name of the cocktail and its ingredients on a deeply-held ambition: maybe a frozen drink inspired by climbing the tallest peak, or salted rim to evoke sailing the open sea...
Want to win a $100 bar tab? Try all the cocktails over the next seven weeks and "toast" (i.e. vote for) your favorites by selecting one here.
Meet our sixth featured bartender, Erik Tennyson from Upstairs at W Hotel. He mixed up the Devil Goes to Moscow. Visit Erik at the bar at Upstairs in the W Hotel, or try his recipe at home.

Ingredients:
• 3 oz. of Russian Standard Vodka infused with local organic apricots, lemon zest, and housemade organic tarragon honey
• 2 drops of the Bitter End Grapefruit Bitters
• 1 tip of a tarragon spear for garnish
• Combine all ingredients into a cocktail shaker and double strain into a cocktail glass, floating the tarragon on the surface.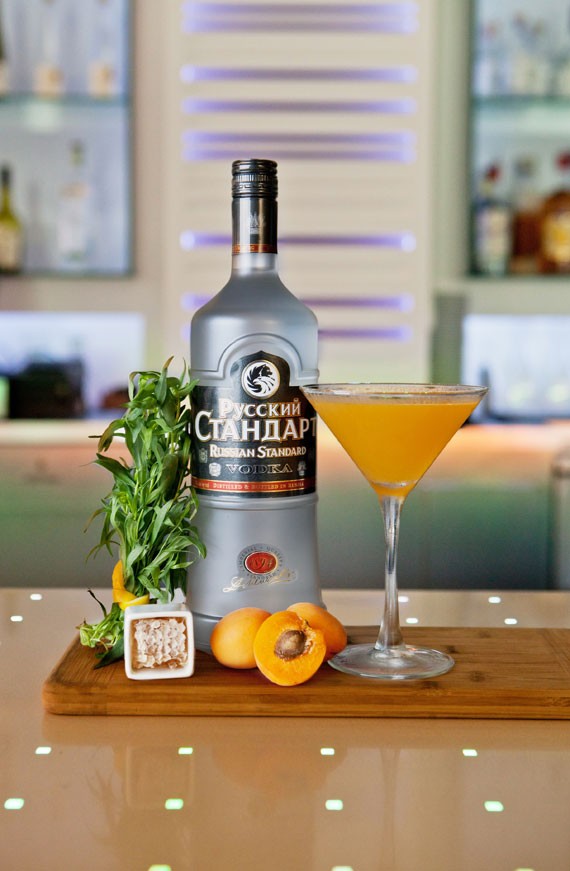 Bartender's notes: A dream of mine had always been to take the Trans-Siberian Railway, a nearly 8000 kilometer trek from Moscow to Beijing. When the opportunity arose last year, I took it. To start the trip in Moscow, I headed to the GUM department store just off the Red Square. It's a huge glass ceiling trading post which was a Soviet food distribution depot that become one of the largest luxury malls in existence. My friend bought some beluga caviar, and I bought some Russian Standard Vodka Platinum. As we pulled out of the station, I sipped Russian Standard for the first time, and it earned a special place in my heart. Combining that passion for travel and Upstairs at W San Francisco's commitment to using fresh local ingredients, I created this cocktail using local organic apricots and organic tarragon infused honey made in house. The name comes from the drink's fiery orange color and another passion of mine – literature. As an amateur scribbler myself, one my favorite works of Russian literature is "The Master and Margarita" by Mikhail Bulgakov.

PLEASE DRINK RESPONSIBLY. Russian Standard® Vodka. Product of Russia. 100% Grain. 40% Alc/Vol. ©2012 Imported by Russian Standard Vodka, NY, NY.