By
While this city has no shortage of terrific food, even world-class food, San Francisco is not a hub of lavishly designed, high-profile restaurants. We're a city that "gives great middle," as a restaurant consultant once said, and that means a lot of neighbohood gems but not always a ton of glamour. Still, there are some beautiful spaces in town, some of them iconic and some of them quite new, which do us proud if you happen to have a design snob in town. Below, our favorites, in no particular order.
Much has been said about the design of Bar Agricole since it opened in 2010, but we'll just say it again: It's a beautiful, sleek restaurant, and unlike anything else in S.F. The undulating, glass-tube sculptures affixed to each skylight, designed by Nikolas Weinstein Studios, are perhaps the most striking feature. But equally gorgeous and innovative are the long ribbons of flat concrete that make up the booths along the left side of the restaurant, fabricated by Concrete Works, and the hardwood-and-resin-topped bar. The overall design, including the cool enclosed front patio, was by architects Aidlin Darling. It all adds up to something urban and cool without being cold. 355 Eleventh Street between Folsom and Harrison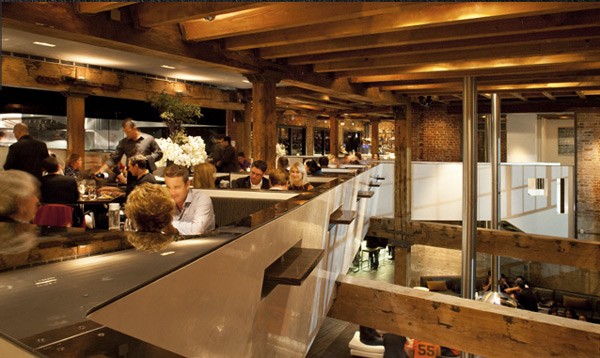 Perhaps one of the most expensive interiors in town is this SoMa lounge and restaurant on the half-block-long alley called Lusk. The brick-lined space, just below street level with its criss-crossing of heavy wood beams, is cool to begin with. Architects Cass Calder Smith broke up the interior with a diagonal balcony dining room lined with slick white laquer, and a series of rooms downstairs that includes the fireplace lounge, with its hovering, circular steel fireplaces. The lounge can often feel like one of the most glamorous, and tucked away places in town. 25 Lusk Street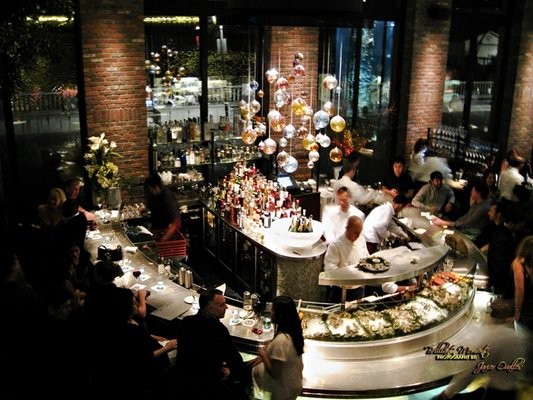 Photo via Yelp user Javier O.
Local restaurateur Pat Kuleto's first love is design, and it's evident in his pair of Embarcadero restaurants, Waterbar and Epic Roasthouse. While Epic is as grand and dramatic a space, we've never loved the cramped upstairs bar. And while Farallon marked Kuleto's first whimsical foray into designing something on an ocean theme, it feels a bit dated and Disney-ish at times. But Waterbar, with its tall windows, huge fishtanks, horseshoe-shaped bar, split-level dining room, and caviar-inspired cascading glass-ball chandelier, is Kuleto at his elegant best. 399 Embarcadero South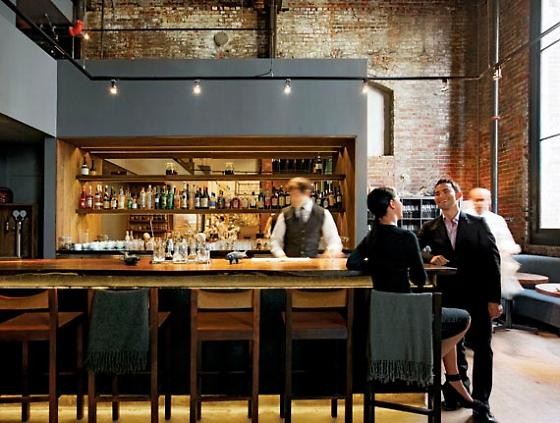 Michael Bauer may have been put off by the industrial aesthetic at the newly relocated Saison in SoMa, but we think it's one of the most stunning and innovative restaurant spaces in the country. Rather than keep with the chef's counter trend, Chef Joshua Skenes wanted to open up the entire kitchen, blurring the line between front and back of house completely. The kitchen's refrigerator cases line one wall of the 20-seat dining area, and the tables are topped with books, plants, and other items that serve to casually divide different dining parties from each other. It's modern, to be sure, and complements well the intricately plated, clean plates put out by Skenes and his team. 178 Townsend Street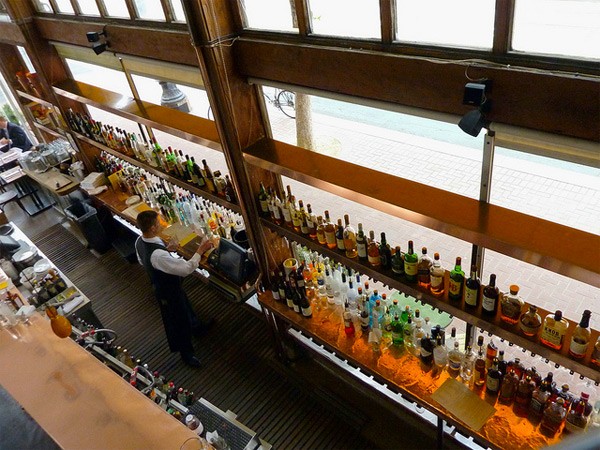 This thirty-year-old stalwart serves one of the best roast chickens in town, but part of its success undoubtedly has to do with its unique layout and glass-walled space. The flatiron-shaped building along Market at Rose Alley has a high ceiling but still feels cozy, and the copper-topped, window-backed bar feels like the beating heart of the city on a Friday night. 1658 Market Street near Franklin
DON'T MISS A BAY AREA BEAT! SUBSCRIBE TO OUR NEWSLETTER.