Before we discuss the Mountain Goats' performance last night at the Fillmore, please accept this prerequisite information: It's been documented that many of the great canonical authors of American literature had a particularly strong love-hate relationship with the areas that shaped who they became. Mark Twain, William Faulkner, John Steinbeck — all of them were distinctly of a place,  and a conflicted passion for their homeland informed their best works. Ask any English lit major; they probably BS'ed their way through a class on said argument.
We bring this up because last night, one of America's great literary rock stars played in one of America's great literary cities, in a "return home" of sorts, back to the state that put stories in his head. John Darnielle, the founding front man of the Mountain Goats and a San Luis Obispo native, is indeed one of modern indie rock's great wordsmiths and yarn spinners, a daring diarist and vivid storyteller wrapped up in bubblegum pop. And boy is he a talker.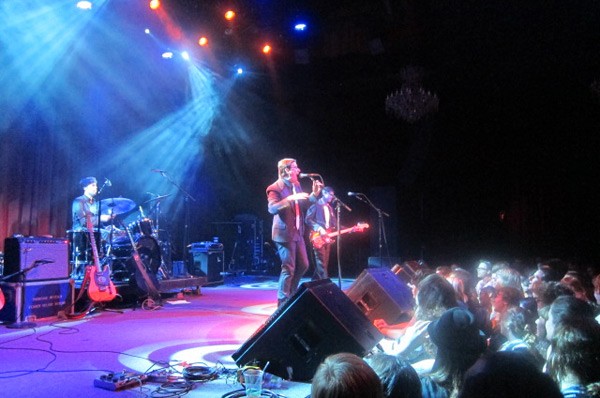 He and his four-piece band tirelessly worked their way through a sprawling, generous set that numbered 23 songs and about as many interludes of charming banter. It was in those moments that it became clear that Darnielle sees himself the same way most great men of letters were viewed — a product of a strange but glorious place. But perhaps "product" is not enough. "Gift" might be more appropriate.
He wasted little time cueing the theme for the night. After a ridiculously ironic stage entrance to some over-the-top death metal, Darnielle and company began their set with the new number "Liza Forever Minnelli," from their recently released and critically celebrated album All Eternals Deck. The song includes the intriguing line "anyone who mentions Hotel California here dies before the first line leaves his lips," and Darnielle said immediately following the song "I've been waiting a very long time to play that in California."
Darnielle was dutifully professorial about the contents of his music, which begs for elaboration and critical analysis. He introduced his song "Age of the Kings" with a damnation of nostalgia, saying that it can be toxic, especially when people say music was better when they were 19 than it is now (and that people who say that are just lazy and narrow-minded). Here, here. But he also intimated the song is about memories, the way they shrink and morph over time, and how odd yet magnificent the past can seem.    
Perhaps the truest indicator of Darnielle's intellect is his hyper-self-awareness and sense of humor (eerily, he tells jokes with a Mitch Hedberg-like inflection). He riffed on his adopted hometown of Asheville, N.C. (that the first person you throw a rock at will without a doubt be a yoga teacher), addressed the crowd's every clear suggestion with uncanny wit (only slightly "pandering" to our beloved city, admittedly) and even stopped midway through the hushed lullaby of "The Day the Aliens Came (Hawaiian Feeling)" to ask politely that the audience not clap along, lest he lose his concentration, tongue somehow in cheek the whole time. And, thus, he couldn't help but snicker when he sang the line "there's gonna be a redefining of the borders."
Playing the "sounds like" game, Mountain Goats are most commonly paired with fellow lit-rockers The Decemberists, but with a less prog-y bend. But as a lyricist, Darnielle's only modern equivalent may be noted recluse Jeff Mangum, the vivid surrealist of Neutral Milk Hotel. Each has a way of setting up almost gothic scenes and narratives, all in the counterintuitive context of a simple pop song.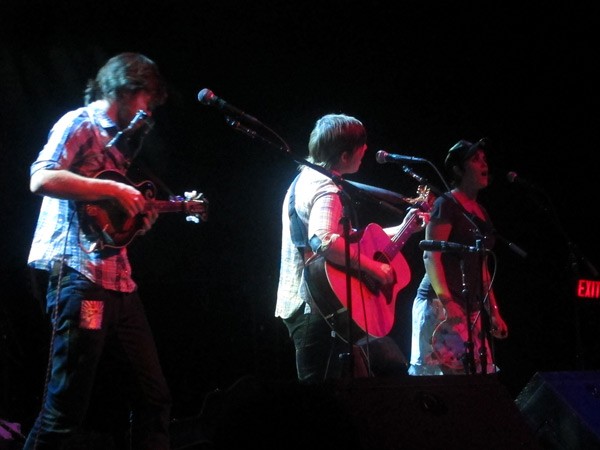 Openers Midtown Dickens, also hailing from North Carolina — Durham to be exact — whipped up a summer camp Americana/newgrass sound that was much to the Fillmore's agreement. The three-piece made a mountain hoot with the old-timey instrumentation of mandolin, clarinet, singing saw, harmonica and acoustic guitar, varying mood and arrangements with a soulful swagger. Their youthful energy and vocal harmonies were a charming thing to behold on such a sweaty summer night.