When's the last time you stayed in a bed and breakfast? Traditional B & Bs have a certain quaintness factor, yet some travelers love them, some prefer to leave them. But all B & Bs are not created equal. With more than two dozen to choose from in Downtown Napa, these Wine Country innkeepers have something for everyone.
The White House Inn & Spa
The WOW factor hits you the moment you arrive at the White House Inn & Spa. Built in 1890, recent renovations and contemporary décor give the property a resort feel without destroying the mansion's historic integrity. All seventeen rooms have fireplaces and flat screen televisions. It's the only B & B in Downtown Napa with a hot tub and pool. Best of all? Owner Kim Fox has earned a well-deserved reputation for her addicting lemon cookies. 443 Brown Street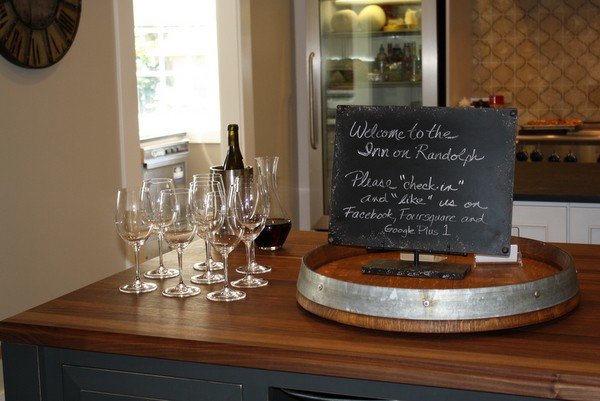 Inn on Randolph kitchen area
Inn on Randolph
Built in 1860, the Inn on Randolph describes itself as "a historic inn that is everything but old." Fully renovated in 2012, there are ten rooms to choose from: Five in the main Victorian house, and five in adjacent cottages. Only the cottages have televisions, but who wants to watch TV in Wine Country, anyway?. Whenever possible, herbs and veggies come from the onsite garden. All breakfasts are gluten free. 411 Randolph Street
The Inn on First
Food is a big deal at The Inn on First. With 118 favorite breakfast recipes, the owners track guest stays so no one eats the same thing twice. We're not talking basic ham and eggs here. Think dishes like homemade macaroni and cheese, noodles made from scratch, then topped with an egg. There are ten rooms total, many with iPods loaded with Inn favorites. The Inn was also the first Northern California B & B to be certified "green" by the State of California, and the second in the entire state. It's also dog friendly! 1938 First Street
Churchill Manor
When the Victorian Churchill Manor was built in 1889 it was reputedly the largest home (clocking in at nearly 10,000 square feet) in Napa Valley. There are ten guest rooms, a music parlor with a grand piano that guests are encouraged to play, and a library with games and the only television. Complimentary tandem bicycles are available for touring the gorgeous countryside. 485 Brown Street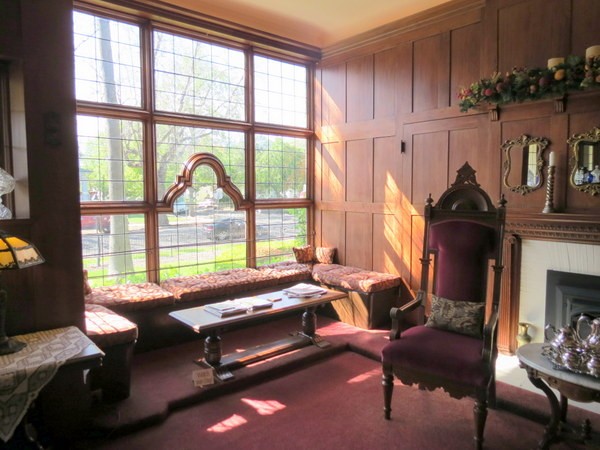 Sunny alcove at Cedar Gables Inn
Cedar Gables Inn
After finishing Churchill Manor, the owner built the neighboring home that is now known as Cedar Gables Inn as a wedding gift for his son. Designed with his son's English bride in mind, the Shakespearean-style home has nine rooms, hidden stairways and passageways. There's even a bronze soldier standing guard on the mezzanine level. Owner Susie Pope ran a cooking school before she and husband Ken purchased the Inn, so breakfast is always a three-course affair and if you time it right, you can take a cooking class with a local chef during your stay. There are no televisions in the guest rooms, but there is a large screen in the Tavern. 486 Coombs Street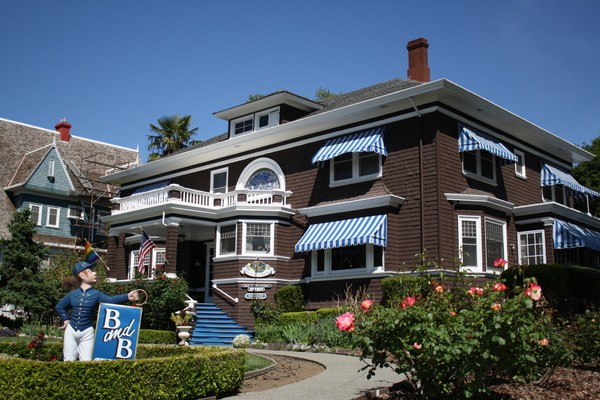 Beazley House, Napa's first bed and breakfast
Beazley House
Napa's first B & B opened in 1981. The Beazley House has eleven rooms; six with fireplaces for those chilly nights, and five with private, two-person spas. Private baths were fitted into existing rooms to maintain the feel of the Victorian Inn built in 1902. All rooms include flat-screen televisions, and are dog friendly. 1910 First Street
Whether modern or traditional, there is one thing all the B & Bs have in common – their hands on approach to their guests. Whether it's sharing a story, arranging a winery tour or making dinner reservations, they all genuinely enjoy helping and getting to know their guests.
Dana can be found on Twitter @drebmann
Dana's trip was organized by Downtown Napa, but as always her thoughts and opinions are her own.