Canada has what seems like an endless list of great family vacation spots. But for all those famous known locales, there are just as many unknowns to discover. One of my favorites is also one of the easiest to explore. Richmond, BC is Vancouver's next door neighbor and home to the Vancouver International Airport making direct flights from the Bay Area quick and easy.
Almost hidden in the corner of Richmond (and a mere 20 minutes from the international airport), is the seaside village of Steveston. Established in the early 1800's during the fishing cannery boom, the quiet seaside community offers views that encourage getting outside to bike, stroll or play. Locals know all about, but it's easy for visitors to miss, and all the reason to make sure you go.
Though you've likely never heard of it, you might actually recognize it. Steveston is also known as the fictitious town of Storybrooke, Maine, where the hit ABC television show Once Upon a Time is set. Take a walk downtown and see if you can spot some of Storybrooke's more popular haunts or a television star or two.
The Gulf of Georgia Cannery is the one stop on your itinerary that will take you inside. In its heyday, it was the largest producer of canned salmon in British Columbia. Now a working museum, it's loaded with entertaining hands-on exhibits about the fishing cannery boom. Give yourself an hour to two to take a tour and do some playing on your own.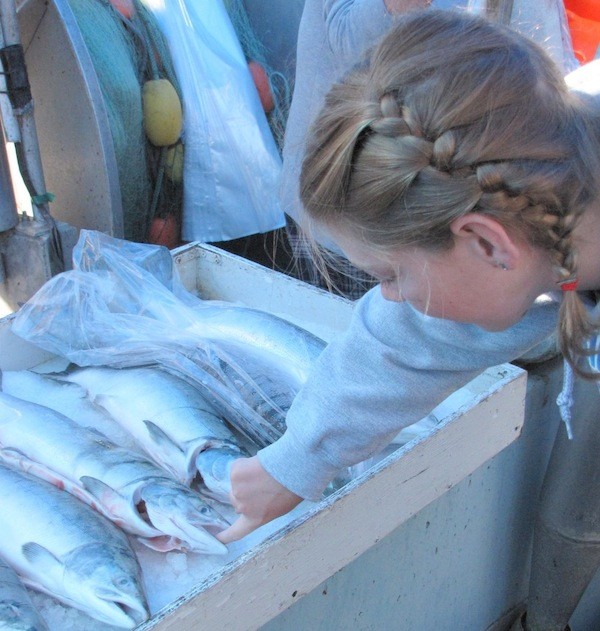 It's a quick and easy walk from the Cannery to Fisherman's Wharf. This is where locals go to figure out what's for dinner. Fishermen sell the catch of the day, right off their boats. You'll find everything from fresh salmon and shrimp to live sea urchins. Kids can learn how to hook salmon, or jump on a scale and find out how much they'd be worth if they were sockeye salmon.
Hungry yet? Lunch is floating within sight. Pajo's Fish & Chips has its own dock to call home right next to Fisherman's Wharf. It may take a little time, but by the time your order's ready, one of the outside tables will open up. It's worth the hunt for a seat. The fish and chips have a well-deserved reputation of greatness. There's plenty on the menu for land lovers as well.
Tucked around the corner from Steveston is Garry Point Park. The waterfront park has a large open space, perfect for a game of Frisbee or flying a kite. If you're tired of walking, rent bikes at Village Bikes. They'll help you plan the perfect ride. Helmets are included with all rentals. 
If you've got a sweet tooth, Screamers offers a twist on traditional soft serve ice cream. The Screamer is a mix of soft serve and slushee and comes in all sorts of brightly colored flavors like orange and pineapple. The concoction was reportedly created in Richmond and has been a popular sugar rush for years.
For a change of pace, If you're trying to keep to a budget, Richmond offers great hotel options. The Sheraton Vancouver Airport Hotel, actually located in Richmond, has rooms right off the pool that are perfect for families. If you're looking to splurge, book a night or two at the Fairmont Pacific Rim in Vancouver. The service and views can't be beat.