By
Before former Nopa sous chef Richie Nakano launched his Hapa Ramen stand at the Thursday Ferry Plaza Farmers Market this summer, he did his due diligence—analyzing everything from broths to noodles to chashu in ramen joints from SF to NY. Then, he took what he learned and came up with a bowl he could call his own. Here are his picks.
THE RESEARCH
Izakaya Sozai (Inner Sunset)
"This one is all about the chashu. I think Ritsu Osuka makes the best pork belly I've ever tasted. It's never dry. Never overly fatty. And he gets a ton of flavor in it and cuts it into big, thick slabs. I've been trying to replicate what he does, and I can't figure it out. His broth is good, but it's all about the pork with that guy."
1500 Irving St., 415-742-5122, izakayasozai.com
Katana-ya (Union Square)
"This is the best standby place. No one thing stands out, but if you get the standard Katana-Ya ramen with extra-rich broth, they put everything in there—chashu, gyoza. It's, like, filthy. You feel kind of bad when you're eating it, but it's really, really good. It's the most comforting bowl to eat. The whole is more than the sum of its parts."
430 Geary St., 415-771-1280
Halu (Inner Richmond)
"It isn't the best bowl of ramen, but it has a really fun atmosphere. It's the best place to go hang out and eat—it feels so funky Japanese. It's run by a family, so the mom is cooking and the daughter's waiting tables. They also have the best selection of Japanese beer, like Suntory."
312 Eighth Ave., 415-221-9165
Namu (Inner Richmond)
"This is probably the best ramen in San Francisco right now. They put so much craft into what they're doing. They're the only restaurant I know that's making their own noodles from scratch, start to finish. They're pushing hard to make it really authentic. They've limited it to about six bowls a day. You have to get there early. It's super-rich, it has great flavor, and they put their own kimchi in it. They're using farm-fresh ingredients and, for the broth, sourcing some weird roosters because they have good flavor."
439 Balboa St., 415-386-8332, namusf.com
Oyaji (Outer Richmond)
"They make the best shoyu broth out there. It's just super clean and defined. They don't make it greasy, just clean, pure flavor. It doesn't have that MSG weirdness going on. The toppings are nicely made, but really it's just that pure flavor."
3123 Clement St., 415-379-3604, oyajirestaurant.com
Santa (San Mateo)
"Around here, it's the closest thing you can get to a bowl in Los Angeles or NY. Get here early. The tonkatsu broth is really rich and creamy. The chashu is beautiful and melty. The noodles are like angel-hair, thin and delicate with a good chew to them. Definitely worth the drive."
1944 S. El Camino Real, 650-344-5918
Santouka (Los Angeles)
"Their toroniku made with pork jowl is just really marbled and really delicious. They serve it on the side so you can dip it in the broth, sort of like you're doing shabu-shabu. They do this nice salt broth. It's a nice bowl of ramen. It's in the Mitsuya market, so it feels really Japanese."
3760 S. Centiela Ave., L.A., 310-391-1101
Daikokuya (Los Angeles)
"There are a few of these in Los Angeles. In proximity to San Francisco, this is the closet thing to [New York City's] Ippudo out there. As far as craft and beauty, its tonkatsu broth is amazing. It's a difficult broth to make."
327 E. First St., L.A., 213-626-1680
Ippudo (New York)
"For ramen worshippers, this is like going to church. It's the best thing out there. They make their noodles; they make the best stock. They basically give you a bowl of noodles with stock, and that's all you get. The flavors are so complex and simple at the same time. It's rich without coating your mouth in fat. It's one of those culinary wonders."
65 Fourth Ave., NYC, 212-388-0088, ippudo.com/ny
THE RESULTS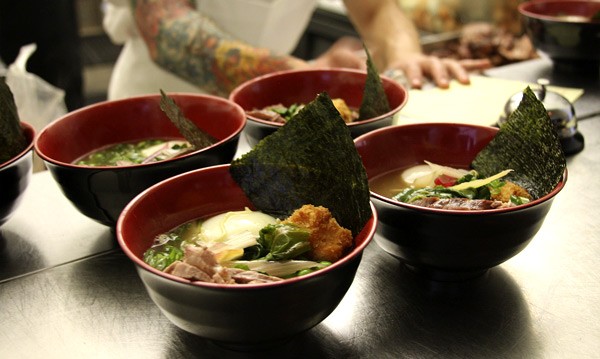 Hapa Ramen (Ferry Plaza Farmers Market)
"My broth is influenced by Ippudo's. We use dashi, chicken and pork. But what separates ours is that we add a ton of deeply caramelized vegetables, too. The toppings were influenced by Katana-Ya because their menu has a bowl of ramen with everything in it—fried chicken, pork, an egg. They put gyoza in theirs, but we just subbed that out for vegetables, like kale or snap peas. My pork is influenced by Izakaya Sozai's. I just met the chef on Sunday, actually. I was kind of shy. I went up to him and I said, 'No, seriously, your pork is the best!' Mine still isn't quite like his, but we're working on it. In terms of what Namu does—making everything by hand—they made me see what's possible. I haven't actually been to Japan. And I didn't train in any ramen restaurants. I think it's all pretty top secret, though. I think that if I asked them to tell me how they make their ramen, they would just tell me to get out."
Thursdays, 10 a.m.–2 p.m., haparamensf.com
DON'T MISS A BAY AREA BEAT! SUBSCRIBE TO OUR NEWSLETTER.