We've partnered with Russian Standard Vodka and asked some of the city's top mixological talent to concoct delicious drinks with Russian Standard Vodka as its star ingredient, and base the name of the cocktail and its ingredients on a deeply-held ambition: maybe a frozen drink inspired by climbing the tallest peak, or salted rim to evoke sailing the open sea...
Want to win a $100 bar tab? Try all the cocktails over the next seven weeks and "toast" (i.e. vote for) your favorites by selecting one here.
Meet our fourth featured bartender, Melissa Boyd from Otis Lounge. She mixed up The Pink City. Visit Melissa at the bar at Otis, or try her recipe at home.
Ingredients:
• 2 oz Russian Standard Vodka
• .75 oz Cardamom infused Coconut Milk
• .75 oz Ginger Solution
• .75 oz Fresh Lemon Juice
• Heaping Barspoon of house made spiced Blueberry Compote
• Shake all ingredients except coconut milk with ice, Double strain over rocks into a collins glass, top with coconut milk and a splash of soda. Garnish with fresh blueberries.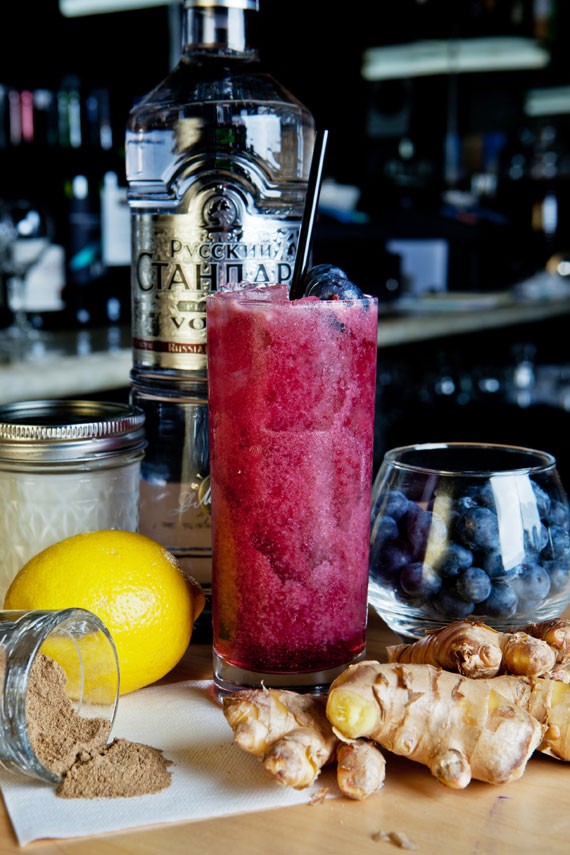 Bartender's notes: Something on my bucket list is to travel across India on a luxury train stopping in all of the beautiful cities and enjoying the scenery in a slow way that we have come to forget about in our fast-paced, day to day hustle. One of my favorite cities in India is "The Pink City," where the majority of the buildings are covered in terra cotta. This inspired the cocktails hue. This drink uses traditional Indian spices and ingredients (Cardamom, Ginger, Coconut Milk) as well as the beautiful local blueberries San Francisco is currently enjoying. And yes, I love Wes Anderson.
See all the participating bartenders here and vote for your favorite!
PLEASE DRINK RESPONSIBLY. Russian Standard® Vodka. Product of Russia. 100% Grain. 40% Alc/Vol. ©2012 Imported by Russian Standard Vodka, NY, NY.