Noise Pop 2013 is on the horizon (it starts on Feb. 26, to be exact), which means you've got to start making your game plan so you're not left out of earshot. Here are the shows we'll be waiting in line slash scouring Craigslist for.
1. Body/Head, Horsebladder, Burmese, Noel Von Harmonson at Rickshaw Stop
Few were sure what Kim Gordon's next move would be after Sonic Youth's indefinite hiatus (announced in 2011) and her split from Thurston Moore–but no one thought she'd stand still for long. With her new group Body/Head with Bill Gace, she returns to her noisy roots as a top-notch bass shredder/growler, delivering chugging walls of sound and a gut-churning low end you can hear down the block. Bonus: Bay Area noise metal stalwarts Burmese set the stage for this night of sonic assaults. Earplugs recommended.
2. Ceremony, Comadre, Terry Malts, Permanent Ruin, Synthetic ID at Rickshaw Stop
Rohnert Park band Ceremony can be called many things, but never boring. They've shifted from the hardcore roots to embrace 70s punk and post-punk a la Wire and Joy Division in recent years. Their 2012 album Zoo even saw them getting downright experimental with new flavors of garage pop thrown in the mix. We haven't forgotten what it was like to thrash to older tracks like "Carrying Flowers," "Birth. Conspire. Be. Upset" and "Twenty Four Hour Fever Watch," but we're excited to see how they've, erm, matured at this show. Redwood City hardcore outfit Comadre and SF-based Terry Malts will be on hand to build a proper pit.
3. OBN III's, Fuzz, Blasted Canyons, G. Green at The Knockout
We don't go to shows to stand still. Perhaps that's why anytime a band like OBN III's comes to town, we put on our most beat-up pair of shoes and head straight to the middle of the crowd where everyone is elbowing everyone else. Hailing from Austin, these scrappy dudes play messy punk tailor made to soundtrack partying, drinking, and flailing around. Ty Segall and Charlie Mootheart's stoney new band Fuzz co-headline and SF's Blasted Canyons open, which means this is show's gonna be packed to the rafters.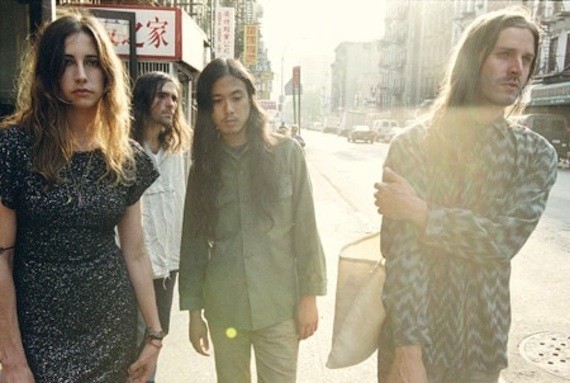 Psychic Ills, photo via stereogum.com
4. Psychic Ills, Mike Donovan, Follakzoid, Aan at Hemlock Tavern
If all this talk of thrashing and head banging is making you tired, take it down a notch at the Psychic Ills show. These blissed-out warriors have been perfecting their psychedelic alchemy for ten years now (they just dropped their latest LP One Track Mind today, if that album's title gives you any indication of how dedicated they are). Do whatever you have to do to get into the appropriate mindset, and get ready to hop on that magic carpet ride straight into space.
5. White Barons, Pins of Light, Owl, and Wild Eyes at Bender's
For a jab of Bay Area rock n' roll straight to your veins, head to Bender's on a Saturday afternoon (I mean, you're probably drinking already in the middle of the day on a weekend anyway, right?) for White Barons, Pins of Light, and Owl. Every one of these groups is boozy, unhinged, and not shy about amp-shredding riffage and their devotion to 70s rock and NWOBHM metal influences. Bonus: Three of the bands (White Barons, Owl, and Wild Eyes) are fronted by ladies.
6. DIIV, Holy Shit, Io Echo, Sam Flax at Brick & Mortar Music Hall
Though really a traditional indie band, DIIV constantly conjure something more. The tracks on their buzzed-about album Oshin are uber melodic, freewheeling yet controlled, and almost post-rock in their dreaminess. Their sound is beguiling, so naturally, we're intrigued at the prospect of seeing them on stage. The young New York group recently snagged a spot playing this year's Coachella (as did openers Io Echo), so see them before they're on the tip of everyone's tongues. Lo-fi legends Holy Shit (who've helped birth the careers of Ariel Pink, John Maus, and Girls) open.
7. Caspian, Native, Boyfrndz, The Dandelion War at Bottom of the Hill
Slip into a dream with Caspian. In the vein of Godspeed You! Black Emperor and and Explosions in the Sky, their instrumental post rock is the kind of cinematic stuff that pulls you into a trance or imaginary, hyperbolic world of thoughts and emotions–thanks to their swirling melodies, cannonballing drums, and immense runtimes. As the last show of this year's musical onslaught, we can't think of a more suitable way to cleanse your pallett and start mentally preparing for Noise Pop's 22nd.