So marijuana's all legal. Well, it will be when recreational use goes into full effect in January 2018. Until then, you still need an MMJ card to partake in the goodies—and oh, what goodies await. Since last we updated this annual guide to all things cannabis (with a special edition just after the November election), the field has become even more outstanding.
Unbelievably chic new edibles and quality cooking ingredients have come to the table; stylish dispensaries are growing up and expanding; special events have flooded our calendars; and canna-weddings and tourism have officially become a thing. To cover all our region has to offer in the way of marijuana marvels would be impossible, so please enjoy our curated picks for the very best of the Bay Area.
---
The Sleekest Vapes, Sweetest Bongs + Coolest Toking Accessories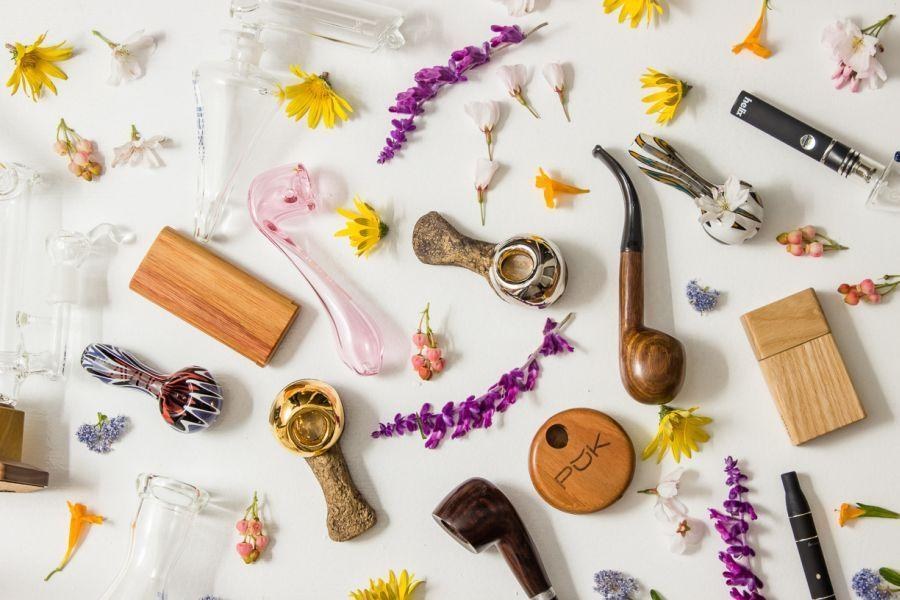 Funky pipes, vapes, and bongs await at SF's Billowby.
(Courtesy of Billowby)
Back in our college days, we reveled in the novelty of over-the-top glass bongs and kitschy hookahs (ok, we still really like those). But now that we're all grown up, we've developed a taste for the finer things. Fortunately, cannabis paraphernalia has kept up (and no one really calls it that now, anyway), and there are oodles of options for cute pipes, high-tech vapes, chic stashes, and more. Behold, the most elegant add-ons the Bay Area industry has to offer.
VAPE PENS + CARTRIDGES
Born in Humboldt County and named among Time's 25 Best Inventions of 2016, Hmblt celebrates the seat of cannabis legacy in its plant science–based formulas that are "chemically engineered to make people feel a certain way—calm, sleepy, relieved of pain—­without getting high." The company's recyclable pens also promise precise doses—200 each, to be exact ($100; available at dispensaries Bay Area–wide). // Also new to the scene are Aya's mystically named Cannabis Nectars (i.e. extracts) for four states of mind: Awaken, Inspire, Relax, Slumber ($66 for vape pen set, $43 refill cartridges; available at Sava). // For every amazing Bloom Farms' Highlighter sold, the company donates a meal to someone who's hungry through Bay Area food banks. Their cannabis oil is extracted using state-of-the-art CO2 technology with indica, hybrid, and sativa options available, as well as rotating signature strains ($55; available for delivery at Lady Chatterley's Lover). // In the sleekest vape pens we've seen, Alchemy Vape Pens by Dark Heart ($35 for cartridges + $10 for battery available at Sava) blends cannabis oil with botanical extracts to create unique experiences based on the wisdom of herbalism, aromatherapy, and the culinary arts to provide a mellow, clean buzz with a tantalizing flavor. // Absorb CBD ($40-$70, available at Sava) offers one of the highest CBD ratios on the market with its 25:1 CBD to THC cartridges. The brand grows its cannabis using hand-crafted organic fertilizers, spring water, bioactive soil, and high altitude sunshine—no additives, and the flavor from the raw cannabis essential oils is nice and full. // Absolute Xtracts' disposable vape cartridges ($35/0.5mg, available at SPARC)—made with 100 percent pure cannabis oil cleanly extracted with CO2—are regularly mentioned among the best in the state. // All of that said, until state regulations go into full effect in 2018, lab testing of extracts isn't exactly the norm. Be guaranteed a proven clean smoke with Emerald Cup Award winner The Highest Grade, the gold standard for CO2 cartridges ($60/cartridge; available at SPARC).
VAPORIZERS
Rather skip the extracts and load your own fresh flower into one of the chicest vaporizers around? The Pax 3 ($275) from Pax Labs is so high-tech, the mouthpiece has an internal accelerometer that knows when you're holding it versus jostling it in your purse. Plus it's the company's first vaporizer to work both for loose leaf herb and extract inserts, and, available in three lustrous metallics. // Firefly 2 ($330) will change your relationship with smoking weed. The new vape heats cannabis only as you inhale, extracting more active ingredients from the flower including flavorful terpenes. The resulting vapor is so smooth and satisfying, you'll find yourself pondering the flavors and aroma the way you would with a glass of wine.
PIPES + BONGS
Stylish Billowby is all online, making your perusal of hand pipes, water bongs, grinders, and papers completely discreet. They curate only the highest quality blown glass pieces and presents them in a decidedly lady-friendly format with clean design, poppy photography, and plenty of education just in case you don't know how to roll a joint. // The Cave (2499 S. El Camino Real, San Mateo) is the regional destination for functional glass art collectors. The gallery's seasonal openings draw heads from across the state who wait overnight to be among the first in line for giveaways from world-famous, celebrity glass blowers who come to sign bongs and chat with adoring fans.
ACCESSORIES
For smokers with an eye for design, enter online boutique Tetra. Here you'll find the most gorgeous and often one-of-kind pipes, lighters, ashtrays, and storage boxes you never even imagined. // Van der Pop made a splash with its chic, childproof handbags for power tokers and ladies who lunch. Their new Poppins Stash Bag keeps the goods under literal lock-and-key—and can be pre-ordered now. You can also shop the line's collection of various stylish accoutrements including credit-card sized graters, rolling papers, stash jars, and more.
—Reporting by Jimi Devine, David Downs, and Michelle Klug
Hmblt's vape pen promises 200 precise doses and is recyclable when you're finished. (Courtesy of Hmblt)

The Bubble pipe ($100) was designed by Christina Haines for Tetra. (Courtesy of Tetra, via Instagram)

Sonoma Cannabis Co. promises that all Aya nectars are 100 percent organic with no chemicals or pesticides. (Courtesy of Sava)

The Highest Grade vape pen has been lab tested and is guaranteed clean. (Rachel Arias)