To celebrate the last month of Summer 2011, 7x7 and SVEDKA are teaming up to honor the city's bartenders and their skills of invention with an epic mixology competition! You can vote for your favorite featured bartender and their lascivious libation from August 1st through August 31st. You (yes, you!) will be entered to win a $50 bar tab at the winning watering hole. The winner of the San Francisco contest will be revealed on September 7th. Have fun trying all the great cocktails!
Let's take a look at our first featured bartender extraordinaire, Anna Rossi from the Financial District's Credo. She mixed up the genius "Spiked Lassi" using SVEDKA vodka. Visit Anna at the bar at Credo, or try her recipe at home.
Ingredients:
   1.75 oz SVEDKA vodka
   .5 oz yogurt
   .75 oz honey syrup
   .5 oz lemon
    2 dashes angostura bitters
    2 dashes orange bitters
    pinch salt
Spray the interior of a martini glass with Le Tourment Absinthe. Add all the ingredients to pint glass. Add ice, shake and strain into the martini glass. Crack fresh black pepper on the top of the drink and finish with a fennel frond.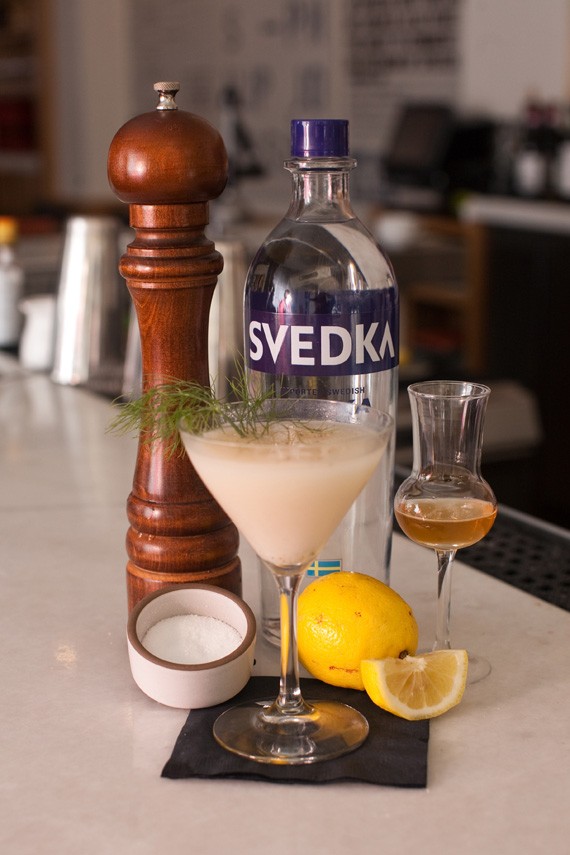 Bartender's notes: The inspiration for "The Spiked Lassi" is its virgin counterpart, the lassi, served in sweet and savory varieties in most Indian restaurants. The lassi is a creamy, refreshing contrast to the heat of garam masala and other classic Indian spices.
See all of SF's participating bartenders here and vote for your favorite!