By
You may remember our epic mixology competition with SVEDKA a few weeks ago, pitting SF bartenders against one another in the race to create the tastiest SVEDKA cocktail. We asked you to vote for your favorite, and you did. The winner by a landslide was Aom Aphiradee of Ozone Thai Restaurant & Lounge in SoMA, who created the tasty, ginger and basil-infused Swedish Smile, inspired by her Thai heritage.
She'll fly to New York City, courtesy of SVEDKA, to compete in the grand national finals against winners from other cities to create the nationa's best SVEDKA cocktail. We wish her luck! And as promised, one randomly-selected, soon-to-be-very-happy voter by the name of Nathan K. won a $50 bar tab at Ozone Thai.
Be sure to visit Aom at Ozone's bar so you can taste the Swedish Smile for yourself–or use the recipe below to make one at home.
Ingredients:
1 1/2 oz of SVEDKA Raspberry Vodka
1/4 oz of 10 y.o. Tawny Port wine
1/4 oz of Peach Liqueur
Fresh raspberries & blackberries, muddled Thai basil leaves
1/2 oz of house-made ginger infusion
1/2 oz of fresh lemon juice
A few dashes of Swedish Herb Bitters and Blood Orange Bitters
1 egg white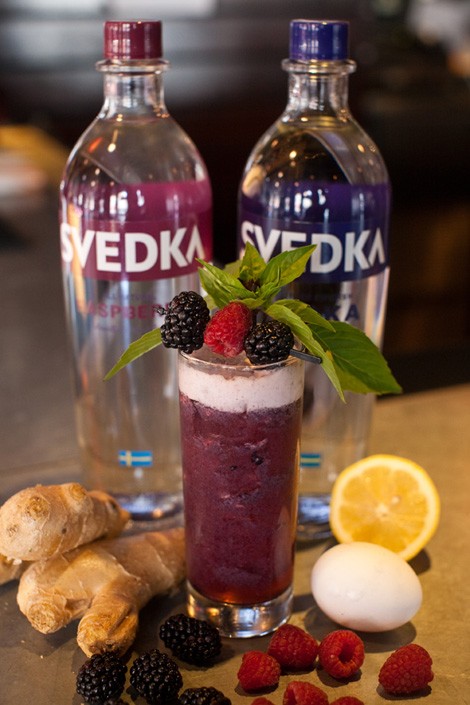 DON'T MISS A BAY AREA BEAT! SUBSCRIBE TO OUR NEWSLETTER.