The Top 10 Lies About the Winchester Mystery House
As Halloween approaches, employees at the Winchester Mystery House in San Jose are kicking the scary up a notch—opening Sarah Winchester's Mystery Maze (a half-acre hay bale maze) and expanding the number of nighttime flashlight tours (all the while implying you might run into ghosts).
But here's the rub: According to a book by a local historian, the "mysteries" that attract thousands of people each year were manufactured by a family of 1920s-era carnies who first leased and then later purchased the property. In her tell–all book, Captive of the Labyrinth, Mary Jo Ignoffo lays out her research and findings, and today she shares the biggest deceptions surrounding one of California's top tourist attractions.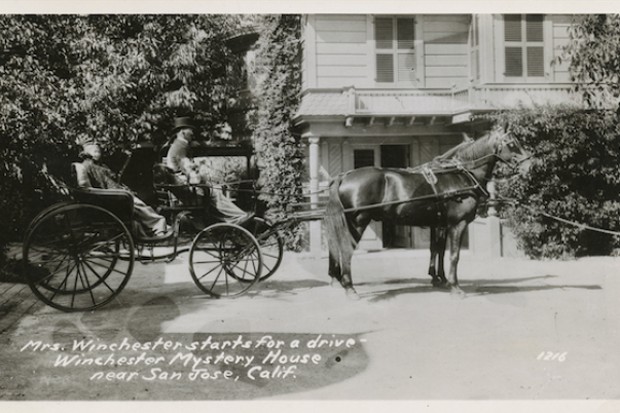 1. The house was under construction for 38 years.
Here's the history in a nutshell: Sarah Winchester, the wife of William Wirt Winchester and heiress to the Winchester Rifle fortune, moved to San Jose in 1886 and began building a house—a very large house whose rooms numbered 160 at the time of her death (although before the 1906 earthquake, it was much larger). Five months after she died the Brown family, long-time carnival workers who rented the house, held a public tour and kept on going, eventually buying the property and making it one of the state's top tourist attractions. They did not start the rumors—many began while Sarah was alive—but according to Ignoffo, they embellished the stories wildly and made up new ones in order to sell tickets. The legend as reported on the Winchester Mystery House website: A medium told Sarah that she was being haunted by spirits of people killed by the famous gun, and she would die unless she started building a house and never ceased. According to the website, construction lasted day and night for 38 years. "Not true," says Ignoffo. "Winchester's own letters explain that she sent workers away for months at a time." Requests for an interview with officials at the Winchester Mystery House have not been answered at this time.
Click here to discover nine additional lies about about the Winchester Mystery House!