Are you looking for some outstanding views and little off-the-beaten track exploration on your next cycling adventure? Then this twenty-mile Crockett Martinez loop is just the ticket. Most of this route is the road less traveled for even longtime Bay Area residents and offers some unique perspectives on familiar landmarks.
We start our ride just off I-80 at the northernmost Contra Costa exit, Pomona St. in Crockett just before the bridges over the Carquinez Strait. Head over to the West side, where there's a Park n' Ride lot at the corner of Pomona and Merchant and San Pablo Avenue – conveniently located across the street from the Dead Fish restaurant, a perfect place for an after ride libation or crab feed.
The ride can be done in either direction, but generally this area can be windy so a counter-clockwise route direction is suggested. Start by going West on San Pablo and heading uphill – within a mile you'll come to a vista point worthy of a brief stop for it's amazing views of the bridges, Mare Island and San Pablo Bay. Continue on San Pablo until you reach the stoplight for the Cummins Skyway.
Shortly thereafter you'll cross above busy I-80 as you settle into the three-mile, 600 foot, category 4 climb (bike lane or a wide shoulder). This will bring you up to ride's high point of 736 feet and more majestic bay views. The descent is long and fast, interrupted with a crossover of Highway 4 followed by an immediate hard left onto Franklin Canyon Road. The descent continues, and while there is little traffic, the road surface can be rough in places so first time descenders should be cautious.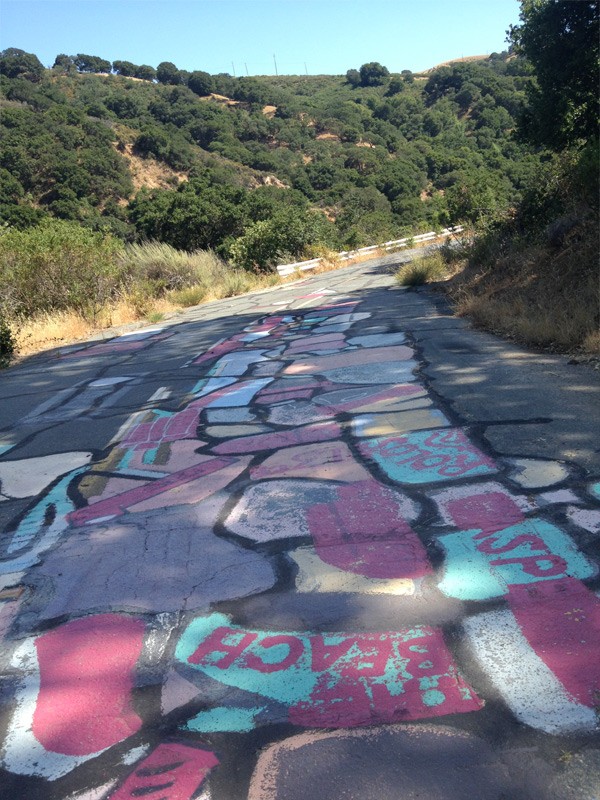 After some nine miles, you'll encounter Alhambra Ave. If you're looking for a longer day in the saddle, making a right will connect you with a ride around Briones Park we detailed in another post. Otherwise carefully make a left across Alhambra Ave. and join the bike lane as it heads into downtown Martinez.
At the very end of the road, make a left on Buckeye and head up to Talbart St. going right for one block before veering to your left to get on Snake Road. aka Carquinez Scenic Drive. After passing by a cemetery you'll enter the rugged Carquinez Strait Regional Park – at about 14 miles the road "ends" and there may be signs indicating it is closed – certainly it's no longer passable to motor vehicles but it makes for a bit of cycling adventure for the next four miles. You'll find huge sections of the road covered in graffiti and amazing views of the I-680 bridges, Mt. Diablo and Bencia across the strait.
Soon enough, you return to trafficked roads and a couple of short but steep climbs as you head into Crockett, worth an exploration of its own. Head through town, under the I-80 bridge viaduct and you'll soon be back to start point.