The American River Trail winds about 30 miles from Sacramento to Folsom and offers a rare combination of treats for the urban cyclist: long stretches of unimpeded riding and great views. For the Bay Area rider a Sacramento starting point makes the most sense, and while the elevation change isn't very much – 600 feet to Folsom, 800 if you go up above the dam – starting here also makes the return leg all downhill. The trail can be hot and crowded, especially during the summer, so an early start or taking it on during a weekday is recommended. The best times to ride are in the spring and fall.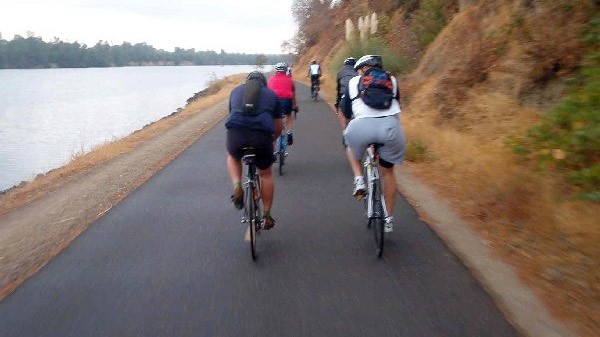 What You'll See:
Discovery and Riverfront Parks in Sacramento offer picnicking spots, along with fabulous river and city views. Further along you'll encounter Sutters Landing Park, the Guy West Bridge (a scaled Golden Gate Bridge) that leads across the river to Sacramento State (8 miles), River Bend Park (14 miles), the Fair Oaks walking bridge, the Nimbus Fish hatchery (22.5 miles), Lake Natoma and finally Folsom Lake (32 miles). Go March through May for wildflowers, July and August for minimal clothing and warm evening rides, and September and October for fall color. On a very hot weekend it can be amusing to watch those floating on the river do battle with various water cannons and artillery.
How to Get There:
From I-5 take the Richards Blvd. off-ramp then go left (West) to get to the South entrance of the park, or follow the Garden Highway exit east from I-5 to find the North entrance. Signs indicate the park's location from I-5. The trail can also be accessed at numerous points along its entire length. It's also known as the Jedediah Smith Memorial Trail.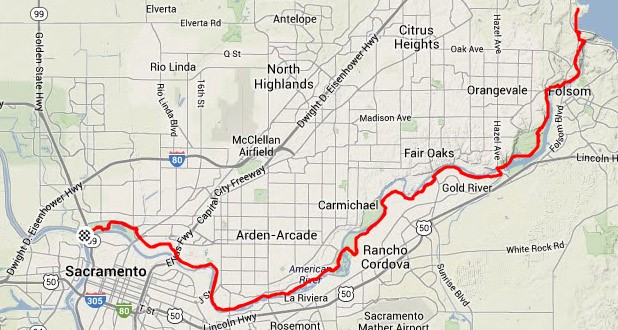 Treat Yourself: 
It's a two to three hour ride up to Folsom so pack a picnic lunch, or at least some snacks and a water bottle (or two). You can head into Folsom for some lunch spots: great bar food close to the trail can be had at Samuel Horne's Tavern (call ahead from the fish hatchery and order to go) and the Sutter Street Grill has outdoor seating that allows you to keep an eye on the bike.