By
When Jenn Jacobs and Bill Phillips met in August of 2009, they quickly realized they shared the same sense of humor and became pals. Several years passed before their relationship morphed into something else, but once their "more than friends" status was established, it took Bill just 12 months to propose.
"We had decided that we were going to exchange gifts for our one-year anniversary," says Jenn. "I thought I was getting a David Yurman bracelet, but when I opened up the box, I found a rock he'd put in there to give it weight so I wouldn't catch on. When I looked up, he was down on one knee," she says. "I was totally surprised! All I got him was a tie."
After exploring options in Napa Valley, the couple decided a San Francisco wedding was for them, and announced it with an invitation featuring the Golden Gate Bridge. They picked classic venues: Old St. Mary's Church for the ceremony and the Olympic Club's Lakeside Clubhouse for the reception. Getting from one location (the church is at California and Grant streets) to the other (the Lakeside Clubhouse is on Skyline Boulevard near the ocean) meant the couple could take advantage of the classic SF photo ops in Chinatown and Nob Hill.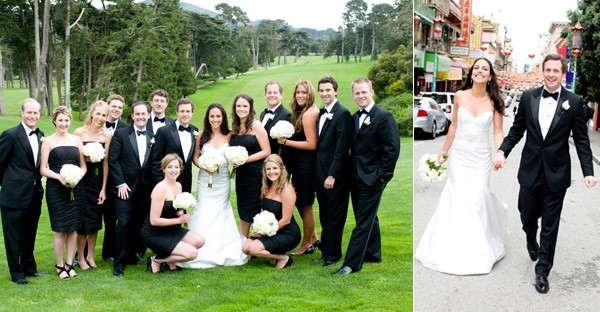 The party site was worth the drive. "We have lived here for 10 years and we realized we'd never been to a reception out there," says Bill. "It has a beautiful ballroom that overlooks the golf course where the U.S. Open will be held in 2012."
Of course, when the bride realized the short dress she planned to wear to the reception was left behind in the Fairmont, it was too far to drive back and get it. "It was O.K.," she says. "I loved my Reverie gown so much, I didn't want to take it off."
The dress, rush ordered at the last minute when she changed her mind about her first pick, was a fitted white gown with a trumpet skirt. White, of course, is the traditional choice of brides—but it just so happens black and white has been Jenn's favorite color combination since childhood, so it fit the vision perfectly. "I love the palette because it's clean and simple and not overdone," she says. "Plus, my bridesmaids got to wear black dresses they really liked and could use later."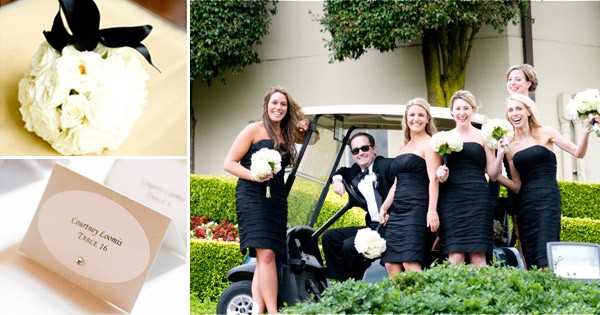 The most memorable moment? "Looking out and seeing all of the most important people in our lives under one roof—that really only happens once in a lifetime," says Bill. "Plus, getting onstage with the band—the Pop Rocks—and seeing a packed dance floor of both young and old. It was awesome."
Event Planner: Outlined Productions
Catering: Olympic Club
Cake: Tracey Berryman
Flowers: Mandy Scott
Stationery: Little Miss Press
Gown: Reverie, Bridal Galleria
Rentals: Classic Party Rentals
Hair & Makeup: Sophia Coyne, Painted Ladies
DON'T MISS A BAY AREA BEAT! SUBSCRIBE TO OUR NEWSLETTER.