A designer showcase in Saint Helena, a modern prefab home tour near Glen Ellen and a sleek new tasting room in Yountville, all happening this month in Wine Country.
Tour the Napa Valley Showhouse for inspired wine country looks this Fall
Experience Wine Country living through the eyes of ten exciting designers at the Napa Valley Showhouse taking place October 10 – November 17 at Charles Krug Winery in Saint Helena. The event, sponsored by Traditional Home, includes a self-guided tour of the transformed spaces inside Peter Mondavi Jr.'s former residence as well as a Charles Krug reserve wine tasting at the renovated Charles Krug 1872 Redwood Cellar. Open everyday except Monday from 10:30 a.m. to 5 p.m., $40 pp. 2800 Main Street, Saint Helena.
Get an advance peek of the Showhouse at the opening gala on October 9 between 6 – 9 p.m. with a tour of the residence and winery renovation with wine and food by Chef Ken Frank, plus a preview of the Napa Valley Film Festival which begins November 13. $75 per person.
Imagine the possibilities with a fabulous prefab home tour in Sonoma
Explore Connect Homes latest modern and affordable modular home this weekend October 5 and 6 from 10 a.m. to 6 p.m. Set in the mountainside above Sonoma Valley, the 2-bedroom, 2-bath, 1,600 square foot home features custom finishes and appliances, and modified layout directed by the owner for her mother. The home will staged by Napa Valley art and design destination Ma(i)sonry of Yountville.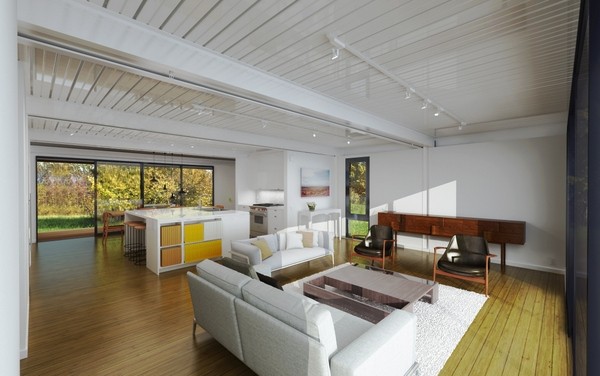 The interiors of a similar home. Photo courtesy Connect Homes
This is the first of five modular homes installations by Connect Homes in Northern California, the others being located in Menlo Park, Orinda and Mendocino County.
Click here to read more about what to do in Wine Country in October!