In the next two weeks, a nice, healthy crop dusting of funny will fall upon the lovely city of San Francisco. From Doug Benson's 7/10 Day Celebration to the charmingly offbeat movies of director Edgar Wright, we've got you covered when it comes to keeping your comedy calendar filled.

Mo Mandel
He frequents Chelsea Lately and has appeared on shows such as Modern Family and Happy Endings. His first comedy CD, "The M-word" is currently out, so go and get it before you enjoy his act live at the Punchline.
When: Multiple show times, July 10-13
Where: Punchline Comedy Club, 444 Battery St.

Doug Benson's 7/10 Day Celebration
The 420-friendly comedian, former Best Week Ever commentator, and host of the popular podcast, "Doug Loves Movies" is all ready to celebrate July 10...as everyone else should. And don't worry there will be a short round of the Leonard Maltin game  – so be ready to show your nametags.
When: 10:15 p.m., Wednesday, July 10
Where: Punchline Comedy Club, 444 Battery St.

For The People Comedy with Frankie Quinones
San Francisco-based comedian Frankie Quinones brings his colorful collective of funny to Cobb's.
When: 8 p.m., Thursday, July 11
Where: Cobb's Comedy Club, 915 Columbus Ave.

David and Amy Sedaris' "The Book of Liz"
From the minds of the irreverent sibling writing/comedy duo of David and Amy Sedaris, comes this play about cheeseballs, Ukranians with cockney accents, and restaurants under the tutelage of recovering alcoholics. Sounds about right for a Sedaris affair.
When: Various times July 11 through August 11
Where: The Custom Made Theatre Co., 1620 Gough St.

John Mulaney
He wrote many, many sketches on Saturday Night Live that you may have made you laugh. In fact, he was the co-creator of our favorite "Weekend Update" city correspondent Stefon. He's been seen on The Kroll Show, a gaggle of late night shows, and on his own comedy specials. Now his thriving comedy career pays a visit to San Francisco.
When: Various times, July 12-13
Where: Cobb's Comedy Club, 915 Columbus Ave.

EndGames Improv presents: Katie Rich
Katie Rich has honed her improv chops and performed with the renowned improv ensemble, Second City. Now, she brings her talent to San Francisco and performs with one of the snazziest comedy groups in San Francisco, EndGames Improv.
When: 8 p.m., Saturday, July 13
Where: Phoenix Annex Theater, 414 Mason St. 4th St.

Clinton Jackson
Clinton Jackson has appeared on TV, opened for some big names in music and comedy (Aretha Franklin, Diana Ross, Chris Rock – just to name a few), and has done the late night talk show circuit. Now, the Oakland native is headlining his own shows. It's pretty safe to say that it looks like he's doing pretty well with his career.
When: 8 p.m., July 16-17
Where: Punchline Comedy Club, 444 Battery St.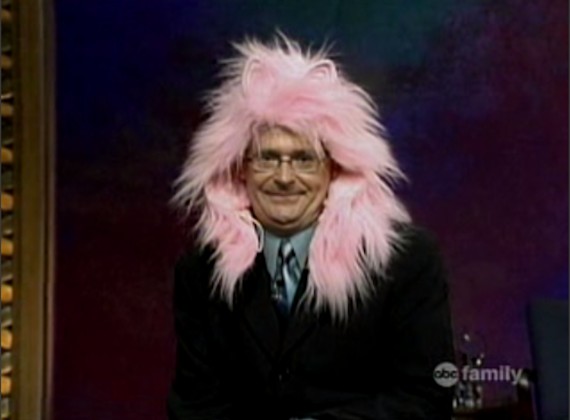 Greg Proops

The Smartest Man in the World Podcast by Greg Proops
He was born in Arizona but raised all over the San Francisco Bay Area, so we'll just go ahead and claim him as one of our own. The stand-up comedian has been in many TV shows and movies, but probably is best known for his  razor-sharp improv skills on Who's Line is it Anyway? He also has a podcast about how he is the smartest man in the world...and it's recording live in San Francisco.
When: 8 p.m., Thursday, July 18
Where: Punchline Comedy Club, 444 Battery St.

Kevin Heffernan and Steve Lemme
The boys from the Broken Lizard Comedy Group are coming to San Francisco, so if you are a worshipper of movies like Club Dread, The Slammin' Salmon, Beerfest, and the classic Super Troopers, this event is all for you.
When: 8 p.m., Thursday, July 18
Where: Cobb's Comedy Club, 915 Columbus Ave.

Iliza Shlesinger
She's the youngest and only female comedian to hold the title of NBC's Last Comic Standing and has an impressive, long list of shows in which she has appeared. She also writes and stars in the comedy news show, The Weekly News on thestream.tv. It's only a matter of time before she gets her show. Acutally, they are working on that right now.
When: Various show times July 19-21
Where: Cobb's Comedy Club, 915 Columbus Ave.

FX Presents: The Totally Biased Stand Up Tour
W. Kamau Bell brings his popular FX comedy show to stage at the Chapel with his fellow comedians Kevin Avery, Dwayne Kennedy, and Hari Kondabolu. Afterwards, you'll be biased in the funniest way imaginable.
When: 8 p.m., Sunday, July 21
Where: The Chapel, 777 Valencia St.

Lydia Popovich
The hilarious "Hater Tuesday" blogger and San Francisco-based comedian makes her way to the Punchline for some good ol' fashioned storytelling, anecdotes, and some Tuesday-hating.
When: 8 p.m., Tuesday, July 23
Where: Punchline Comedy Club, 444 Battery St.

Edgar Wright's "Three Flavours Cornetto Trilogy" Movie Marathon
Fans of director Edgar Wright are invited to watch the ultimate movie marathon of his delightfully subversive trilogy starring English comedic actors Simon Pegg and Nick Frost. The marathon will start of with the zombified Shaun of the Dead, then on to the irreverent cop flick Hot Fuzz, and will end with an advance screening of his newest movie, The World's End. And guess what? Edgar Wright, Simon Pegg, and Nick Frost will be there for a Q&A at the end of the whole thing! Arrive early as seating is first-come first-served.
When: Starts at 3:15 p.m., Monday, July 22
Where: AMC Metreon, 101 4th St., 3rd Floor