By
SFMOMA's front atrium sports a handsome new fixture, and its middle floors have some outspoken new tenets. While Jim Campbell's twinkling LED-light sculpture, Exploded Views, runs no risk of going unseen, The Air We Breathe and Francesca Woodman must vie for viewers' attention in the shadow of a behemoth – namely, the smash-hit Richard Serra Drawing retrospective upstairs. To overlook these smaller exhibitions, one a poignant resounding on same-sex equality, the other a fascinating glimpse of a brilliant and tragic individual, would be a crime.

Exploded Views, 11/05/11 – 9/25/12

Stand almost anywhere nearby, and Exploded Views is 2,880 sporadically blinking bulbs, hung irregularly in a roughly rectangular-prismatic cloud. Observe from the right position, though (the central staircase is best), and you'll find yourself in attendance of an ethereal improv ballet, as roving bulb outages collectively coalesce into the leaping, twirling dancers of Alonzo King's LINES company. (Near sighted? Peek above your rims – the effect is all the better). With a simple extension of the z-axis, Campbell produces a work that is as mesmerizingly elegant as it is groundbreaking: possibly the first-ever 3D cinematic screen. Hurry back; the video will change every two months.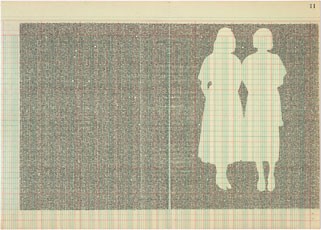 The Air We Breathe, 11/05/11 – 2/20/12

Hoisting Harlem Renaissance poet Langston Hughes' famous line, "equality is in the air we breathe," as its unifying banner, this exhibition assembles thirty-eight distinct artistic voices, some visual and some poetic, on the subject of same-sex rights – principally the right to marry. Though words factor prominently into the included works, the group takes a refreshingly oblique approach to the issue at hand, evading the usual polarizing rhetoric and imagining new, creative avenues of thought. In Untitled (roles), for example, Colombian artist Johanna Calle presents a block of jumbled text layered so thick, it takes on a fabric-like texture. Within, a striking inkless region resolves into the silhouettes of two conservatively dressed, forward-facing women, standing close enough to touch.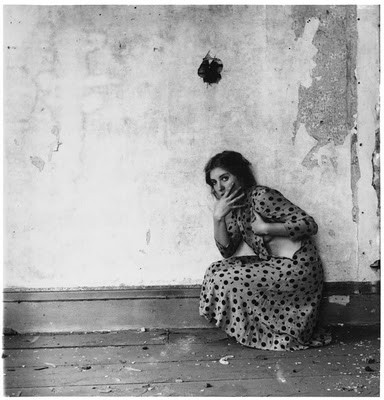 Francesca Woodman, 11/05/11 – 2/20/12

When a brilliant young artist ends her own life, there's an unfortunate tendency to project her ultimate tragedy backward onto her work, finding melancholy and cries for help where, actually, there are none. The first Woodman retrospective in the U.S. since 1986, SFMOMA's comprehensive exhibition delves deep into the photographic work from the artist's late teens to early twenties (she died at 22) – a period more fruitful than many artists' entire careers. A typical Woodman composition portrays the artist, nude, employing her body to examine the architectural spaces of, say, an abandoned house or spaghetti factory (to name two of her favorites). Often flirting with surrealism, her lone performances are as haunting as they are endearingly whimsical, brimming with the intensity of adolescence.

SFMOMA is open Thurs – Tues at 151 3rd St.; general admission $18, excepting half-price Thursday evenings (6pm – 8:45pm) and free first Tuesdays of the month
DON'T MISS A BAY AREA BEAT! SUBSCRIBE TO OUR NEWSLETTER.