You want your wedding to have it all: elegance, creativity, and fun. But the planning that goes into such an event has you stalled before you start down the aisle. Connie Kearns, a wedding planner and founder of San Francisco Wedding Fair (happening Sunday from 11 a.m. to 4 p.m.), suggests that a visit to a wedding fair is just the thing to jumpstart preparations for the big event.
Are you a wedding fair neophyte? Fear not, Kearns has the answers to questions from the uninitiated.
1. I have never been to a wedding fair. What should I expect?
Think of a wedding fair as a trade show for brides. There will be lots of booths exhibiting the different services you will need to plan your wedding.  Some wedding fairs will be in convention centers and look and feel like trade shows. Others are in five-star hotels where the experience is more elegant and may include amenities such as Champagne, live music, and passed hors d'oeuvres.
San Francisco Wedding Fair is designed to give you a luxurious bridal afternoon, while simultaneously educating you to the wonderful wedding resources available to you in the Bay Area.   No matter which type of event you chose to attend, expect to meet many, many people interested in getting your name on their calendars. It can be overwhelming, so be prepared and be clear in your goals. If you are open to what you hear and see, you'll enjoy yourself and have a wonderful time!
 
2. I only have an hour and a half to spend at the event. How do I make the best use of my time?
Make a list of the services you still need to complete your wedding plans. Select a wedding fair that lists their exhibitors on its website, and prescreen vendors by looking at their websites. Email the exhibitors who interest you the most to check their availability. In short order, you will have a prequalified list of people to meet at the show. You'll finish in time to enjoy cupcakes and Champagne. 
 
3. Should I bring my best friend, mom, and the groom?
The buddy system is best at a wedding fair!  Since you are going to see new things, taste new things, and hear new things, trusted companions can help you filter all this information and discern what best can be incorporated into your wedding.  And, since its impossible see everything, a second or third set of eyes will insure you don't miss an important element that would have been perfect for your wedding.
4. The 49ers are playing the Giants this Sunday, but I want my fiancé to be in on ground floor planning. How can I convince him to go with me?
Football and wedding fairs would seem to be on different teams, but at San Francisco Wedding Fair there is a lounge set aside for the guys, adjacent to the exhibits. Grooms can watch the game on big screens and beer will be poured in lieu of Champagne. He'll be close by when you come across that must-see vendor. Everybody wins.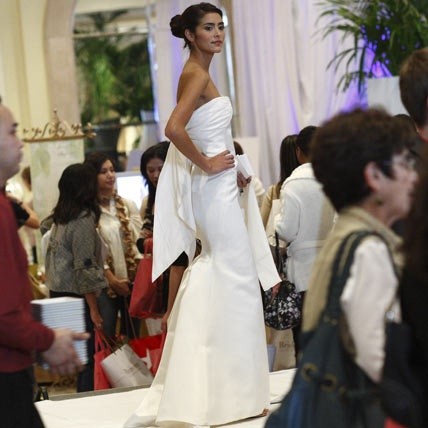 5. I am looking for a cake. How to sample all the cake vendors and decide without overeating?
Don't worry; they give you single bite samples!
6. How do I organize all the materials I gather at the show? 
Get an email address that is dedicated to your wedding planning. When a wedding professional asks for your email address, give that one. This way you won't miss out on potential wedding gold because you didn't want to fill your work or personal email with tons of wedding mail.  
Bring two cloth, heavy-duty bags. If using the buddy system, let them tote them. Fill one bag with wedding gold, the information from vendors you want to follow up on ASAP.  The second bag should be for the materials you want to peruse at your leisure. Expect lots of magazines, books, pamphlets, and goodies—this is why heavy-duty bags are essential.
Ask exhibitors if their pitch (rates, photos, etc.) is available online and let your new email address make the load lighter.
Ask before you snap. If you are using your phone to photograph and store info, be sure to ask for permission from the designer or owner before you take the photo.
7. Should I bring my inspiration file or photos of my dress? 
It isn't a bad idea to bring a few photos to see how a potential wedding-team member reacts to your vision. You may discover that one florist instantly understands the direction you are taking, while another struggles with your concept.  Make a follow up appointment with the first and leave the second for another bride.   
8. Is there time to interview vendors at the fair?
The interview process at a wedding fair resembles speed dating.  As you move from booth to booth, don't spend too much time with any one exhibitor. Mark on your program the exhibitors you think best understand your vision.  After you have talked to every exhibitor in each category you are seeking to fill, return to those who received a positive review on the first go-round. Spend a little more time with them, and if you still feel they might be the one, make an appointment to meet at their studio.  But don't wait too long for that follow up appointment, or you could lose your date to someone else.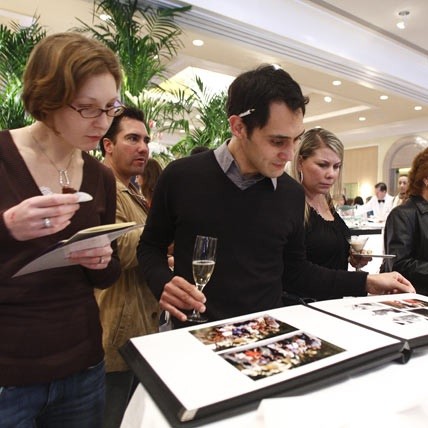 9. What if I sign a contract, and then find a better vendor for my needs at the event. Can I change my mind?
Check your contract.  Most wedding professionals will ask you to forfeit your deposit if you cancel.  If the deposit is just a few hundred dollars you may ask your new florist, baker, etc. to split the loss with you. Some are happy to do that if it means a wedding on their calendar!
10. Can I find all the vendors I need at this Sunday's event?
We have had a few brides plan a "San Francisco Wedding Fair wedding." Their wedding team consisted of only the people they met at the show. While that was pretty cool and I heard the weddings were successes, most people will fill in just a few holes with gems discovered at the show.  
Locating the traditional contractors isn't the only role of the show: I design San Francisco Wedding Fair to expose you to new things that will expand your wedding vision and inspire you to add something to your wedding you hadn't considered.  At San Francisco Wedding Fair we always try and feature a few exhibitors that bring something new and innovative to Bay Area weddings. For example, this year guests will meet the staff of Green Barrel Wines, a company that offers a new and green method of serving fine wines at Bay Area weddings. Or you could meet Starlite Strings, a classically trained string quartet whose repertoire includes traditional pieces like Wagner's Bridal Chorus and Led Zeppelin's Stairway to Heaven. I want you to leave the fair not only having met your future photographer and florist, but also with new ideas to explore that will ultimately give your wedding design added texture and depth!
11. I just got engaged and we are having a short engagement (six months). Will vendors at the event have openings for this summer?
Many of the exhibitors will have openings in the summer, but your first stop should be at the exhibits of the weddings planners.  A short engagement may seem daunting to you, but a good planner will help you create a wedding that looks like it was in the works for 18 months instead of six!
Visit the San Francisco Wedding Fair at the Four Seasons this Sunday from 11 a.m. to 4 p.m. Tickets are available online.