By
It doesn't matter whether you carve it, cook it or smash it. It just isn't Halloween without a pumpkin. Picking out the perfect jack-o-lantern can be an all-day affair with farms around the Bay Area pulling out all the shots to attract you to their part of the patch.
Self- proclaimed pumpkin capital of the world, Half Moon Bay offers countless patches spread out along State Highways 92 and 1, with pumpkins in every colors, shape and size.
Arata's Pumpkin Farm is the oldest working pumpkin farm in San Mateo County. In the early 1930's, teenager John Arata and his brother Clarence planted pumpkin seeds to feed the family's hogs. One day a passing motorist asked to buy a few and the rest is history. In addition to pumpkins you can get lost in a six acre corn maze, visit the Haunted Barn, even watch Gladiators do battle in a coliseum built out of hay bales. 185 Verde Road, (650) 726-7548
There really is a Farmer John at Farmer John's Pumpkin Farm. Described by friends as a down-to-earth, real local farmer, Farmer John and his wife Eda grow more than 60 varieties of pumpkin and squash. Along with a hay pyramid and scarecrows, you'll find an authentic Native American Teepee and can take a ride on Farmer John's tractor. 850 North Cabrillo Highway, (650) 726-4980
The 42nd Annual Half Moon Bay Art & Pumpkin Festival is October 13-14, so if you go hunting for the perfect pumpkin in Half Moon Bay that weekend, know you won't be alone.
In the North Bay, Peterson's Farm is a popular pumpkin stopping place. Owned by a retired school teacher and her husband you'll leave this family farm with a more than just a pumpkin. A certified Bee Friendly Farm, honey is sold as it's harvested. Check out the observation hive to the see the bees in action. 636 Gossage Ave., Petaluma, 707-765-4582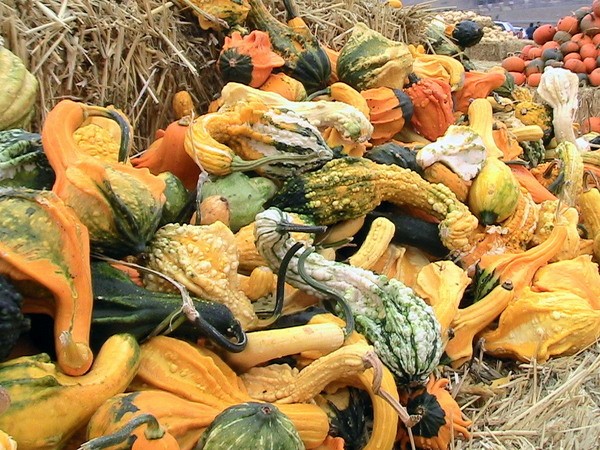 You may know Spring Hill Jersey Farm for their cheese, but every fall pumpkins steal the spotlight. The Great Peter Pumpkin Patch is a great place to get a taste of a country farm. Sure you can pick your own pumpkin, but you can also dig for your own potatoes, milk a cow, and enjoy tasty homemade pumpkin ice cream. 4235 Spring Hill Road, Petaluma, 707-762-3446

G&M Farms in Livermore Valley gets rave reviews about great pumpkin prices, family fun and its cornfield maze. Grab a wagon just in case the pumpkin that catches your eye is too big to hold. On weekends there are pony rides, pedal carts and a face painter for the kids. 487 East Airway, Livermore, 925-447-FARM

Joan's Farm, also in Livermore, features an Old West Town among the pumpkins, complete with teepees, a school house, mercantile shoppe and covered wagon. The antique farm equipment reminds you a farmer's life is never easy. No credit cards, cash preferred. 4351 Mines Road, Livermore, 925-447-0794

Clayton Valley Pumpkin Farm and Christmas Trees started as a U-Pick Vegetable stand in 1980 and has been growing ever since. There's lots of ticketed activities focused on little ones like a tunnel made with more than 650 straw bales and the Pumpkin Farm Express train. 1060 Pine Lane, Clayton, 925-672-5198
Happy picking. Dana can be found on twitter @drebmann

DON'T MISS A BAY AREA BEAT! SUBSCRIBE TO OUR NEWSLETTER.