The city's gallery scene is abuzz this week with a slew of openings, the grand list of which is enough to daunt even the most seasoned of art crawlers. In the name of practicality, we've plucked out our top five – shows that will get the gears turning for conceptual art nerds, SF history buffs and everyday visual enthusiasts alike (and collectors too, of course).
Director's Choice
Rounding up four of its sharpest gallery artists and introducing two newcomers, Cain Schulte Gallery puts together a sprawling group show that beckons the visual devourer as well as the conceptual deep-diver.
Look forward to Shawn Smith's clever and patently humorous sculptures of natural scenes. Composed of small wood cubes, his pieces evoke a familiar and not-quite-natural phenomenon: pixilation. Also at the show, you will find Ruby Wescoat's sculptures drawing inspiration from equal parts neoclassicism and pop art. The charming objects represent a host of subjects, ranging from Greek statues to six packs, in a single medium – cardboard.
Director's Choice runs through January 28th at Cain Schulte Gallery, 251 Post Street, Suite 210
Opening Reception: Thursday, December 8, from 5:30 to 7:30 p.m.
Ben Aronson: Here and Now
This show offers up a familiar subject – cityscapes, including some of our very own city by the bay – with bold, revelatory style. Taking cue from New York action painters like Jackson Pollock, Aronson applies paint generously and with verve, conveying the energy and chaos of urban life in his sweeping strokes and high-contrast tones. If this acclaimed artist's past work is an indication, "Here and Now" will be a visual feast as well as a high-emotion journey, hitting decidedly close to home. 
As if the art weren't incentive enough to go, the opening reception will feature a wine tasting with Castello Poggiarello winery, from Siena, Italy.
Ben Aronson: Here and Now runs through February 4 at Jenkins Johnson Gallery, 464 Sutter Street
Opening Reception: Thursday, December 8, from 5:30 – 7:30 p.m.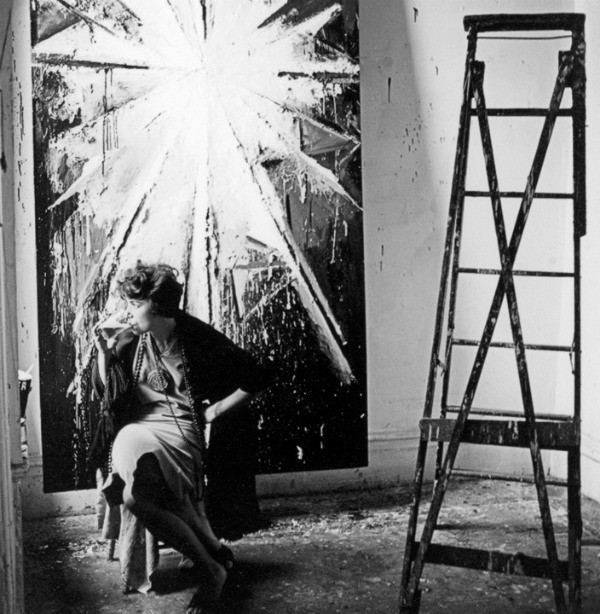 Beat by the Bay, San Francisco Visual Artists of the Fifties and Their Galleries
San Francisco culture of the 1950s is remembered largely for the Beat poets and writers – Kerouac, Ginsberg, etc. – who set North Beach abuzz with the erection of their raging intellectual subculture. Meanwhile, their visual artist counterparts, with whom they frequently mingled at a handful of seminal SF galleries, have fallen by the historical wayside. 
Ever Gold Gallery corrects this injustice with an exhibition curated by alternative art historian John Held, Jr. "Beat By the Bay" reintroduces the brilliant work of local Beat artists like Jess, Jay DeFeo and Wallace Berman, through a collection of artworks, gallery ephemera, vintage photographs, posters and other such artifacts. A well-warranted visual history lesson waits.
Beat By the Bay runs through January 6 at Ever Gold Gallery, 441 O'Farrell Street
Opening Reception: Thursday, December 8 from 6 – 10 p.m.
Deconstructing Hollywood
We're certainly fond of John Waguespack (one of his vibrant works adorned the cover of our 2011 July Art issue), and so are eagerly awaiting this show of his at McLoughlin Gallery. Conceived following a recent sojourn to SoCal, Waguespack's newest paintings portray Hollywood icons in a dazzling, updated ode to mid-century pop art. In keeping with the artist's signature style, bright, colorful, vertical stripes meld with and interrupt the images.
Deconstructing Hollywood runs through January 21 at McLoughlin Gallery, 49 Geary Street, Suite 200
Opening Reception: Thursday, December 8 from 5:30 – 7:30 pm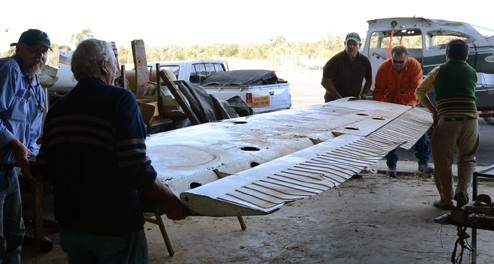 Sean Cordeiro & Claire Healy – Par Avion
For their American debut, this Berlin-based artist duo has literally mailed it in. Cordeiro and Healy purchased a small, aged fighter plane, deconstructed the antiquated war instrument into small pieces and packed these into boxes addressed "Frey Norris Gallery, San Francisco." After a journey in the belly of a more modern, commercial and intact version of itself, the parceled plane arrived.
On view at the gallery is an installation of the postage boxes in question, arranged in the configuration of the original plane and opened to reveal their contents. Where, exactly, the art lies is up for debate. Certainly, though, this uniquely high-concept exhibition promises much in the way of food for thought.
Par Avion runs through January 28 at Frey Norris Gallery, 161 Jessie Street
Opening Reception: Saturday, December 10 from 4 – 7 p.m.
Middle photo: Portrait of Jay DeFeo taken by Jerry Burchard, c. 1957. Courtesy of the Burchard estate
Bottom photo: Sean Cordeiro and Claire Healy; dismantling of Cessna airplane for 'Par Avion', 2011; courtesy of Frey Norris Gallery