By
Lake Tahoe is a popular place to go camping in the summer, so now's the time to reserve that perfect campsite, before it's packed to the brim. There are dozens of campgrounds around the lake, but only a few of them have great lakeside access. These top five campgrounds either have their own beaches or it's just a quick walk to the shoreline and that deep blue water—perfect for a refreshing summer dip.
The hilly, 140-site campground at D.L. Bliss State Park has one of the best beaches in Lake Tahoe: Lester Beach. Lester's warm, white sands and blue lagoon make it a popular day spot for visitors. However, you can get early morning access when you camp in the campground. The sites are plentiful and private with large tent and trailer areas, picnic tables, and fire pits. Dogs on leashes are allowed at the sites, but not on the beach. Lester Beach is also a good kayak launching point for a two mile trip to Emerald Bay.
Reserve online at the D.L. Bliss website through Reserve America.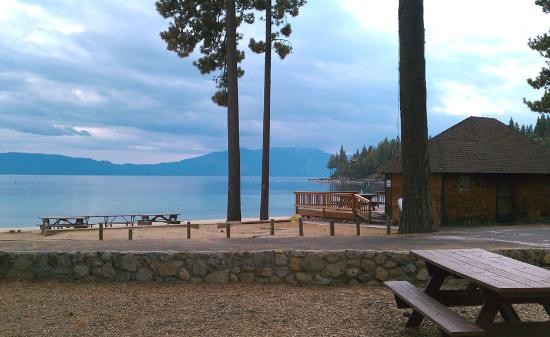 Meek's Bay Resort, photo via the resort. 

This is one of the only resort campgrounds on the West Shore with direct access to the water. The resort also has its own beach, marina, restaurant, and lodge. The tent sites are $15 a night in the low season and $25 a night in the high season. The RV sites are $25 a night in the low season and $45 a night in the high season. Pets are not allowed at the campground. If you don't want to sleep outside, the resort offers cabins with picnic tables, BBQs, and fire pits.
Reserve online at the website through the Washoe Tribe.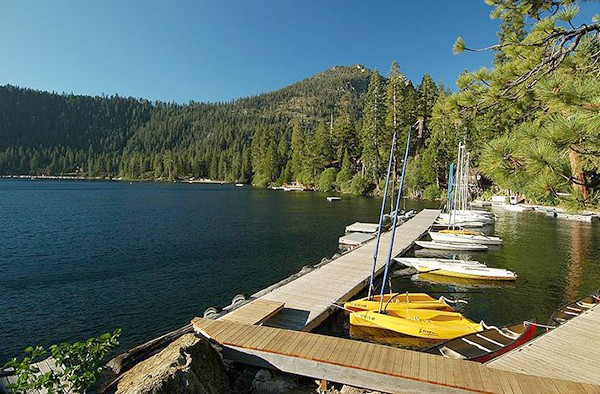 Fallen Leaf Lake, Photo via Wikimedia
Just off the beaten path on the South Shore is the Fallen Leaf Lake Campground. While its not right on the water, a short walk will take you to beautiful Fallen Leaf Lake. This picturesque campground covered in aspen and pines trees has 206 sites with fire pits, coin showers, biking paths, and picnic benches. Pets are allowed in this campground.
Reserve online through Recreation.gov.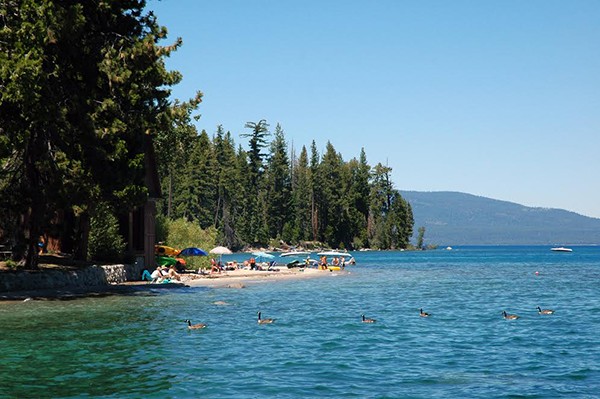 Sugar Pine State Park, photo via Wikimedia 
Sugar Pine Point State Park has 120 campsites and 10 group sites and is even partially open in the winter and spring. The campground has flush toilets and water, but no showers or dump station. Best of all, it has its own large beach and some great swimming off the pier. The Ehrman Mansion is also located here and is open for tours in the summer.
Reserve online through Reserve America.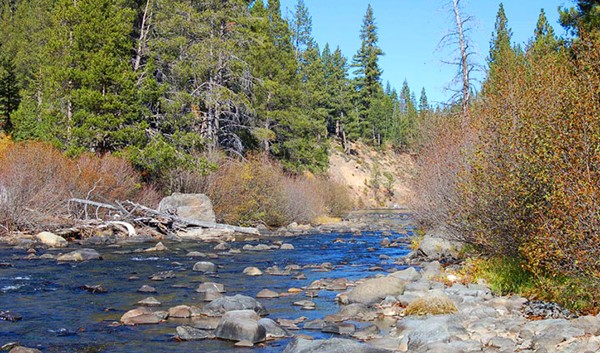 Goose Meadows, photo via Campsite Photos 
Located right next to Truckee River on Highway 89 near Truckee, the Goose Meadows campground is one of the lesser known campgrounds since its not right on the lake. It does have nice river access for fishing and small, private sites. There are only 21 sites here, but they are sunny, equipped with picnic tables, grills, fire pits and vault toilets.
Reserve online through Reserve America.
DON'T MISS A BAY AREA BEAT! SUBSCRIBE TO OUR NEWSLETTER.