The 41st annual Union Street Festival takes place this weekend, and for the celebration, the iconic street, from Gough to Fillmore, will be closed off to cars. This year's theme is music, so live acts covering genres from country to jazz will be playing four different stages. But even without such fanfare, Union is still a great destination for cute shops, cozy watering holes and an eclectic selection of food. Be sure to keep this neighborhood guide cued up on your phone to help you navigate the plethora.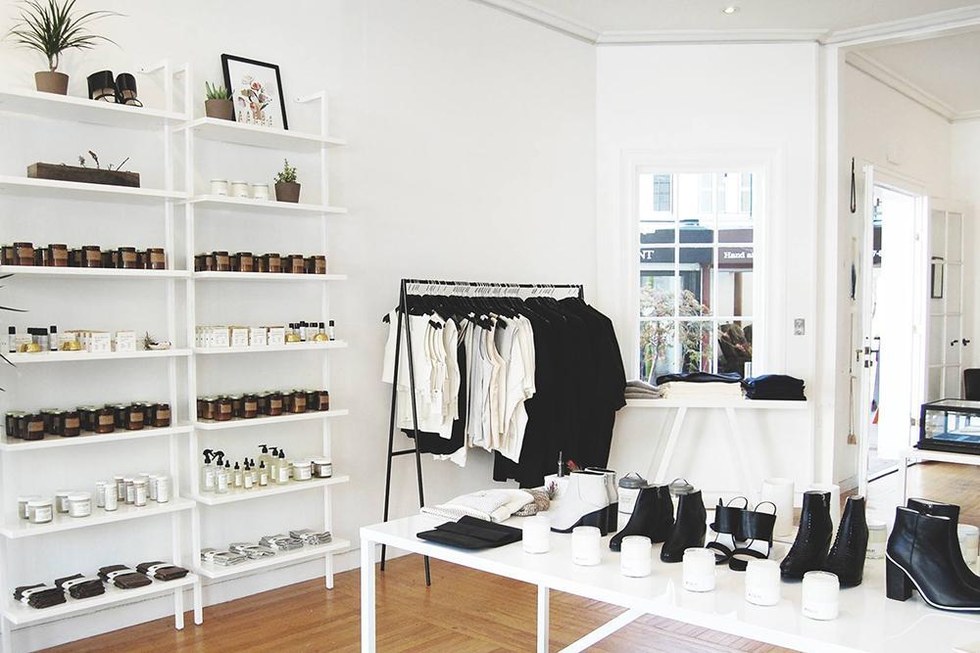 Courtesy of @shopanomie
---
SHOPPING
Women's Fashion
Anomie (2149 Union St.) is a beautifully curated and independently owned boutique that started as an online retailer in 2014, but thankfully, now has its own brick-and-mortar space where you can find a selection of handcrafted objects and apparel. Founder Chelsea Moylan (who studied sociology and criminology at UPenn) has a stellar lineup of brands, including Australian label Finders Keepers, botanical soaps by Portland-based Midnight Collective and hilariously on-point greeting cards by California-born Ashkahn. // Those in the mood for some designer indulgence at wallet-friendly prices would do well to check out upscale consignment store Sui Generis (2147 Union St.), which stocks their women's range of pre-loved luxury labels and designer accessories. // Floral-print enthusiasts will adore Morning Lavender (2150 Union St.), a pretty little shop that has a top-notch selection of Instagram-worthy outfits to take along on your next summer holiday. // If you need to level up on your weekend style head to Marmalade (1843 Union St.), a boutique that aces boho-chic with its range of independent designers, including LA-based brand Olivaceous. // Those in the market for some "rock-solid" investments should stop in at the lovely La Bijouterie (1931 Union St.) for made-to-order jewelry, handcrafted in California. // Or check out Carats and Stones (1833 Union St.) for their selection of stunning bling rings.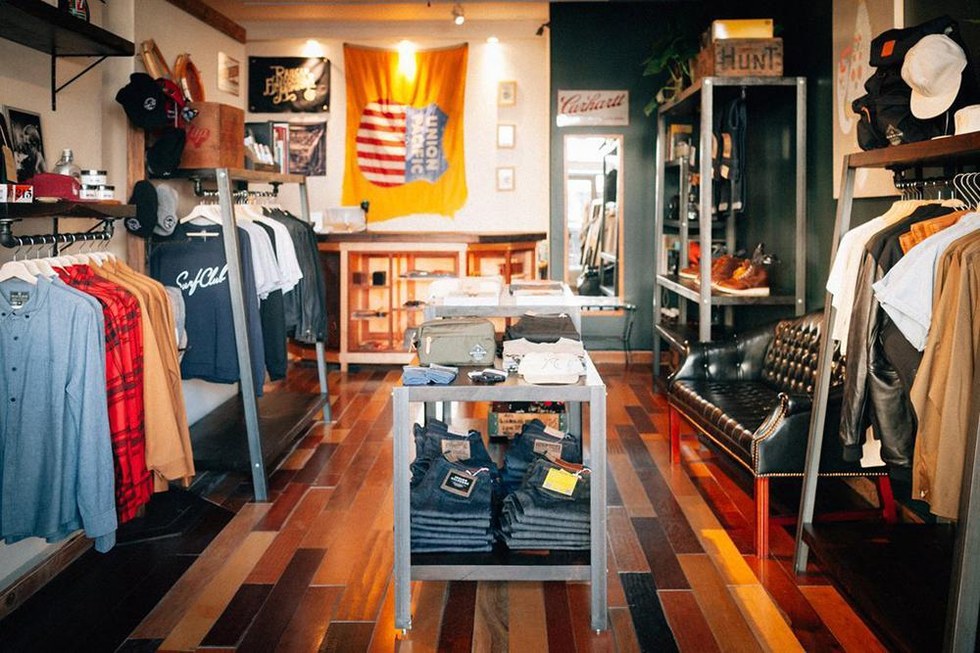 Courtesy of Bickle's Surplus
Men's Fashion
Guys can get their fashion fix from Bickle's Surplus (2127 Union St.), a relative newcomer to the street stocked with apparel and accessories channeling independent American films—pick up a T-shirt inspired by Robert De Niro's character in the 1976 cult classic Taxi Driver. Owners Eugene Kim and Jeremy Castillo are both avid film buffs and their cozy, wooden-floored menswear shop is testament to this. // Surf-style dudes would do well to pop into Chubbies (1980 Union St.), which sells striking, vacay-worthy shorts for guys who want to rock the weekend (they also have a cute range of swimsuits for the ladies), or wait for the spanking new Bonobos (1964 Union St.), which is slated to open sometime this year.
Gifts
Find the perfect last-minute gift at Atys (2149 Union St.), which stocks a hefty selection of gadgets and home accessories. // Or treat yourself at Jo Malone London (2157 Union St.), where botanical-based scents are sold in an extensive home collection. // At Lush (2116 Union St.), pick out a scented bath bomb for a Friday night soak. // Finally, duck into Union Street Papery (2166 Union St.) for the perfect card to celebrate a special occasion. While you're at it, pick up a few extras and put an end to the last-minute birthday-card scramble.
Specialty Shops
CyclING enthusiasts can pick up a new Pinarello at Contrada Bikes (2078 Union St.) or roll into City Cycle (3001 Steiner St.) for a precision fit appointment with fit service manager Justin Lucke (call for appointment). // Fog City Leather (2060 Union St.) carries a wide variety of leather jacket styles along with a bespoke service if you don't see what you want in-store. // Nearby, TopDrawer (1840 Union St.) has all the gear you need to schlep it across the globe, including "pre-damaged" Crash Baggage hardsides, which are proven to take a licking and keep on ticking. // Lovely Brides (2266 Union St.) racks up an amazing selection of gorgeous gowns for your special day. // Finally, don't miss out on the awesome KIN The Label (1749 Union St.), a hat brand started by sisters Sara Brady and Ashley Cornil, where you can pick up a super chic, handmade hat in straw or wool—just don't forget to call ahead to book an appointment.
Arts + Interiors
If you want your house to look like a casbah, pick up rugs and cushion covers at Krimsa Fine Rugs & Décor (2190 Union St.). // Z Gallerie (2155 Union St.) is where you can find contemporary accent pieces and statement pieces at relatively wallet-friendly prices. // Finicky shoppers will be drawn to the chromatic, hand-blown glassware on display at Glassybaby (2070 Union St.)—the uniform vessels can be used as either a votive holder or a chic beverage cup.
EAT + DRINK

The Brixton (2140 Union St.) serves up tasty tipples (try their Buckland Peach) with an equally impressive food menu. // We love kicking back with mussels and beer at the Belgium-inspired brasserie Belga (2000 Union St.). // Umami Burger (2184 Union St.) features flavorful house-ground patties for both classic and otherwise inventive burgers (the falafel burger with its beet-infused couscous patty is a favorite). // Don't miss the zucchini-onion haystack side at toppings-centric Roam Burger (1785 Union St.).
Viva Italiana!
Union is also home to a fair amount of Italian-inspired cuisine, from Rose's Cafe (2298 Union St.), a neighborhood favorite for its locally sourced organic produce, housemade pasta and delicious baked treats, to the rustic, trattoria-style Capannina (1809 Union St.), which specializes in dishes from Southern Italy. // One block down is Pane e Vino (1715 Union St.), another homestyle eatery that focuses on Northern Italian cuisine by chef Bruno Quercini. // Those looking for a tasty bite on a budget should check out the array of freshly made pasta and lasagna available at The Italian Homemade Company (1919 Union St.). // Or peruse the Italian-Mediterranean menu at Ottimista Restaurant & Bar (1838 Union St.) while sipping on a glass of Lambrusco at their elegant bar. // For an caffeine pick-me-up, pop into Illy Caffè (2055 Union St.) while you wait for a table at the popular Californian-Italian fusion bistro Contrada (2136 Union St.).
Weekend Treats
For something truly special, head over to The Caviar Co. (1954 Union St.), which is the first dedicated caviar-tasting room in the city to serve sustainably raised caviar. If time's running short, pick up a tin to go before heading over to meet your friends for brunch at Hollow Cow (1875 Union St.), a hip neighborhood bar with a mouthwatering brunch menu. // Still feeling peckish? Follow up with a cheese and charcuterie platter and round of craft beers at West Coast Wine + Cheese (2165 Union St.), which stocks an exhaustive range of products that have been specially sourced from West Coast states.
Cafe Culture
Stroll down to the corner of Fillmore and Union where you'll find the charming Union Street Coffee Roastery (2191 Union St.) with its delicious brews made from beans that are handroasted on site. // Coffee snobs will also appreciate Wrecking Ball Coffee Roasters (2271 Union St.), which has an impressive inventory of specialty coffee curated by husband-and-wife team Nick Cho and Trish Rothgeb. // Pair a cuppa with a freshly baked kouign amann from La Boulangerie (1909 Union St.) before feasting your eyes on the discerning collection of delectable small-batch goodies (craft whiskeys and mezcal) at The Epicurean Trader (1907 Union St.). // At Sugarfina (1837 Union St.), you can pick up a box of indulgent bon bons that are as much a sweet treat as they are eye candy.