The trek along the coast to Southern California takes some time, but there's never much concern about growing bored. Popular destinations like Santa Cruz, Monterey and Santa Barbara offer places to stretch your legs and enjoy the view. Tucked in between the better known stops are quintessential coastal towns also worth checking out along the way. Some of them, like Ventura, might even have you adjusting the itinerary.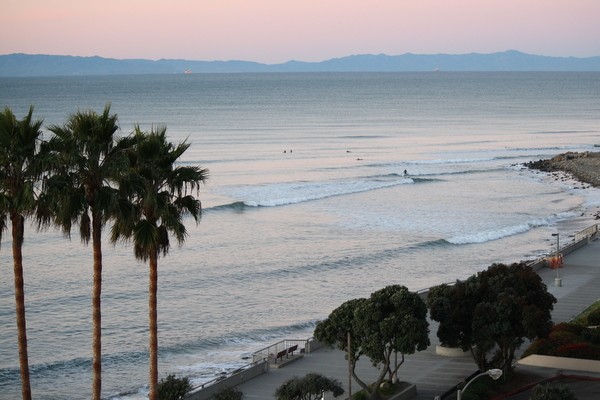 View of Surfer's Point from Crowne Plaza Ventura Beach

Beaches, Surfers and Dogs
Perched on the coast between Santa Barbara and Los Angeles, it's easy to whiz by in anticipation of locations to the north or south. A wide promenade makes exploring Ventura's beachfront easy and in a short walk you can cover lots of ground. The Ventura Pier is California's longest wooden pier stretching nearly two thousand feet into the ocean. There are a few businesses at the base, but the rest of the wide-open pier is popular with fishermen, strollers and sea gulls. There's a nice playground on the beach near the pier steps for traveling families.
From the Ventura Pier you've got a great view of Surfer's Point at Seaside Park. Surfers and dogs reign supreme. A short walk will get you a closer view of the action. On the promenade, you'll pass dog-friendly Crowne Plaza Ventura Beach. It's Ventura's only beachfront hotel. Get up early to watch the waves, maybe take a lesson, then make your way to Ventura Harbor.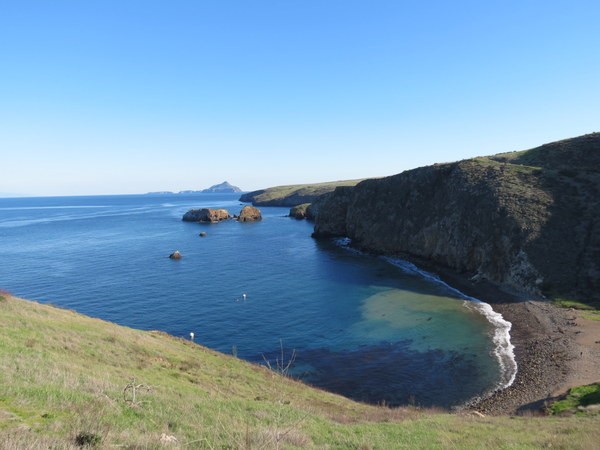 Santa Cruz Island
Channel Islands National Park
If you only have time to do one thing when you're in town, Channel Islands National Park is it. More than a dozen miles out to sea, your ride there with Island Packers is fun in itself. During winter, Santa Cruz Island, one of the five islands in the park, is a popular destination. The entertaining crew finds ways to keep folks listening during safety instructions.
"We only turn around for hats that are still being worn," drew laughter from the crowd.
While cruising you'll learn a bit about the permanent oil platforms and, if you're lucky, meet up with common dolphins or migrating gray whales.
Santa Cruz Island
At more than 96 square miles and 76 miles of coastline, Santa Cruz Island is California's largest island and a great place to spend the day exploring. All visitors receive a quick orientation before being set free to roam the island. When the boat drops you off they'll remind you when to be at the dock for pick up. Don't be late, or you'll need to become close friends with prepared campers.
Miles of trails and remnants of the island's ranching days will keep you busy. There are basic bathrooms, but no other services on the island, so make sure you pack lunch and water.
If you're up for an even bigger adventure, make kayak reservations with Channel Island Outfitters. You'll spend a majority of your island time on the water, but you won't waste a minute. Guides share information about the environment as you paddle your way through sea caves. Don't be surprised if a seal or sea lion joins your group during the journey. If you change quickly once back ashore, you'll have time to do a short hike before catching your ride home.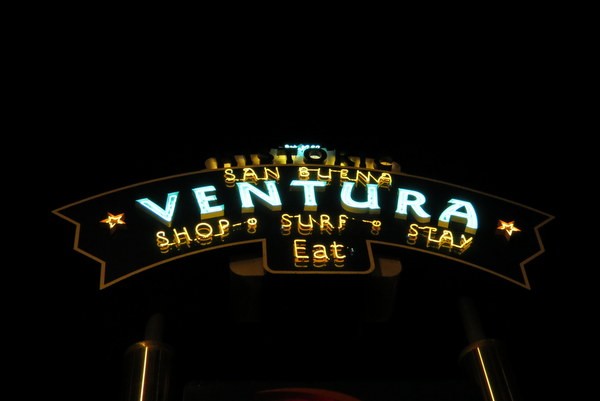 Welcome to Ventura
Your cooler will be empty by the time you return to Ventura Harbor. You can walk to The Greek at the Harbor, order the Mezze Platter for a taste of Greek favorites and on weekend nights munch pita bread while listening to Greek music and watching belly dancing. If you haven't checked out downtown, clean up, go for a stroll, and stop for a drink or dinner at Anacapa Brewing Company. This cozy restaurant brewery has a nice patio where leashed dogs are welcome to relax while their owners do the same.
Dana can be found on Twitter @drebmann
Dana's trip was hosted by the Ventura Visitors & Convention Bureau, but as always her thoughts and opinions are her own.