By
It took two chance encounters to ignite the relationship between Dr. Cherilin Johnson and Ian Kirby. They first noticed each other at a mutual friend's party, but nothing came of it. But two months later, when Ian visited the office Cherilin shared with another doctor, they spotted each other again, and this time they both acted on it. After the appointment, Ian dropped by their friend-in-common's office to ask about Cherilin. At the same moment, Cherilin was texting their friend inquiring about Ian. "She held up her phone and said, 'You mean this girl?'" says Cherilin. "The rest is history."
The Beverly Hills residents wed last summer at Shady Oak Winery, a private estate in Napa Valley. "We are drawn to Napa Valley because we are slightly obsessed with wine and food," says Cherilin. "And it's one of the most beautiful places on Earth."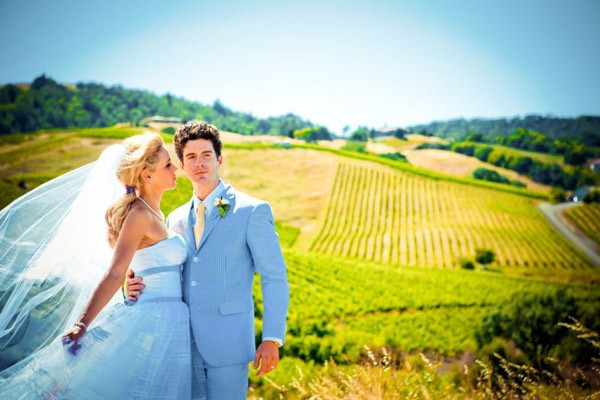 The event was both casual and glamorous. In the casual category, the groom and his groomsmen wore cotton seersucker suits and Converse sneakers ("They wanted to feel comfortable," says the bride); the tables were set with a mix-and-match of vintage plates gathered from around the country; and after the ceremony, many of the guests kicked off their dress shoes and donned flip flops.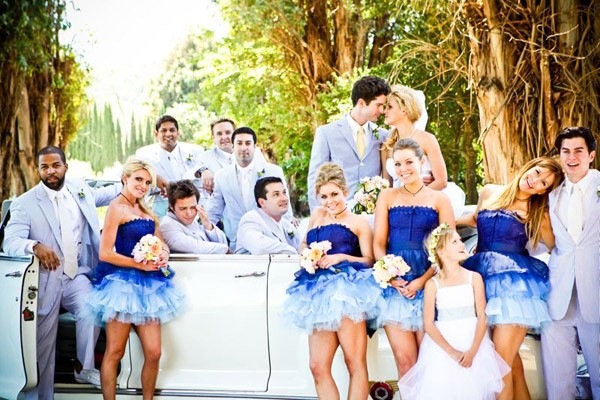 On the glam side, the bride wore a stunning Carolina Herrera light blue gown inspired by the Impressionist paintings of Claude Monet and sky-high blue Louboutins. "The wedding was a nice blend of old school vintage mixed with what we call in our office 'Zsa-Zsa,'" says Julie Nunn Martin, their wedding planner. "They combined comfortable and laid-back elements with elegance for a down-home chic feeling."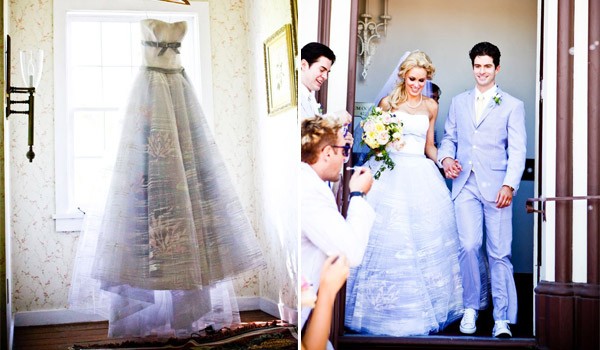 The ceremony took place at the First Presbyterian Church in Napa, a building whose turn-of-the-century details give it a storybook quality. It was the perfect backdrop for the show-stopping dress, the seersucker suits, and the sexy-yet-stylish bridesmaid dresses, which have their own story. Just weeks before the wedding, Cherilin's dressmaker deserted her. With the clock ticking, the resourceful doctor purchased bustiers at a lingerie store and tulle at a fabric store and had another seamstress quickly sew them together.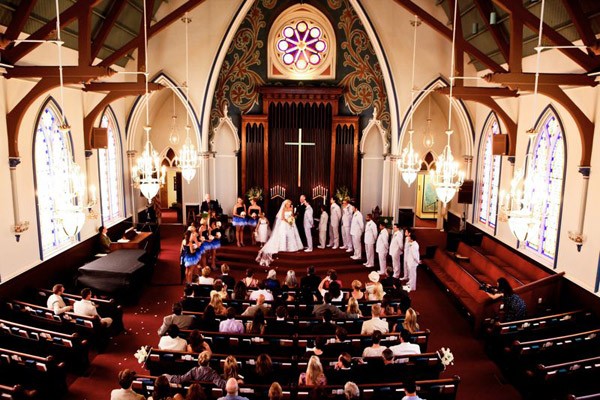 If you think you recognize some faces in the wedding party, you probably do. This union contains more than its share of television stars, including two Big Brother winners (one is the groom's brother, Dr. Will Kirby, who also appeared in Dr. 90210), and a two-time For Love or Money contestant (Erin Brodie, Will Kirby's wife).
After the vows were exchanged, the bride and groom hopped in a vintage auto for the trip to Shady Oaks, where rustic tables laden with Napa-style food, flowers, and wine awaited them. A note in a period typewriter instructed the guests to shed their shoes and don the flip-flops, as a night of revelry awaited them.

"One of the most memorable moments was when Laura Grier, who was both a bridesmaid and our photographer, kidnapped us and had us climb up a steep hill nearby. I was in my high heels and I kept warning her all the way up that the shots had better be worth it," says Cherilin. "And, in the end, they turned out beautifully."
Ceremony site: First Presbyterian Church of Napa
Reception site: Shady Oaks Winery Photographer: Laura Grier, Beautiful Day Photography 
Wedding design: Julie Nunn Martin, I DO! Wedding & Event Design 
Floral design: Valley Flora, Napa
Linens and rentals: Wine Country Party and Events
Catering: Elaine Bell Catering and Sweetie Pies
Vintage car: Classic Convertible Wine Tours
DON'T MISS A BAY AREA BEAT! SUBSCRIBE TO OUR NEWSLETTER.