Originally published on California Home + Design
What began as a simple website for founder Susan Gregg Koger to sell her surplus vintage finds has grown into the wildly popular online clothing retailer ModCloth in just a few short years. Although its overall style is still all about vintage flair, today the online shop is stocked mostly with new apparel, shoes, accessories, and home goods designed by over 700 independent designers. Online, the retailer is all about fashion discovery, supporting independent artists, and engaging its customers in the ModCloth community, and the San Francisco office is just as fun. ModCloth occupies two floors (above Eventbrite) with racks of vintage finds, mushroom and hairstyle-themed conference rooms, plenty of design inspiration, and oodles of personality.
ModCloth founder Susan describes her office design in terms of an extension of the company's overall philosophy. "In the same way that our brand is a reflection of our community, our office space is a reflection of those who make up ModCloth as a company," she says. "There's a lot of personality and individual style everywhere in our office." When you first walk through the door, visitors are greeted with the company's logo and a few dress forms sporting fabulous frocks sold on the site.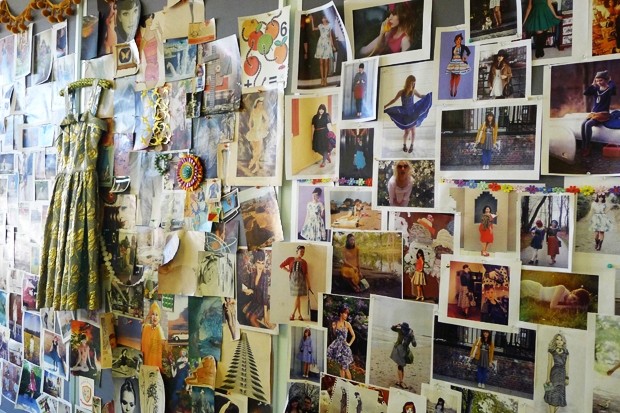 Founder Susan sits next to her husband and co-founder Eric on the first floor and maintains this fabulous inspiration wall. It's covered with cutouts from magazines from the '50s and '60s, old sewing patterns, paper decorations, and even a vintage frock. "We're all together in an open space, myself and Eric included," says Susan about intentional lack of private office space.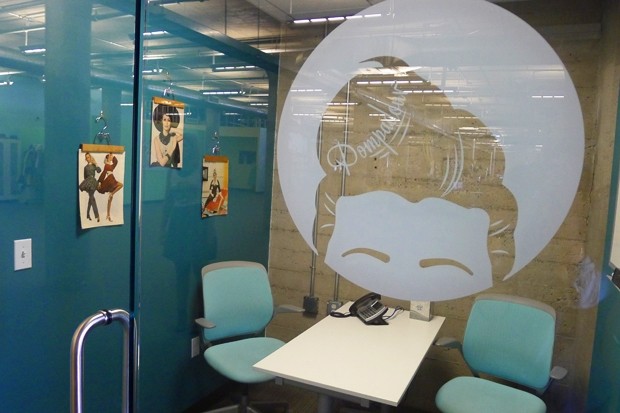 The pompadour phone booth sports a great teal hue and a few vintage fashion prints.