Through all the different craft cocktail crazes that have swept San Francisco over the years, one particular classic beverage rose above the fray—the rickey. Made with nothing more than Cointreau, lime, and soda, this timeless concoction is the perfect cocktail for everything from lazing around on the grass at Dolores Park to toasting the end of the work week at your favorite watering hole. It's refreshing, it's simple, and it's proof that you've officially moved on from your jungle juice days to the finer things in life.
To bring the timeless rickey up a notch, we turned to ten of our favorite bartenders to give the noted cocktail a contemporary twist. All the recipes below are now available at each respective establishment, so swing by and try one or two (responsibly, of course!).
Each week, we'll spotlight a different mixologist's signature rickey, their exclusive recipe, and the backstory behind the drink. Vote for your favorite below—the bartender with the most votes will be featured on 7x7.com. 
Must be 21 and over to vote.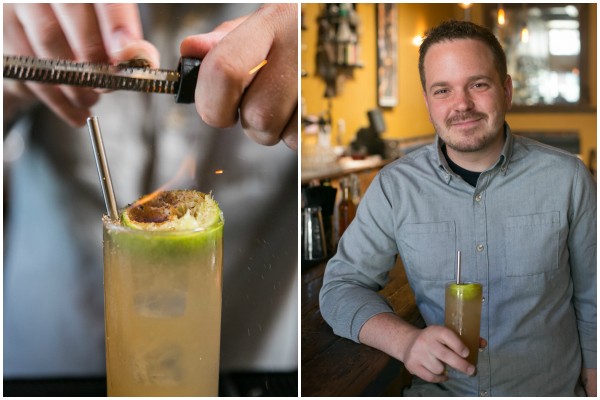 Mixologist Ethan Terry - The Alembic
The Cocktail: Ramshackle Rickey
Note from the mixologist: "I prefer my triple-sec cocktails spiced and nutty vs. clean and citrusy. Even though there's a healthy squeeze of lime in my version, the citrus oils lend a little sultriness to its clean tartness. The sherry provides a long finish, especially in collins-style coolers (Hell, I'd put an ounce of sherry in a can of Tecate if pressed!)."
Recipe:
1 ounce Cointreau
3/4 ounce Olorosso Sherry
Squeeze of 1/2 lime
6 dashes Allspice Dram
2 dashes Abbott's Bitters
Soda
Grated cinnamon
Spent lime shell
Combine ingredients in collins glass, add ice, and top with soda. Garnish with spent lime and cinnamon.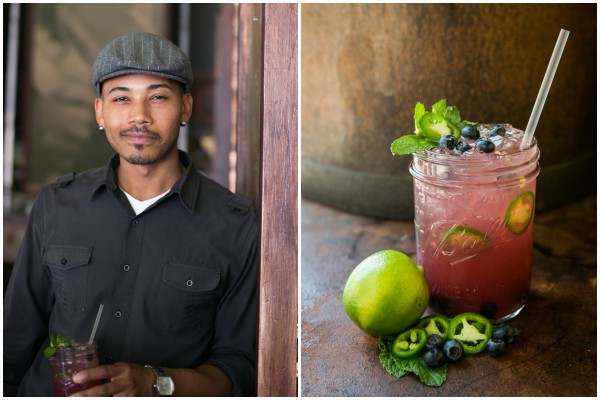 Mixologist Jonny Cimone - Farmer Brown
The Cocktail: Cointreau Ricardo
Note from the mixologist: "The concept behind the Cointreau Ricardo was to stay close to the original, flavor-wise, while still imparting the personality of Farmer Brown. This is why I decided to serve it in a mason jar (something we've done since the beginning), as well as integrate our housemade honey jalapeño sauce into the recipe. Add some seasonal fresh ingredients, and it's a perfect compliment to a warm summer day in the City.
Recipe:
2 ounces Cointreau
1/2 ounce Mina Real Mezcal
1 ounce fresh lime uice
1 ounce Blueberry Chai Blend
1 bar spoon Farmer Brown's Honey-Jalapeño Sauce
Club soda float
6 blueberries
4 jalapeño Slices
Garnish: additional blueberries & jalapeño slices
Add all ingredients into a cocktail shaker tin 3/4 filled with ice.  Shake lightly 4-5 times then pour entire contents into an empty pint size mason jar. Top with club soda then garnish with a mint sprig and more blueberries.  Enjoy responsibly!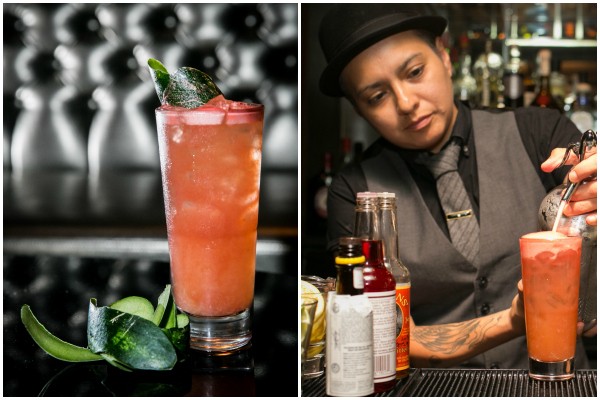 Mixologist Christina Cabrera - Hawthorn
The Cocktail: The Hawthorn Rickey
Note from the mixologist: "I wanted to keep the cocktail simple because a rickey is just that. I also wanted to add my own personal style by using mezcal and a seasonal ingredient—in this case, the housemade watermelon soda." 
Recipe:
1 ounce Cointreau
3/4 ounce mezcal
1/2 ounce lime
2 dashes of Angostura Bitters
Build in collins glass, fill with ice, and top with housemade watermelon soda. Garnish with lime zest. Prep for watermelon soda: juice small ripe watermelon and strain in a siphon. Keep chilled.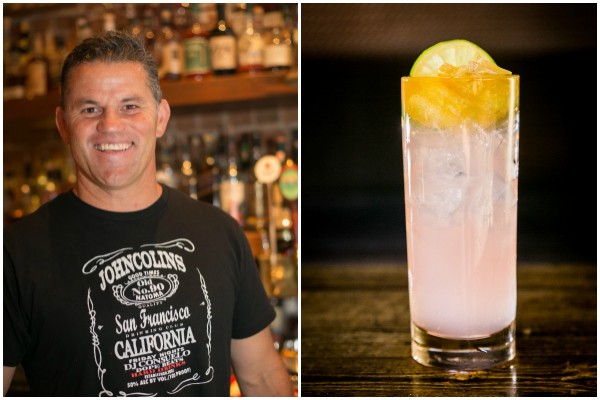 Mixologist John Giuffre - John Colins
The Cocktail: Rickeybobby
Note from the mixologist: "The Rickeybobby is inspired by the American classic film Talladega Nights. This cocktail blends America's passion for energy drinks, bourbon, and classic French spirits inspired by Jean Girard, Rickeybobby's racing counterpart. Remember, 'If you ain't first, you're last.'
Recipe:
3/4 ounce Cointreau
3/4 ounce Remy VSOP
3/4 ounce fresh lime
2-3 dashes Peychaud's Bitters
1/2 ounce Red Bull Silver
1/2 ounce Wild Turkey 101
Garnish: fresh lime wheel
Combine Cointreau, Remy VSOP, fresh lime, and bitters in a highball glass. Stir, strain, and add fresh ice. Top with Red Bull Silver and float Wild Turkey 101 on top. Garnish with a fresh lime wheel.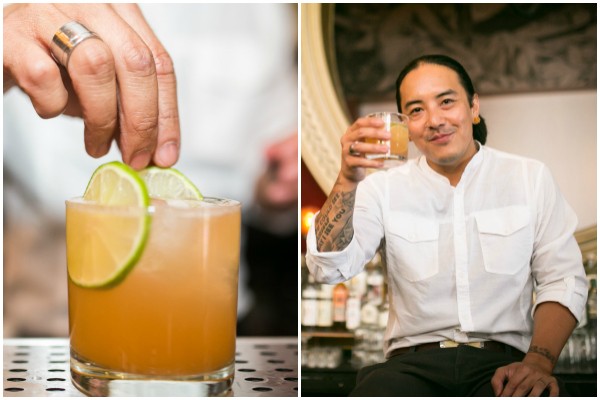 Mixologist Fred Acebo - Monarch
The Cocktail: Banning Rickey
Note from the mixologist: "The rickey is a simple, classic cocktail. My approach to creating the Banning Rickey was to maintain its simplicity. The word 'banning' is a nod to the use of absinthe in the cocktail, referencing a time when absinthe was banned to the public."
Recipe:
1 ounce Cointreau
1 ounce Bols Genever
1/2 ounce lime juice
1 bar spoon of Pernod
2 dashes Angostura
2 dashes grapefruit bitters
Seltzer Sisters soda water
Garnish: thinly sliced lime wheels
In a bucket glass, add Cointreau, Bols Genever, lime juice, and both bitters. Add ice cubes and stir ingredients. Top with soda water and garnish with lime wheels.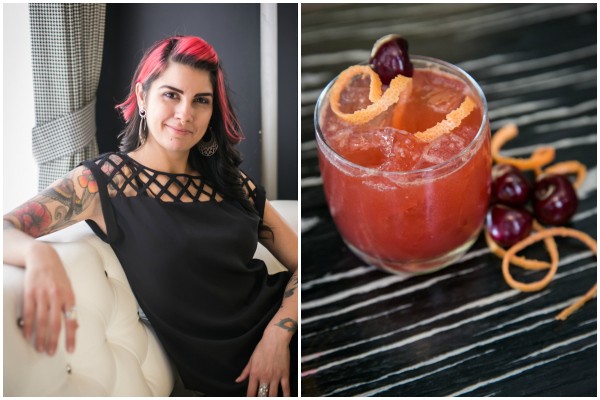 Mixologist Suzie Robinson - Novela
The Cocktail: Ernest Rickey
Note from the mixologist: "I was inspired by fresh cherries and Ernest Hemingway, the main inspiration behind Novela. I felt a cherry soda would be a lovely compliment to the flavor of Cointreau, and housemade sodas are a specialty of Novela. The touch of grapefruit and cherry soda was a bit of a play on a Hemingway Daiquiri."
Recipe:
1 1/2 ounce Cointreau
1/2 ounce Dolin Dry Vermouth
1/2 ounce fresh lime juice
1/4 ounce fresh grapefruit juice
Housemade cherry soda (made with bing cherries, Luxardo Maraschino liquor, and maraschino cherry syrup)
Garnish: grapefruit curl and cherry half
Combine the Cointreau, vermouth, lime juice, and grapefruit in tin. Add ice and shake until chilled. Pour over fresh ice in a double rocks glass. Top with cherry soda. Grapefruit curl should be cut over drink and then placed on top with the half cherry on the rim.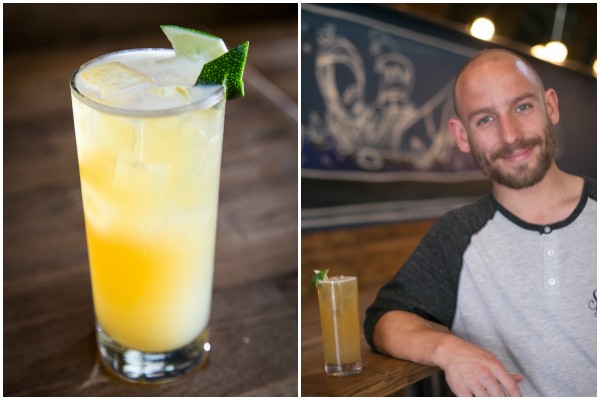 Mixologist Ty Caudle - Southside
The Cocktail: Right Turn
Note from the mixologist: "I was inspired by summer road trips with my father, with its inevitable smells of citrus and pine. He would always say, 'Hang a rickey!' when we needed to turn right, hence the name. 
Recipe:
1 1/4 ounce Cointreau
1 ounce Remy Martin VSOP
1 ounce lime juice
2 dashes orange bitters
Speakeasy Big Daddy IPA                                       
Garnish: lime twist
Add all ingredients except IPA to cocktail shaker and fill with ice.  Shake, then strain into a chilled highball glass. Fill glass with fresh ice and top with IPA. Garnish with lime twist.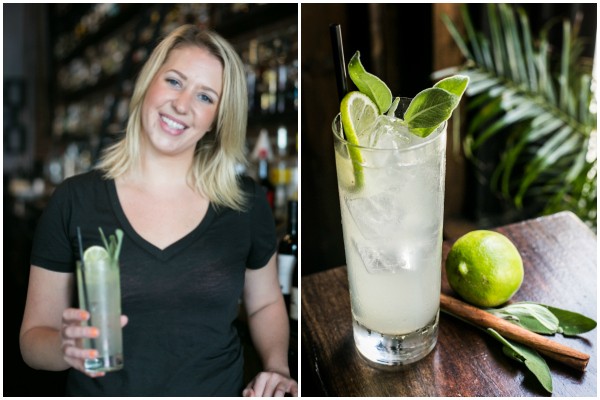 Mixologist Kelsey Henry - Swig
The Cocktail: Cointreau Rico
Note from the mixologist: "The more I experimented, the more I was drawn to earthier spices. The strength of the Yerba Mate compliments the Cointreau's citrus flavor, while the gin and sage lift it to crisp balance." 
Recipe:
1 ounce Beefeater London Gin
3/4 ounce Cointreau 
3/4 ounce lime juice
1/2 ounce Yerba Mate Syrup (made in house) 
4 mint leaves 
Garnish: sage 
Add all ingredients in a tin. Hard shake with cold draft. Fill collins glass with cold draft. Double strain into collins. Top with soda water. Garnish with lime dukes and sage sprig.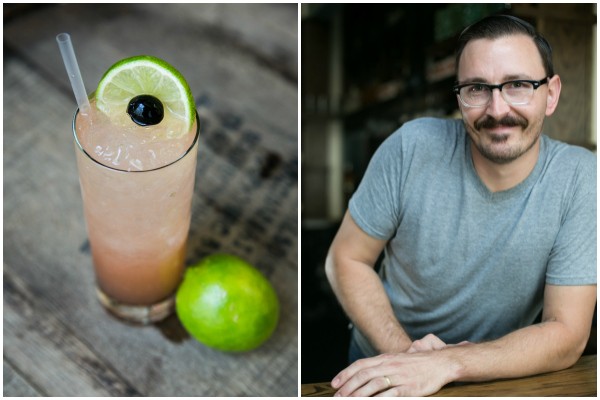 Mixologist Bruce Rodgers - Tradition
The Cocktail: Reviving Rickey
Note from the mixologist: "This cocktail is firmly rooted in the classics but shows off some of my favorite combinations quite well. The combination of Maraschino liquor, absinthe, and aromatic bitters is a great addition to almost any cocktail, and it shows very well against the orange quality of the Cointreau. Try it in any Cointreau cocktail, from a Sidecar to a White Lady to your own concoctions."
Recipe:
1.5 ounce Cointreau
3/4 ounce Cocchi Americano
1 bar spoon Luxardo Maraschino
1 ounce lime juice
1 ounce soda
2 dashes Angostura bitters
2 dashes absinthe (I used Kubler)
Garnish: lime wheel and brandied cherry
Combine all in a shaker tin, fill three-quarters with crushed ice, shake gently, and pour all into a chimney glass. Garnish with a lime wheel and a brandied cherry.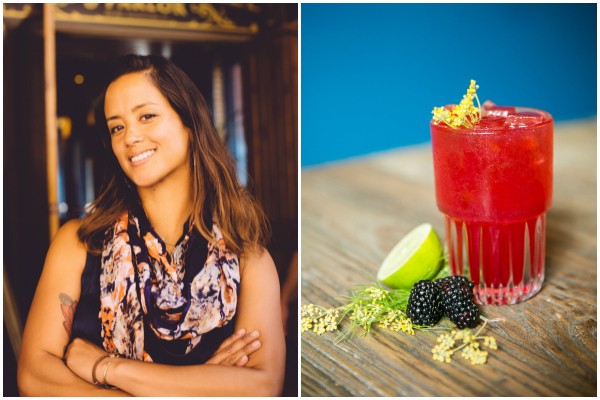 Mixologist Deanna Sison - Victory Hall
The Cocktail: The Slick Rickey
Note from the mixologist: "The flavor inspiration for this drink came from hiking the hills just north of the Golden Gate Bridge, where there are fields of wild fennel and blackberry rambling along the coast. "What grows together, goes together." Cointreau seemed a perfect base for this summery take on the classic rickey. At Victory Hall & Parlor, we name our cocktails after the unsung heroes and quiet muses of our time.  This name came from one of hip-hop's greatest freestlyin' and most sampled artists - Slick Rick.  He's fresh and doesn't take himself too seriously.  Just like this cocktail."
Recipe:
2 ounce Cointreau
1 ounce Lillet Blanc
1 ounce blackberry fennel shrub (recipe attached)
Club soda
Garnish: wild fennel flower 
Fill a highball glass with ice. Add Cointreau, Lillet, blackberry fennel shrub, and top with soda.  Garnish with a wild fennel flower. 
Blackberry Fennel Shrub:
2 pints of whole blackberries
2 cups of fennel (finely chopped)
3 cups of sugar
3/4 cup white wine vinegar
1/2 cup apple cider vinegar
Combine blackberry, fennel, sugar in a large bowl and toss to evenly coat.  Allow to macerate in the fridge for a day or two.  Mixture should be nice and soupy. Strain away solids by using a sieve.  Add vinegars to remaining syrup and whisk to combine.   Pour mixture into a mason jar, cap, and give a good shake to dissolve any remaining sugars.