By
There is an assumption that road trip pit stops need to revolve around fountain drinks, greasy chips, and candy. But there are better options out there—options that can lead to magical Instagram moments and quality culinary memories. Enter pie, the supreme being of pit stop cuisine. Here's where to score a slice (with a scoop of nostalgia on the side) around California.
EAST BAY

Lois the Pie Queen

Her royal pie highness Lois Davis brought her style of southern baking to the East Bay over 60 years ago, and she's still whipping up delicious sweet potato, lemon icebox, and sweet pecan pies in Oakland, where even her building is pie-shaped. // 851 60th St. (Oakland), 510-658-5616
Niles Pie Company

If a pie-of-the-month club is the answer to your lifelong prayers, then Union City–based Niles may be the Jesus of the pie panoply. Known more for their wholesale and catering work (and pie parties!), the family business also has a production location that doubles as a retail cafe. Stop in to pick up any number of whole seasonal pies to take home,or enjoy a slice onsite. While there, mull over the idea of joining the pie club—what could be a better way to spend your hard-earned dough? // 32990 Alvarado-Niles Rd. #960 (Union City), nilespie.com


SAN FRANCISCO
Three Babes Bakeshop
Three Babes pies are a bit harder to come by in a pit stop kind of way, but if you are in SF on a Saturday, definitely hit them up at the Ferry Plaza Farmers Market. You won't be disappointed by these always organic, well-crafted beauties, be they the lifelong friends who comprise the three babes or their tasty pies alike. Go for the Salty Honey Walnut or a square of Blueberry Slab. Three Babes also ships nationwide and offers a weekly pie subscription. // 8am to 2pm Saturdays; 1 Ferry Building (Embarcadero), threebabesbakeshop.com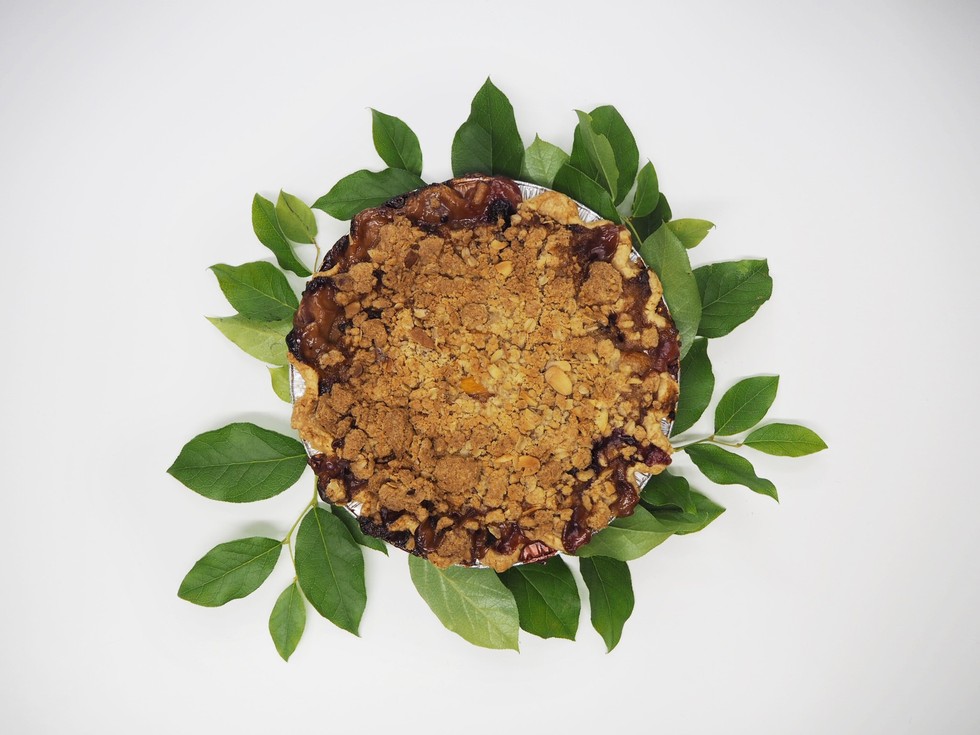 Dry creek peach almond crumble black berry pieCourtesy of Noble Folk
WINE COUNTRY
Noble Folk Ice Cream & Pie Bar
Naturally "farm to pie" would become a thing. At Healdsburg's Noble Folk—from the folks behind the nearby and seriously beloved Moustache Baked Goods—hyper-seasonal pies are on order, made with locally sourced ingredients and freshly milled grains. The noble bakers nod to Japanese and Nordic culinary influences, meaning your slice of peach blackberry streusel can be met with a scoop of juniper and honey a la mode. // 116 Matheson St. (Healdsburg), thenoblefolk.com
Mom's Apple Pie
A quintessential roadside stop where plump, buttery crusts burst with apples, berries, and other gooey fillings, Mom's Apple Pie is reason alone to get to Sebastopol stat. Choose your fancy and order it "a la mode," then enjoy your slice in the small cafe or on the trellised patio. Next door, the contemporary new bakery Pascaline has kouign amanns and more French confections, both savory and sweet. // Mom's Apple Pie, 4550 Gravenstein Hwy N. (Sebastopol), momsapplepieusa.com
Chile Pies Baking Co.
The new Guerneville Bank Club is an eclectic collective of art gallery space, a handcrafted pie and homemade ice cream parlor, clothing and home accessories retail space, and a history display of Guerneville compiled by the Russian River Historical Society. But we're here to talk about the pie. Chile Pies Baking Co. serves up steaming slices of the sweet stuff in flavors like strawberry rhubarb, apricot cherry, or the signature chile apple pie made with sweet apple and green chile filling, cheddar cheese crust, walnut streusel topping, and red chile honey drizzle. In the same building, Nimble & Finn's Ice Cream offers indulgences like Bulleit Bourbon with chocolate covered pretzels and Meyer lemon olive oil with chocolate chunks, for the perfect meal a la mode. // 16290 Main St. (Guerneville), chilepiesbakingco.com; guernevillebankclub.com
HIGHWAY 1
Pie Ranch
Pescadero is practically Mecca for pie devotees with not one but two great places to eat mouthwatering pie. At the Pie Ranch farmstand, treat your sweet tooth with the knowledge that your splurge goes to support the nonprofit organic farm/ranch's field trips for urban youth and apprenticeships and training for the next generation of farmers. Baked in Santa Cruz by Companion Bakeshop, the stand's yummy slices are made from ingredients grown here on the farm. Also check out Pie Ranch's huge monthly potluck and barn dance. // 2080 Cabrillo Highway (Pescadero), pieranch.org

Duarte's Tavern
This place is old-school. Opened in 1894 and run by four generations of the Duarte family in an off-the-beaten-path location in sleepy Pescadero, Duarte's was recognized by the James Beard Foundation in 2003 as an American Classic Restaurant. In the garden out back, the family grows the elusive yet hyper-local olallieberry for their outstanding pies. // 202 Stage Rd. (Pescadero), duartestavern.com
THE SIERRAS
Pie in the Sky Cafe
If you make it all the way up to Rock Creek Lake Resort near Mammoth, you deserve pie. And had you hit up Pie in the Sky anytime 1979 and this past year, you would have received your just desserts. Unfortunately, owner and baker Sue King has recently retired, and the shop that remains serves only crumbles. (Seems no one was up to the task of matching King's killer dough.) Regardless, the name holds and the crumble is nearly as good. // 1 Upper Rock Creek Rd. (Bishop)


SOUTHERN CALIFORNIA
Farmer Boy
Historic restaurants are all hitting the refresh button lately, and so it is at Farmer Boy, which has sat in an easy-to-drive-by strip mall on Santa Barbara's State Street since 1958. Last year, when new owners resuscitated its throwback menu, Farmer Boy became a destination worth pulling over for, with classic all-day breakfasts, comfort food, and good, old-fashioned desserts. Pies are on offer in flavors ranging from apple and Key lime to chocolate cream and seasonal varieties. // 3427 State St. (Santa Barbara), farmerboy.com
The Apple Pan
Despite what this 1947 diner's name might suggest, The Apple Pan is known in L.A. as the place to get a burger. But it's also a pretty fine spot to hunker down with a slice of banana cream, pecan, or apple pie, served warm and a la mode with real whipped cream or cheddar cheese. Stake out a stool if you can snag one—and bring cash. // 10801 West Pico Blvd. (Los Angeles), 310-475-3585
Cassell's Hamburgers
In yet another update on a classic institution, L.A.'s Cassell's hits all the right spots. The original hamburger stand has added a bar, soda fountain, and coffee shop where, amidst the patty melts and wedge salads, are surprising treats. Order the house sarsaparilla to pair with the pie of the day—banana tres leches, on a recent visit. // 3600 W. 6th St. (Los Angeles), cassellshamburgers.com

DON'T MISS A BAY AREA BEAT! SUBSCRIBE TO OUR NEWSLETTER.