Laura Bruland is really good at judging a book by its cover, in fact, it's her job. The founder of Yes & Yes Designs finds unwanted, falling apart, or outdated books and give them a new life by turning them into gorgeous pieces of jewelry! 
Yes & Yes Designs began in 2008, while Laura was still experimenting with a wide range of materials, including a formidable collection of wool felt that she inherited from her grandmother. Constantly on the hunt for new materials to repurpose, and a natural bibliophile, Laura took a laser cutting class and began transforming abandoned books into unique works of art. In 2012 Yes & Yes Designs launched a succesful kickstarter, so now Laura is able to hand cut everything (with the help of her fiancee and her pooch, Toto) at her studio in Oakland. 
So which books make the best jewerly? "Old textbooks, falling apart children's books, and Reader's Digest Condensed Books are our favorites," Laura says. "Though any hardcover book with interesting colors or patterns will do." 
Once the art has been "liberated" from the book, it's then coated in a clear acrylic spray for protection, and any extra  hardware, chain, or beading is attached to create the final product.
We're seriously digging her colorful takes on everything from statement necklaces to hair clips. Just check out some of the gorgeous examples below, you'd never guess that they used to be old books!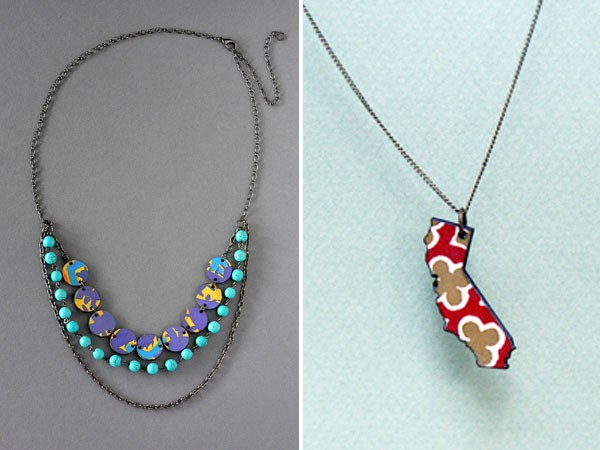 Needless to say, we really want to be friends with Laura, so we asked her seven essential questions about her life in the East Bay: 
1. What neighborhood do you currently call home? Would you ever move or are you happy in your 'hood? 
I live in Allendale Park in Oakland and I absolutely love it!  While our neighborhood as a whole has some seedier areas, our street is quiet and dead-ends into a park – perfect for walking our dog, Toto. 
2. What's your hands-down, absolute favorite thing to eat in the East Bay?
Breakfast! But even more important to me (and I'm not sure if this counts) is a cappuccino from Subrosa. You just can't start your day any better than joking around with one of those awesome gals. 
3. What's your perfect night on the town?
Easy – We'd start by playing bocce at Make Westing, then end up at the Layover for Tuesday night comedy. Bonus points if my gal, Kimberly Rose Wendt, is on stage.
4. When you need a low-key afternoon, where do you go for down time?
Taking our dog, Toto, for walks is my daily dose of relaxation. My favorite spots are Piedmont Park, Lake Temescal, and Codornices Park (I mean, come on, cement slides, AND a creek).
5. What's your favorite place to go on a day trip from the East Bay?
Marin Headlands, Petaluma, or the Russian River.
6. Quick-fire round:
Burrito or Burger?
Burger
Fenton's or Ici Ice Cream? 
Lush Gelato (especially their Apricot Sorbetto when its in season).
Lake Merritt or Lake Temescal?
Lake Temescal
The Paramount or The Fox Theater?
The Paramount
Bakesale Betty's or Brown Sugar Kitchen?
Bakesale Betty's
First Fridays or The Oakland Museum?
Oakland Museum
Shopping on Telegraph or in Temescal?
Temescal
7. Three words that describe your life in Oakland?  
I have fun!
Want more Yes & Yes?