Talia Smith & Nick Carter
June 19, 2010 St. Helena
They met 11 years ago in college, he proposed nearly two years later and this summer they were (finally) married in a French-inspired event at Durham Ranch in the Napa Valley. "We don't do anything in a hurry," notes Talia.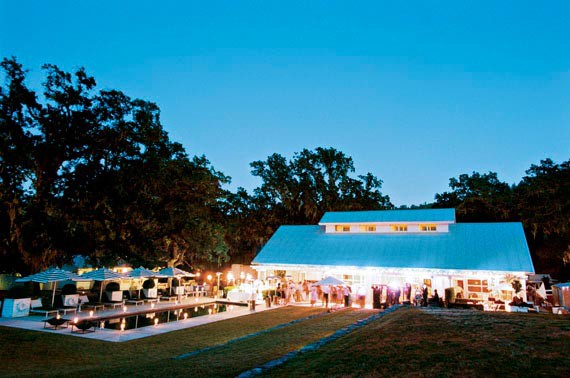 Wedding planner Annena Sorenson says the pair's passion for all things Gallic and the bride's love of fashion inspired the couple's blue-flowered ceremony, a black-and-white cocktail hour à la Coco Chanel and elegantly understated reception dinner-dance done in pale neutrals and rich textures. It's clear some things are worth the wait.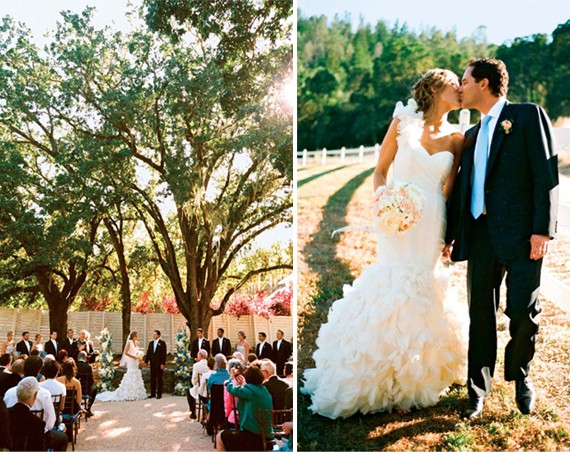 (Left) When it came to the ceremony, the couple decided to be uncharacteristically speedy. "We kept it short and sweet," says Talia. In a nod to her Quaker upbringing, the vows included a moment of silence, a traditional part of that faith's service. (Right) Originally, the bride planned on wearing a dress that "looked like it would be at home in a country music video" and cowboy boots. But when she saw this gown, she decided to go more runway than rodeo.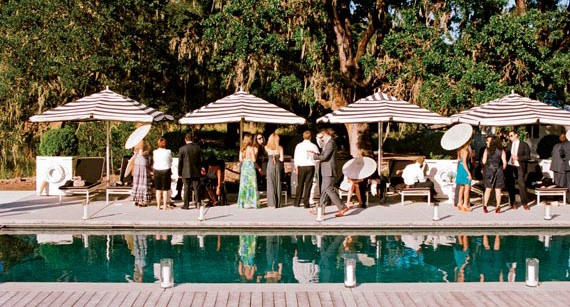 Sorenson channeled the bride's inner fashionista in a poolside cocktail party that recalled Chanel. The drink of choice was the Shandy, a refreshing British concoction of beer and lemon soda that was a nod to Nick's English ancestry.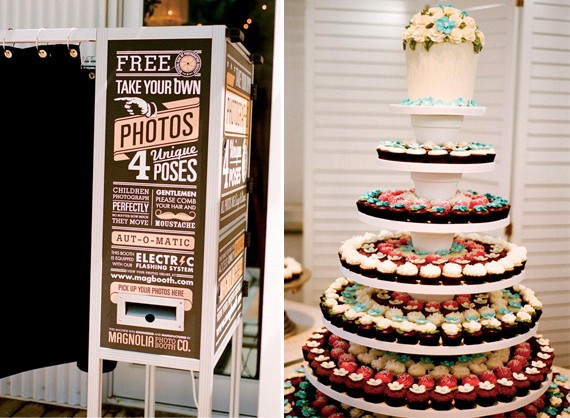 (Left) "Our friends and family had so much fun with the photo booth," says Talia. "They struck silly poses, signed the pictures and glued them in a guest book." (Right) The couple chose a cupcake tower instead of a wedding cake because the bride is a self-admitted grazer who likes to sample a bit of everything.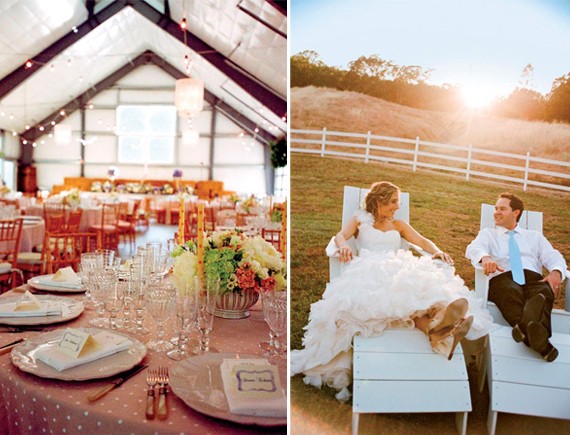 (Left) "The couple didn't want a lot of color," says Sorenson. "We added interest through layers of texture rather than bright hues." After dinner, guests returned to the pool deck and danced the evening away under the stars. (Right) "We wanted a day that was stylish and elegant but not stuffy or traditional," says the bride. "We urged everyone to relax and enjoy the day."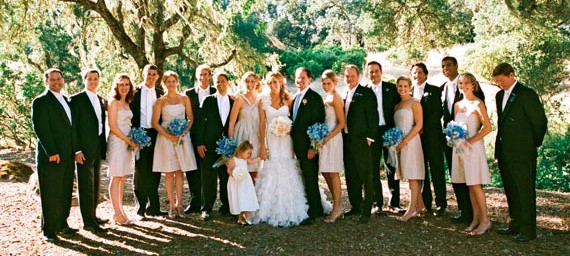 The bride chose the color (champagne) and the fabric of the bridesmaids' dresses but let each woman choose her own style.
Location: Durham Ranch, St. Helena
Event Planning: Annena & Co., annenaandco.com
Catering: Paula LeDuc Fine Catering, paulaleduc.com
Cupcakes: Perfect Endings, perfectendings.com
Flowers: Tapestry, tapestryflowers.com
Stationery: Hello!Lucky, hellolucky.com
Photography: Sylvie Gil, sylviegilphotography.com
Videography: Thomas Hughes Films, thomashughesfilms.com
Gown: Anne Barge, marinamorrison.com
Bridesmaids' Dresses: J Crew, jcrew.com
Lighting: Twilight Design, twilightdesign.biz
Rentals: Classic Party Rentals, classsicpartyrentals.com
Linens: La Tavola, latavolalinen.com