By
Sarah Barnett & Douglas Bria
August 28, 2010 Calistoga
On Doug's bookshelf, you'll find The Official Preppy Handbook and The WASP Cookbook, so no one was surprised when he married Sarah (who shares his aesthetic) in a prepster wedding that would put a smile on a Lacoste alligator's face. It was fitting that their faithful sidekick Cupcake, a white English bulldog, not only walked down the aisle but lay at Sarah's feet during the vows.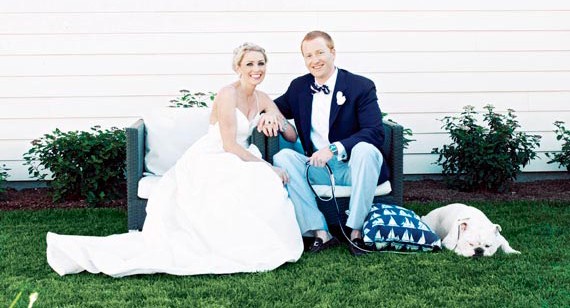 After all, Doug proposed at Crissy Field on New Year's Day by tying a ring to Cupcake's collar and letting her run to Sarah. Eight months later, the groom wore navy Ferragamo loafers, the bride rocked glittering Louboutins and Cupcake proudly donned a navy rhinestone leash.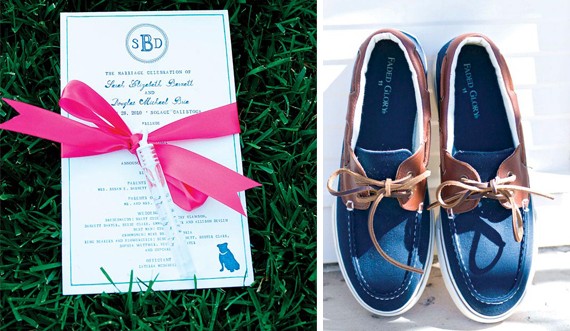 (Left) After searching everywhere for navy deck shoes for the men in the wedding party, the bride found them at an inexpensive source: Walmart. (Right) Vials of soap solution were tied on the programs so guests could blow bubbles at the newly minted man and wife.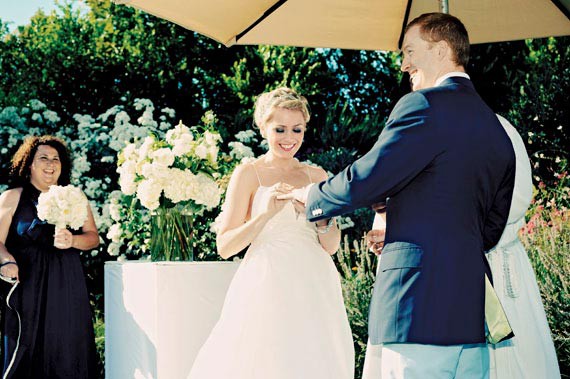 The officiant was a longtime friend, giving the vows an intimate, personal feel.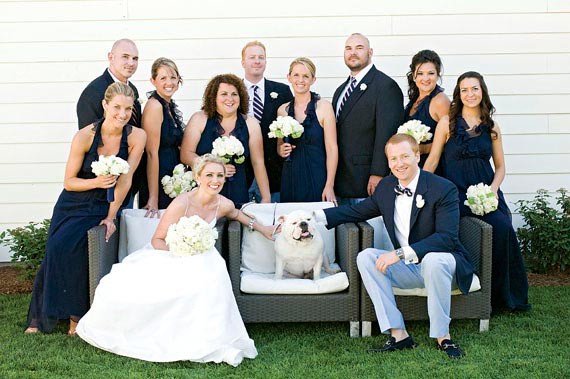 The bridesmaids wore long, deep-blue gowns, and the groomsmen sported navy jackets and pink, white and blue striped ties, giving the wedding party a classic, all-American look.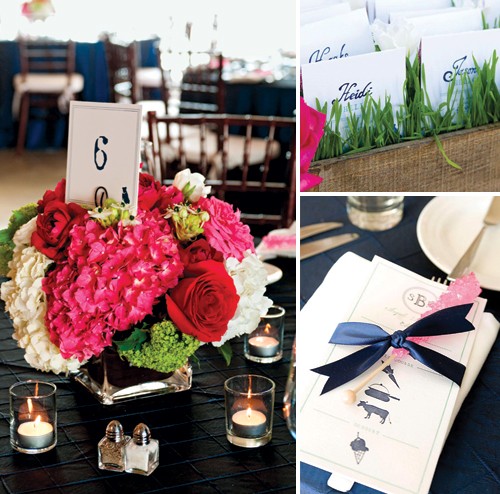 (Clockwise from Left) Raspberry and lime green were the perfect additions to the preppy palette. (Top-Right) Flats of wheatgrass made for a nature-inspired tablecard holder. (Below-Right) The menu card, promising steak and pomme frites, was tied with a bow and a pink sugar-crystal stick.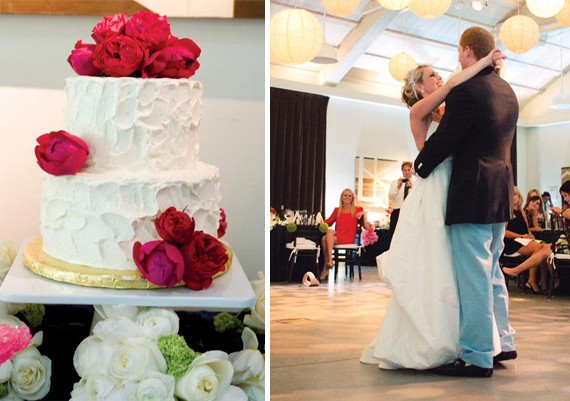 (Left) The couple took the floor for their first dance only a moment before guests (and Cupcake) joined them. (Right) The buttermilk cake was filled with whipped cream and berries and covered with vanilla frosting.
Location: Solage Calistoga, solagecalistoga.com
Event Planning: Aloe Events, aloeevents.com
Catering: Solage Calistoga, solagecalistoga.com
Cake: The Model Bakery, themodelbakery.com
Flowers: Passiflora Designs, passifloradesigns.com
Stationery: Mr. Boddington's Studio, mrboddington.com
Photography: Angie Silvy, angiesilvyphotography.com
Gown: Amsale, marinamorrison.com
Bridesmaids' Dresses: Amsale, bellabridesmaid.com
Hair Accessories: ban.do, shopbando.com
Suit: Tom James, tomjames.com
Lighting: Got Light?, got-light.com
Rentals: Wine Country Party & Events, winecountryparty.com
DON'T MISS A BAY AREA BEAT! SUBSCRIBE TO OUR NEWSLETTER.