If your idea of two-wheel fun is a car-free and paved path through a nature symposium then we've got a match for you. The Sawyer Camp Trail near San Mateo is 6 miles (one-way) of cruising cushiness along two reservoirs, Crystal Springs and San Andreas. Inline skaters, hikers, and baby strollers also enjoy this popular trail most weekends.
Several lakeside benches make nice snack-break spots, but better yet—picnic under the oldest and largest laurel tree in the state—the Jepson Laurel. This 600-year-old beauty, 4.5 miles in, has seen a lot of changes: grizzly bears, Spanish explorers, and even 1880s dance parties held right under its branches. After lunch the final mile climbs gradually uphill, so you've gotta do a little work, but the coasting on the way back is a crystal cruise!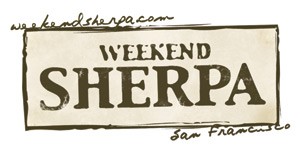 Directions and more information on biking the Sawyer Camp Trail can be found at Weekend Sherpa. Sign up for their free weekly email about accessible Bay Area hikes and outdoor adventures.