Want to feel and look your best? That requires a whole arsenal of health and wellness resources. Luckily, the Bay Area has tons to offer—and we've curated the best of them for you. Here are our picks for the yoga and fitness classes, healthy foods, healers, and more.
(From the editors: This guide was originally published in January 2017 and has been updated to reflect the latest news and closures.)
Bliss Out: The Best Massage Therapy, Acupuncture + Energy Healing in the Bay Area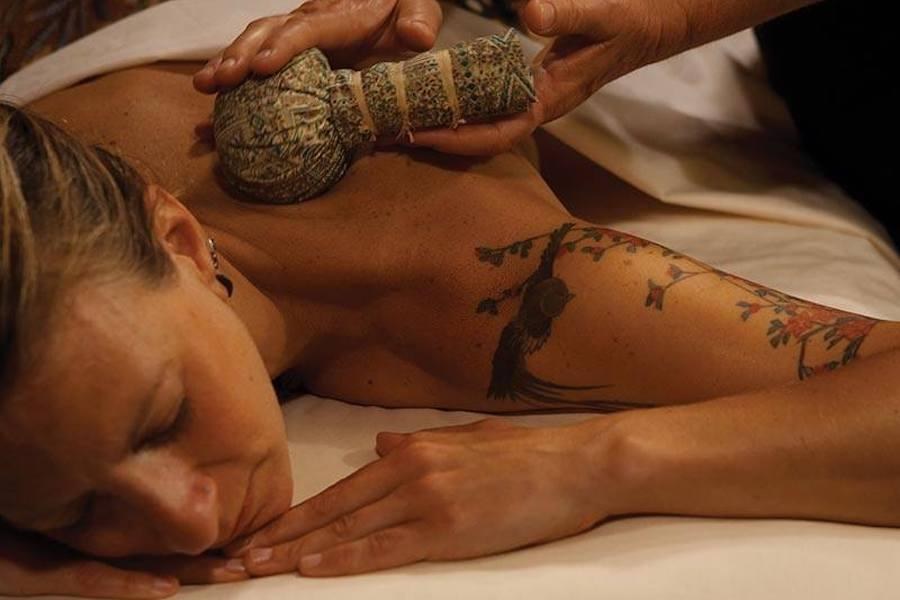 (Courtesy of Kabuki Springs & Spa, via Facebook)
SAY "AAH" MASSAGES
Stretch all your muscles with an FST (Fascial Stretch Therapy) session at Maiden Lane Studios (80 Maiden Ln., Union Square), one of the only places in the city that offers this unique treatment. The Abhyanga Oil Massage with Shirodhara at longtime SF fave Kabuki Springs & Spa (1750 Geary Blvd., Japantown) claims to boost immune systems and reduce stress via traditional Ayurvedic massage while a continuous gentle stream of warm essential oil is poured over the Third Eye. (Note: Your hair will not be ready for primetime after this treatment.) Although anyone could benefit from the hands of holistic massage therapist Michelle Bravo, the EOS™ Lymphatic Massage at EOS Massage (450 Sutter St., #2011, Union Square) is particularly healing for people seeking post-operative support for oncology, plastic surgery, or orthopedic procedures. Includes therapeutic-grade essential oils to help soothe, detoxify and heal the body. With the opening of the all-suite, hyper-luxurious Meadowood Spa (900 Meadowood Ln, St. Helena)—complete with soaking pools, relaxation gardens, and its own culinary offering—hotel guests and club members may hole up among plush furnishings, private steam rooms, and views to tranquil natural surrounds for the Essential Journey, a 90-minute refresh sesh that includes a one-hour massage, facial or body treatment plus a wellness consultation. We're all for the lavish, luxurious spa massage experience, but when we need something down and dirty, we go straight to Suchada Thai Massage (multiple locations), for a 90-minute beatdown Thai Therapeutic Massage that leaves us feeling like jello. Need an amazing massage therapist specializing in wellness and pain prevention to make house calls? Carlos Aparicio (415-374-1989) is your guy—name your knead, from reflexology to sports massage, he can provide it.
ACUPUNCTURE + BEYOND
Moss Acupuncture (415 Spruce St., Presidio Heights), a traditional Chinese medicine practice led by Jennifer Moss, serves up acupuncture, herbal medicine, cupping, and moxibustion to relieve whatever ails you, from PMS to poor digestion. Known for her sense of humor, thorough consultations, and magical pre-needling massage, Marintha Tewksbury (605 Chenery St., Civic Center) is a universally adored healer. Jonah Hershowitz, cofounder of San Francisco Acupuncture Group (100 Bush St., #1900, FiDi), is passionate about helping his patients with highly individualized plans that may include acupuncture, massage, herbal medicine, and light and laser therapies. Healthy, radiant skin starts with a comprehensive skincare and body wellness consultation with Kristina Holey (864 Post St., Tenderloin). Once she has identified internal and external imbalances, treatment includes a combo of traditional Chinese medicine and dietary and lifestyle recommendations. For almost 40 years, Goop-approved acupuncturist Margaret "Peggy" Arent (2998 Pacific Ave., Pac Heights) has been practicing holistic Classical Five Element acupuncture. The journey begins with a rigorous diagnostic consultation. (Fun fact: Alice Waters is a longtime student.)
ENERGY HEALING
Integrative nurse practitioner Anne Easthope's expertise is treating women's health and fertility issues, as well as autoimmune and thyroid/adrenal problems at CPMC's Institute for Health & Healing Clinic (2300 California St., Pacific Heights). Addressing more than just symptoms, her unique treatment blends nursing, holistic, and medical care to meet the needs of each client. Everyone needs to clear their chakras at some point, right? When the time comes, hit up CPMC's Institute for Health & Healing Clinic (1069 York St., Mission) for a crystal-therapy session where various gemstones and rocks are used along with a combination of healing techniques such as reiki. These sessions are also meant to activate your own healing abilities. Put a little shamanism and a lot of love in your life with a shamanic session at Vibrant Reiki (399 Arguello Blvd., Inner Richmond). Founder and shaman Anna Dorian blends traditional ceremony with the needs and desires of individuals, which often includes laughing, or crying.
COLONICS ARE THE SH*T
With the tagline "We Really Know Our Sh*t," TMI Colonics (1478A Church St., Noe Valley) is our kind of place for a good flush. Hydrotherapists Marianne Graham and Julianne Bice use the LIBBE "open" system regarded as the most comfortable and advanced way to lose your, well, you know. Marin-ites in need of Marie Kondo-ing their colons flock to CleanseMarin (1100 Sir Francis Drake Blvd., #3, Kentfield) for colon hydrotherapy, as well as customized detoxification/cleansing programs. Revel & Rose (3303 Buchanan St, Marina) offers a smorgasbord of colon-hydrotherapy treatments, including the Dotolo closed system, where a therapist controls the flow of water used. Expect reasonable prices and excellent technicians. Cultivate Detox is the only Bay Area studio offering the Woods Gravity cleansing system; you can even take a class in colon hygiene (4333 Piedmont Ave., Piedmont).