There are dozens of varieties of citrus available at the Ferry Plaza Farmers Market each winter. From Oro Blanco grapefruits to Page mandarins, each variety has its own distinct flavor, acidity and sweetness, making them ideal for mixing into winter cocktails. Many of San Francisco's most talented  bartenders will be doing just that as CUESA kicks off our Cocktails of the Farmers Market series with "Gathering of the Guilds" on Wednesday, January 16.

I met up with one of these talented bartenders, Fatima Wehidy of Dosa, at the market recently as she shopped for a variety of citrus to experiment with for the signature Campari-based cocktail she is creating for the event. Fatima will be making one of the two full-sized cocktails that guest will enjoy, and the other will be created by Reza Esmaili of Sweetwater Music Hall. In addition to the full-sized cocktails, there will also be 10 sample-sized sips to try from members of the Northern California chapter of the United States Bartenders Guild (USBG).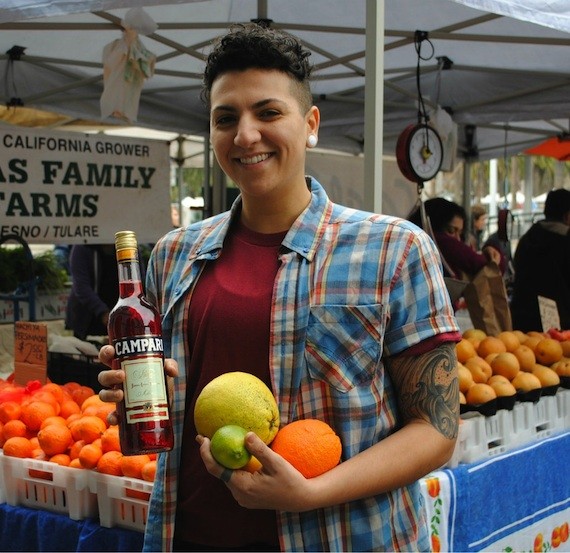 Fatima Wehidy of Dosa

Fatima's drink will be a play on the traditional Americano cocktail, using grilled citrus punch, Campari and Prosecco. "You get more caramel and toasty notes by grilling the citrus," Fatima told me. "I'll be playing around to figure out which citrus or combination of fruits will work best."

In addition to bringing together members of the USBG, this special evening will also showcase members of the recently formed Good Food Merchants Guild and other local guilds, including the Butchers Guild, the California Artisan Cheese Guild and the San Francisco Brewers Guild. The event will feature a special insider's tasting of artisan products from Good Food Merchants Guild members, some of whom are also finalists in this year's Good Food Awards. The winners will be unveiled at the Ferry Building at a
Gala Reception on January 18 and Marketplace on January 19.

Cocktails of the Farmers Market events take place each quarter and are hosted in partnership with the Northern California Chapter of the USBG. Save money and receive special perks such as early entry, goodie bags and no-wait registration when you purchase a season pass for all four events. To purchase tickets for the Gathering of the Guilds or a season pass for the whole year, click here.