By
It's not that Mark Kriozere and Kate Keller didn't care about their wedding, they just didn't sweat the details most couples fuss over. "Decisions about silverware, linens, clothes, and things like that just aren't important to us," says Kriozere. "What we were concerned about is bringing our family together."
With that in mind, and with the help of their wedding planner Kathryn Kalabokes of Dream a Little Dream Events, they chose The Tavern at Lark Creek, a restaurant in Larkspur, as the site for their ceremony and reception. "Neither of us had ever been there," says Kriozere. "But they have redwoods on the grounds, which Kate loves, and great food. Plus they already had the chairs, tables, and plates. We didn't have to bring anything in, and we didn't want to spend time worrying about that stuff."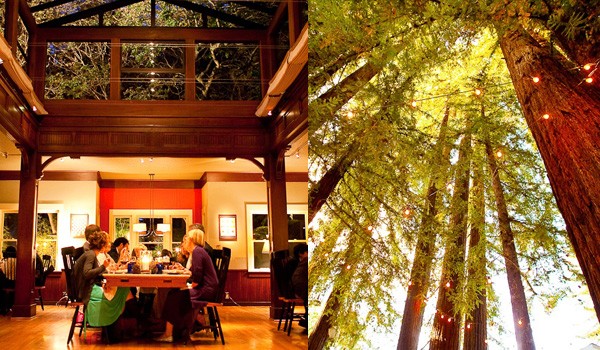 What the couple did bring to the party is flowers. The direction the bride gave floral designer Melissa Comte was simple: "I love California wildflowers." From that Comte crafted arrangements of orange, purple, yellow, and green in rustic stump-like containers, bird nests, and even vintage suitcases. "She really let her creativity run wild," says Kalabokes. "This is a couple who loves to travel, so the luggage arrangements were a nod to that."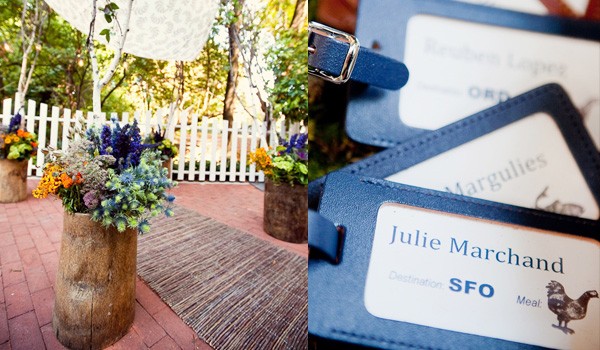 After a ceremony under a chuppah set up beneath the redwood trees, the reception referenced the couples' wanderlust with luggage tag escort cards (which doubled as favors) and tables named with airport codes from around the world.
"Before dinner, they went across the street to a park and swung from the monkey bars there, which shows just how relaxed and laidback they are," says Kalabokes.
With recess over, everyone sat down to the locally sourced, seasonal food that's made the restaurant a destination. "Choosing to have your wedding in a place like this makes it almost a plug and play event—and that's what they wanted," Kalabokes says.
The big question is: If you don't worry about your wedding, does it still turn out OK? "Everyone enjoyed themselves, including us," says Kriozere. "Our wedding was like our relationship, it's more about the journey."
Wedding Planner: Kathryn Kalabokes, Dream a Little Dream Events
Floral design: A Simple Ceremony
Venue: The Tavern at Lark Creek
Stationery: Paper Source
Transportation: California WineTours    
Photography: Adi Nevo Photographs                                                           

DON'T MISS A BAY AREA BEAT! SUBSCRIBE TO OUR NEWSLETTER.