When 11 exciting young Wine Country wedding pros get together and unleash their creativity, only good things can happen. Photographer Jen Kloss had the brainstorm earlier this year: "We all knew each other from working on weddings," she said. "I wanted to see what would happen if we got together and designed an event without client constraints." The result is a beautiful wedding that isn't real, but I wish it were.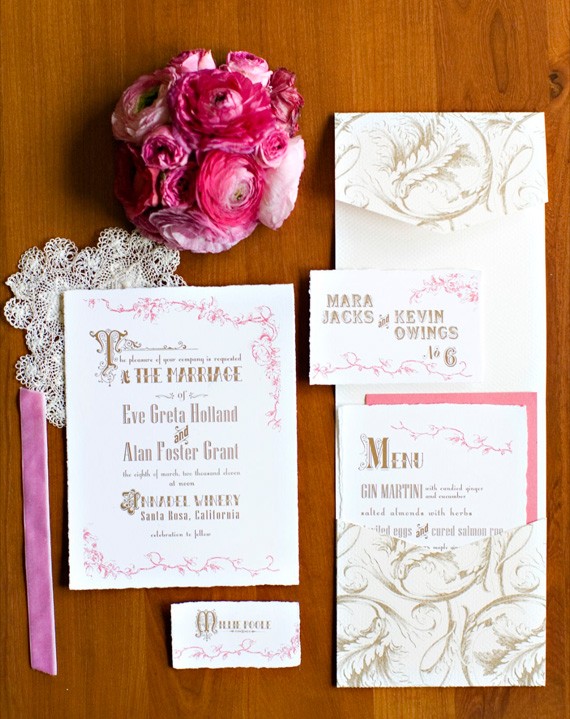 The theme, Prohibition and 1920s glamour, announces itself in the vintage-style invitations by Smashing Cards. "We wanted to play on contrasts," says Kloss. "We have elements that are both rustic and glamorous, masculine and feminine."



Like any good flapper, the cake from Sweet on Cake is decked in pearls and flowers.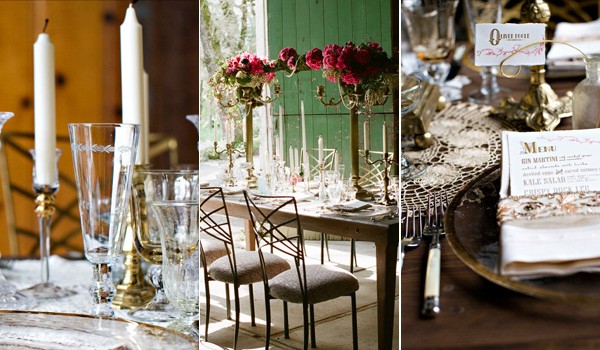 The team created two tables, the one they dubbed the "Martha" is staged in a barn at Annadel Estate Winery. The other, called the "Grace Ormonde," is set against the wall of an old winery located on the property. "Annadel has a farm feeling and the ruins that worked perfectly with our vintage theme," says planner Jenne Hohn. The raw wood Martha table is set with antique-looking plates and cutlery, old bottles and crystal and brass candlesticks. The mossy branch spanning the candelabras was pulled from a roadside ditch by floral designer Claire Sanz and decked with rich pink flowers. The doilies were found at Church Mouse, a thrift store off the Sonoma Square. "We wanted to be green by using a lot of recycled materials," says Hohn. "We also wanted to make the wedding affordable by mixing high-end and inexpensive items."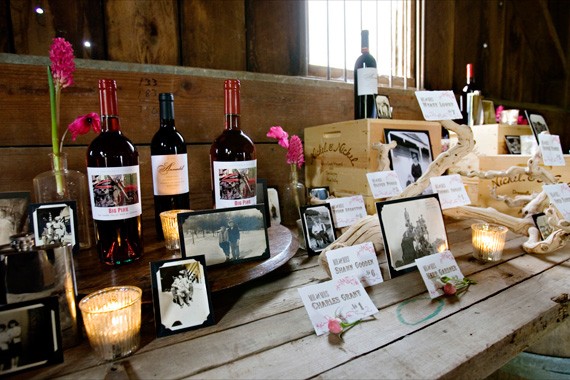 Hohn had the idea of creating an escort card table that would have legs through the entire event. In addition to the name cards, she dressed it with wine bottles, wine crates (she just happened to be around when the winery was tossing them) and vintage photographs matted on black cardstock. "After people take their cards, the table can look empty," she says. "This way, there will be something to look at all evening."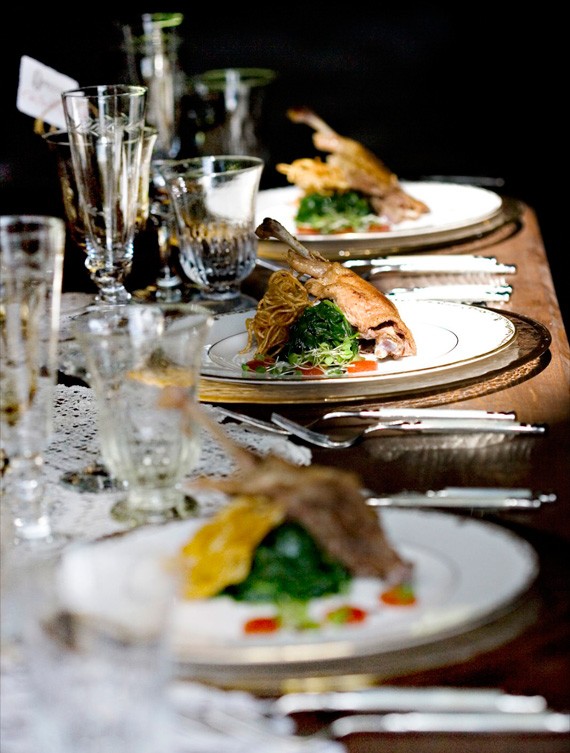 The menu, created by La Saison, contains rustic Wine Country fare.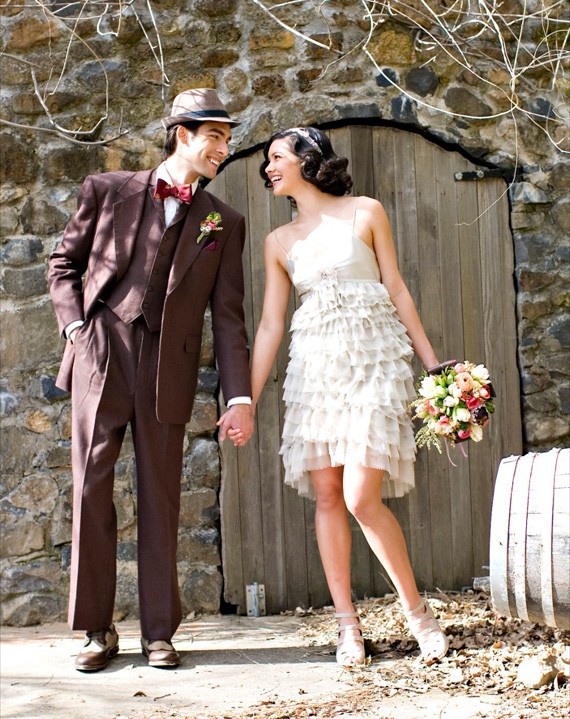 Anne Sage styled the faux couple's wardrobe. I want to believe there are couples out there who look this cute.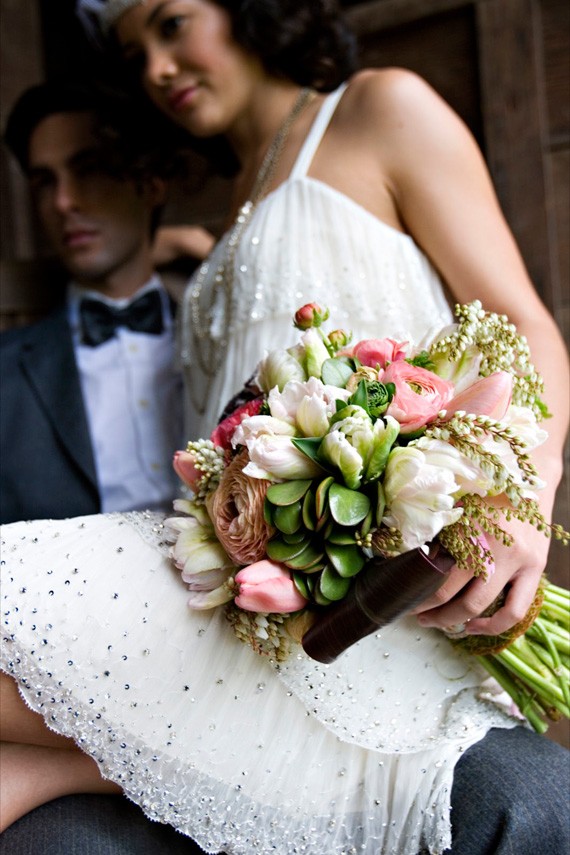 A humble jade plant mixes with parrot tulips and pink ranunculus in a bouquet by Sanz.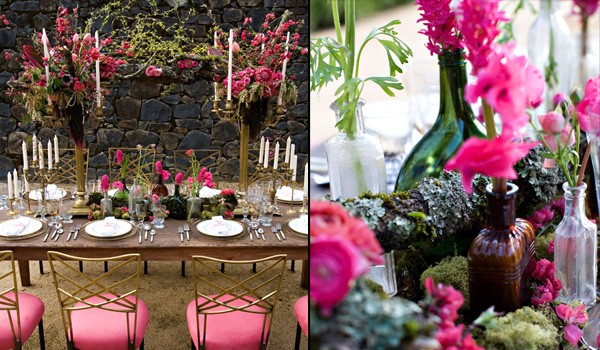 The Grace Ormonde setting blends a farm table with elegant chairs and a riot of pink flowers.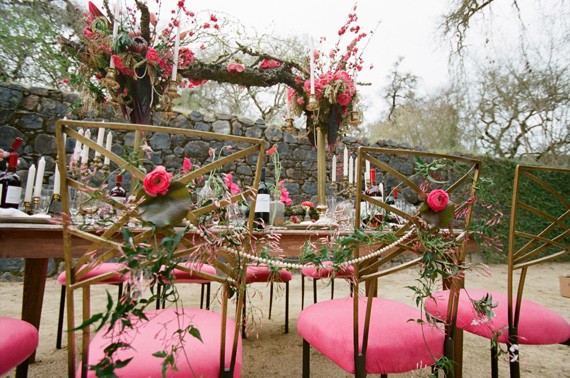 One of the neat ideas is the use of thrift store pearls in the décor. No strand cost more than $2.00 and they are liberally strung throughout.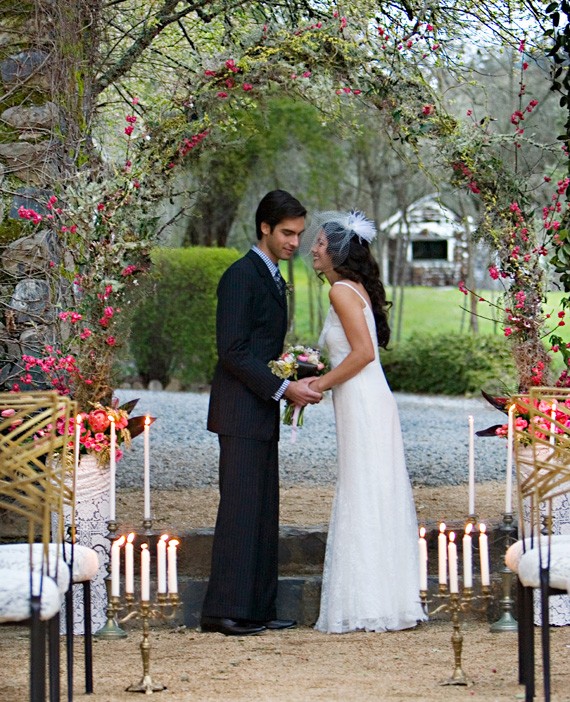 The happy couple under a vine bower studded with flowers and moss. I love the look of the candelabras in the aisle.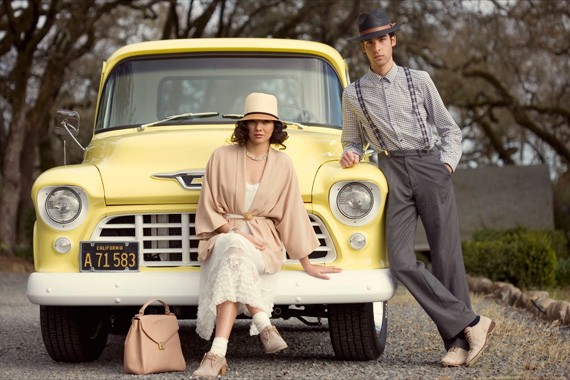 The getaway car, Prohibition style.

CREDITS:
Paper Goods
Smashing Cards, Ashley Wendus Cook
 
Wedding Cake
Sweet on Cake, Amber McKenney
 
Event Styling & Design
The City Sage, Anne Sage
 
Floral & Event Design
Poppystone Floral Couture, Claire Sanz
415-419-4813

Jewelry
VMS Designs
415-867-7023
Fair Portia, Gina Vitale Syrja

Photography
Jennifer Kloss Photography, Jennifer Kloss Heffner
510-501-8032

Event Planning
Jenne Hohn Events, Jenne Hohn
707-337-3490

Catering
La Saison, Natalie Niksa
707-637-3722

Hair & Makeup
Sherrie Long Makeup Hair & Effects, Sherrie Long
415-608-9220

Event Furnishings
Classic Party Rentals, Tanya Kaplan
707-253-2332
Site Location
Annadel Estate Winery
707-537-8007