By
This Christmas, skip the stress of planning a holiday menu. Here's a list of Bay Area and Wine Country restaurants to make your celebration one of a kind.
FIVE
Take a break from opening presents for a classic Christmas brunch buffet complete with bottomless mimosas and holiday favorites such as honey-mustard glazed ham and pumpkin-bread pudding. // Brunch buffet 10am-2pm, $70 per person, 2086 Alston Way (Berkeley), five-berkeley.com
The Fairmont
Christmas at the Fairmont, with its millions of lights, 23-foot Christmas tree, and two-story gingerbread house is nothing short of decadent. Enjoy a savory Christmas morning brunch in the Crown Room with a jazz trio while the kiddos are busy taking photos with Santa. Sip on bottomless sparkling wine as you park yourself at the build-your-own brioche french toast bar or load your plate with hand rolled sushi, pit-fire porchetta, and Kusshi oysters. // Reservations required, and they are booking up fast, Christmas Brunch seatings at 10am, 12:30, and 3pm, $149 per person, 950 Mason St (Nob Hill), Fairmont.com
750 Restaurant and Bar
750 Restaurant and Bar, the Hilton's modern eatery, is offering a pre-fixe Christmas Day menu that includes Dungeness crab, herb-crusted prime rib, and duck confit. Load up the family car and let the most difficult moment of this holidy season be choosing one of these decadent dishes. // Make reservations for Christmas Day Dinner: 4pm-10pm, $75 750 Kearny St. (FiDi), sanfranciscohiltonhotel.com
Albona Ristorante Istriano
Step outside the holiday norm for a delicious Eastern European meal. Albona is serving their regular menu on Christmas Day, including pork loin stuffed with sauerkraut, prosciutto, and apples; and Adriatic stew with white Pacific rockfish, mussels, and calamari. // Reservations can be made for 5pm-10pm, 545 Francisco St. (North Beach), albonarestaurant.com
(Courtesy of Palace Hotel)
The Palace Hotel
Spend a lavish Christmas day brunch buffet in the Palace Hotel's Garden Court. All you can eat options include Bodega Bay oysters, hand-rolled sushi, a selection of dim sum, and a carved maple leaf duck breast. Did we mention the make-your-own bloody Mary bar? Break out your elastic-waist pants. // Reservations available 10:30am-4:30pm, $145 per person; 2 New Montgomery St. (SoMa), sfpalace.com
Big Four Restaurant
The indulgent Christmas Eve or Christmas Day four-course dinner features lobster bisque, roasted rack of lamb served with hasselbeck potatoes, and a French pear tart with vanilla gelato. // Reservations available 4-9pm on Christmas Eve and 4-8pm on Christmas Day, $125 per person, 1075 California St. (Nob Hill), big4restaurant.com
Bistro Vida
For Christmas, this upscale French bistro is serving mussels provencale steamed with white wine, croque monsieur, and duck confit wrapped in feuille de brick pastry. // Reservations available for 5:30-10pm on Christmas Day, 641 Santa Cruz Ave. (Menlo Park), bistro-vida.com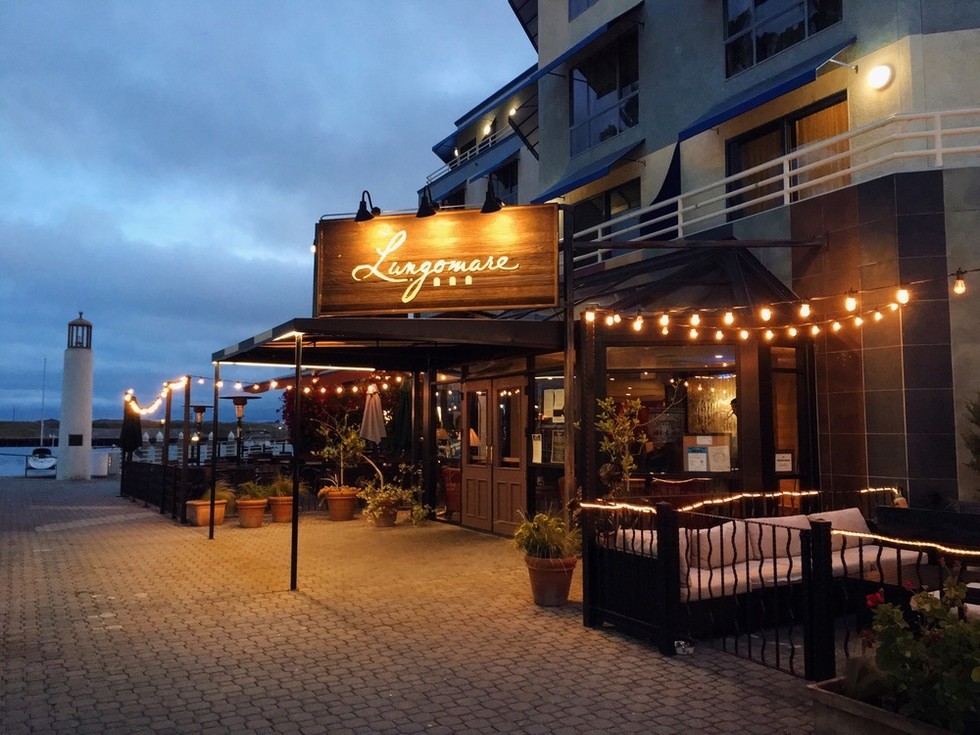 (Courtesy of bitesandbourbon.com)
Lungomare
On Christmas Eve, partake in an Italian tradition, the Feast of the Seven Fishes, with a local, sustainable four-course seafood menu. Begin with a trio of crudos, followed by Dungeness crab served with hand cut corzetti pasta, oven dried tomatoes and saffron butter. Save room for traditional Italian panettone, a sweet bread loaf loaded with dried fruits and nuts, and served with eggnog and grappa gelato for dessert. If you can't make it on Christmas Eve, an á la carte menu is offered on Christmas and includes pizza, pasta, and a traditional Christmas ham with creamy polenta. // Feast of the Seven Fishes $60 per person 5-9pm Christmas Day Dinner available 12-8pm, One Broadway (Oakland), lungomareoakland.com
Sam's Social Club
Enjoy a classic Christmas dinner with a three-course menu including old favorites such as a prime-rib roast with whipped potatoes and garlic spinach, and new additions such as a light and refreshing winter citrus salad with Dungeness crab. Reservations required, call the restaurant. // For reservations 707-942-4969, seatings from 4:30-5:15pm and 7:15-8pm, 1712 Lincoln Ave. (Calistoga), samssocialclub.com
Siena
Celebrate the holiday at the upscale Napa Valley Meritage Resort with a three-course menu complete with innovative interpretations on holiday favorites. Choices include chestnut bisque, slow-roasted Allen Brothers prime rib with nutmeg whipped potatoes, and for dessert, a holiday yule log with white chocolate and raspberry buttercream. // Tickets available, $80 per person, 875 Bordeaux Way (Napa), meritagecollection.com
(Courtesy of Trace)
Trace
Share a family Christmas dinner that is both delicious and socially responsible. Trace, the W Hotel's stylish restaurant, is dedicated to serving guests ingredients sourced directly from local SF businesses. Executive chef Jason Rea has crafted a special holiday prix-fixe menu that includes spot prawn crudo, grilled ribeye with oxtail marmalade, and a chocolate mousse bar with sea salt caramel for dessert. // Reservations required open 5-9pm, 181 Third St, (SoMa), trace-sf.com
Brix
Start a new Christmas tradition with a three-course contemporary holiday menu including caramelized sea scallops, porcini mushroom risotto, and a traditional bouche de noel for dessert. Additional wine pairings add a decadent touch to your Christmas dinner. // Reservations required, $79 per person with additional wine pairing $42, 7377 St. Helena Hwy (Yountville), brix.com
(Courtesy of Luce)
Luce

This Christmas Eve and Christmas Day have dinner prepared for you by Michelin chef Daniel Corey at the InterContinental's posh restaurant. Savor Corey's three-course holiday menu, which features hand-cut beef tartar, short ribs with braised cabbage, and ginger-scented panna cotta for dessert. // Christmas Eve and Christmas Dinner 5-9pm $95 per person, 888 Howard St. (SoMa), lucewinerestaurant.com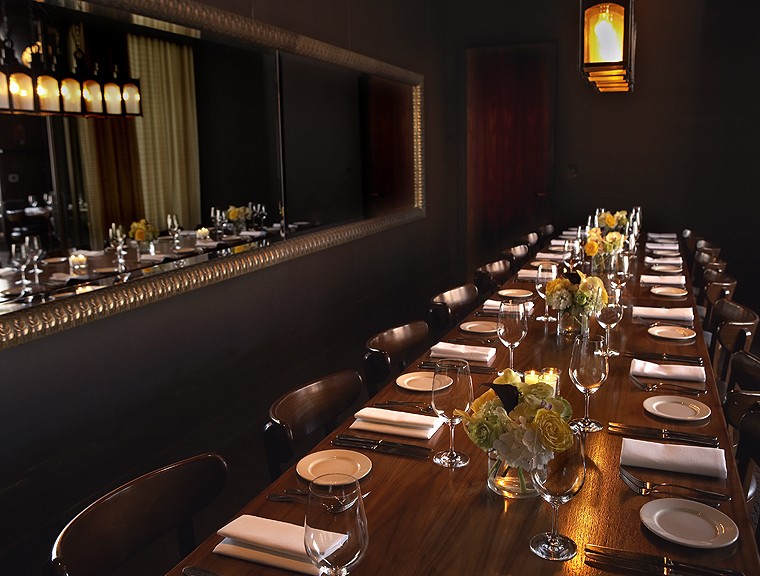 (Courtesy of 1300 on Fillmore)
1300 on Fillmore
Celebrate Christmas dinner with a traditional three-course dinner menu with a southern flair. Menu items include southern favorites such as barbecue shrimp and grits, fried chicken, cauliflower soup, and prime rib. Don't skip out on the family-style sides—we love the buttermilk mashed potatoes and bourbon macaroni and cheese. // Make reservations for one of three seatings on Christmas, 2pm 4:30pm and 7pm, $79 per person, 1300 Fillmore, (Fillmore), 1300fillmore.com
Campton Place
Executive chef Srijith Gopinathan is the winner of two Michelin stars and has curated a luxurious five-course menu for Christmas day that includes exotic twists and indulgent ingredients. We can't wait to try the Maine lobster with coconut rice, guinea hen with shin-li pear and truffle glaze, and caramelized banana mousse with passion fruit sorbet and coco foam. If you're keeping up with Joneses, this is the place to blow their dinner out of the water. // Christmas Dinner $150 per person, 350 Stockton St. (Union Square), tajcamptonplace.com
DON'T MISS A BAY AREA BEAT! SUBSCRIBE TO OUR NEWSLETTER.